Blackberries and peaches are the perfect base for this creamy smoothie!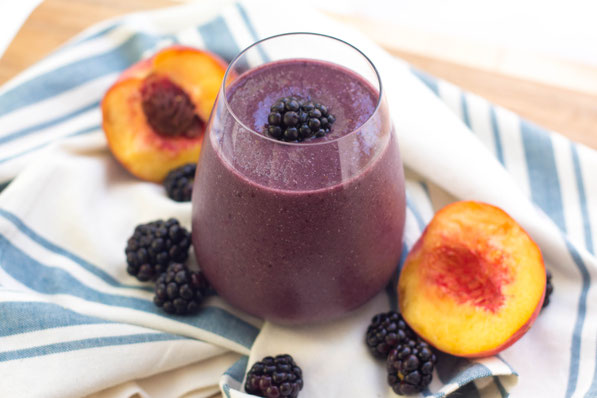 I can't think of a better way to start a summer morning than with a smoothie – they're creamy, filling, packed with nutrients, and most importantly, cold and refreshing!
And since summer is such a wonderful time of year for all sorts of fresh fruits and veggies, I decided to combine two perfectly ripe summer treats in this smoothie: Blackberries and peaches. Blackberries are, in my opinion, an underappreciated berry. One cup of blackberries only has about 40 calories, but packs in a ton of nutrition!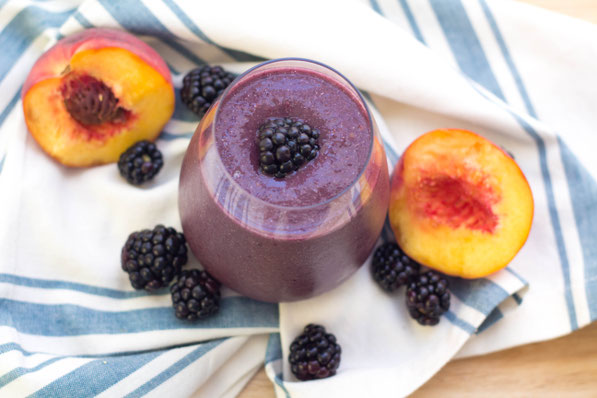 They actually have only about half of the calorie and carbohydrate content of blueberries (which are also amazing and super healthy), and more than twice the amount of fiber with a whopping 5 grams of fiber per cup!
That means blackberries are a great fruit option even for those on a lower carb meal plan. They're also sweet, juicy, and are usually cheaper than blueberries and raspberries.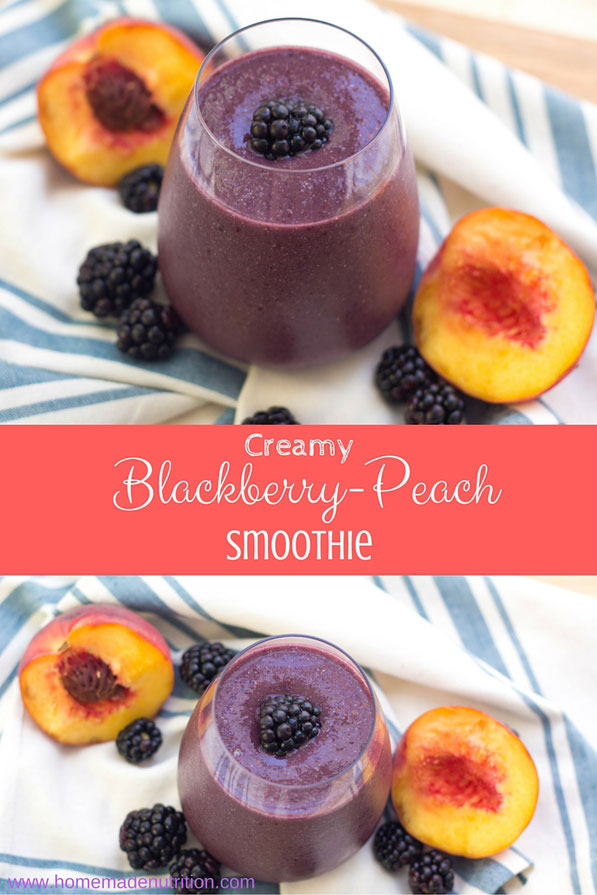 And peaches…I don't think I need to say much about peaches other than they are one of the absolute best summer fruits out there!  I've been using fresh peaches in all sorts of different summer recipes like my grilled peach, bacon, arugula panini and I don't plan on stopping anytime soon!
Quick tip on picking ripe peaches at the store:  Use your nose! A fresh, ripe peach should definitely smell nice and peachy.  And a perfectly ripe peach will be just slightly soft if you gently squeeze the fruit.  Enjoy!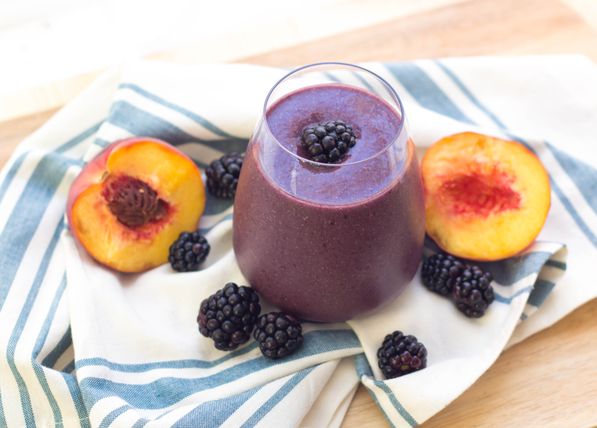 Blackberry-Peach Smoothie
Makes 1 serving

Ingredients:
1/2 cup blackberries
1/2 cup fresh or frozen peaches, sliced or chopped
1/2 banana
1/2 cup plain Greek yogurt
1 tablespoon chia seeds
1/2 cup water
4 ice cubes
Directions: 

Place all ingredients in a blender and blend at least one minute or until the ingredients are completely combined and the smoothie is creamy.
 Happy Eating!
~Amber
---
---