If you're looking for a twist on that standard "chicken dinner," you've come to the right place!  This Southwestern grilled chicken with peach pico de gallo is simple, delicious, and full of flare that will get you out of that chicken rut!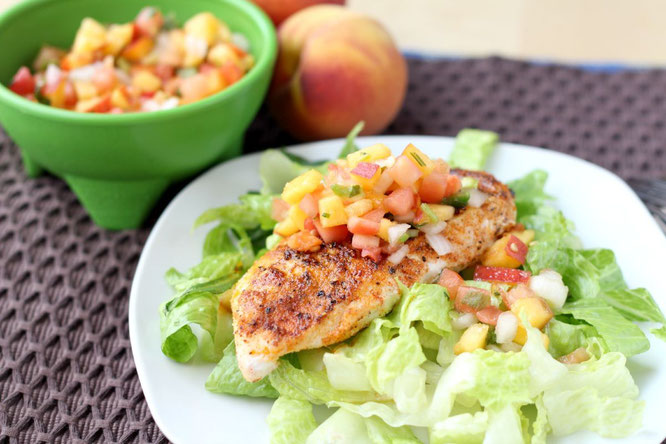 We all know that chicken is a great option for a quick, lean protein source, and most of us enjoy eating it.  For that reason, I find most people who try to watch what they eat go for chicken most days of the week.  Which leads to one little issue:  it can get boring.  Baked chicken, boiled chicken, grilled chicken, roasted chicken...you get the idea. ;)  I like to change up the chicken routine by adding different spices and toppings/sides to my chicken dinners, and I have to say this one is a real winner! 

This recipe is absolutely perfect for that weeknight rush to the dinner table.  All you have to do is put the raw chicken in a baggie with seasonings the night before, then when you get home the next day, toss the chicken on a grill or pan and mix the two-ingredient pico de gallo while the chicken cooks.  It's so simple and is ready in under 20 minutes.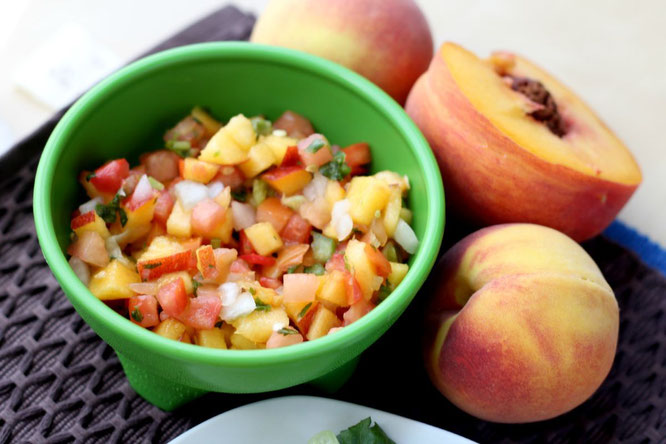 Since I've been going so peach-crazy on the blog for the past month, I decided to add fresh peaches in one of my favorite healthy food short-cuts:  pico de gallo.  If you're familiar with Southwestern food, you've probably had pico de gallo before, but if you haven't, it's basically a beautiful fresh salsa that's made up of chopped fresh tomatoes, onion, jalapeno, and cilantro. 
If you're not one for hot and spicy foods, you can buy mild versions of pico de gallo, or make it at home and just remove all the seeds from the jalapenos before chopping them.  I've found that many stores sell pre-made pico de gallo, so it's become one of my refrigerator staples that allows me to boost the flavor on any dish without any extra work.  Mixing peaches into the pico gives the whole salsa a really sweet, vibrant flavor that also mellows out any heat from the jalapeno.  It's SO good!  This light meal really is healthy fast food at its' finest - I definitely recommend giving it a try! 

Quick Southwestern Grilled Chicken

Makes 4 servings
Ingredients:
1 pound boneless skinless chicken breast cutlets

1 tablespoon canola oil   

1 1/2  teaspoons chili powder



1/2 teaspoon garlic powder

1/2 teaspoon onion powder

Salt and pepper to taste

Directions:

Place all ingredients in a large zip-lock bag or container and refrigerate for at least 2 hours or preferable overnight.



Heat grill, Panini press, or cast iron skillet over medium high heat.  Add the chicken and cook 4-5 minutes per side or until the chicken is cooked through.  
 
Happy Eating!
~Amber 
---
Easy Peach Pico De Gallo
Makes 4-6 servings

Ingredients:
2 small peaches, or 1 large peach, diced

1 cup store-bought pico de gallo

Directions:

Add the peaches and pico de gallo to a medium bowl and gently mix to combine. 
 Happy Eating!
~Amber 
---
---
---