Grilled vegetable skewers are the perfect way to include more summer produce into your weekly meals.  They're a make-ahead veggie option you can enjoy many different ways!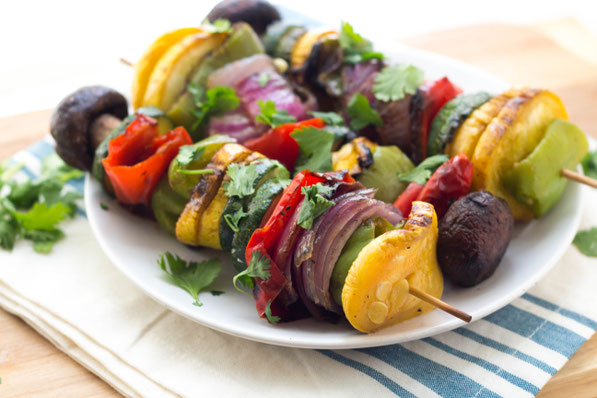 Grilling vegetables is one of my favorite ways to cook them because they taste almost exactly like roasted veggies, which is I think is pretty much the tastiest way you could ever eat a veggie.  :)   And using the grill instead of the oven to cook vegetables in summer is great because it doesn't heat up the house, and you get an awesome smoky flavor addition from using the grill or BBQ pit.  
Personally I love using a charcoal grill.  Yes, it takes a little more time to heat up compared to a gas grill, but to me there's just something super rustic about it plus it gives that slight smokiness that makes everything taste just a little bit better! 
You can use any combo of vegetables for these skewers, which means it's the perfect way to clean out the fridge when there's a few random veggies hanging out in there...hence, the mushrooms on the ends but no where else on these skewers... ;)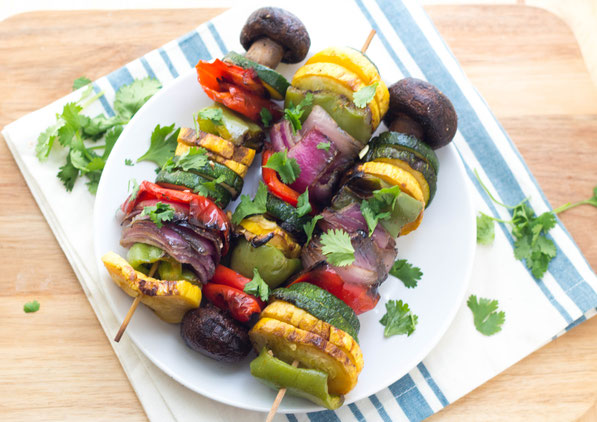 The best way I've found to season these beauties is by adding some spices to oil and brushing it on before the skewers go on the grill.  One important note is to not pack the veggies too close together on the skewers or it will be hard to get them to cook evenly in the center.  
Sometimes I'll actually pull off the larger veggies that seem to be needing a little extra TLC on the grill and let them finish cooking flat directly on the grill surface then re-assemble the skewer before serving.  Because no one likes pieces of raw veggies in the middle of a skewer.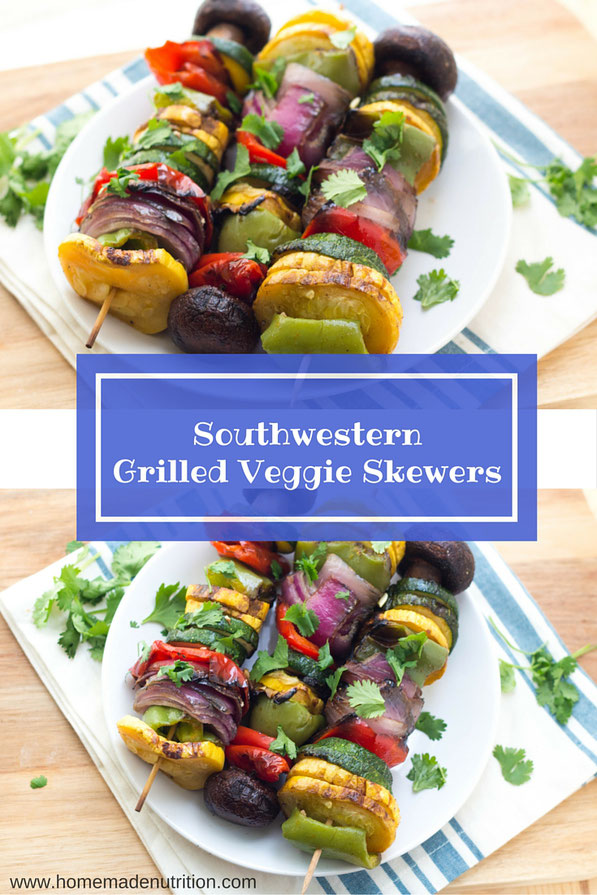 You can eat these directly from the skewers, but I absolutely love pulling them off the skewers and adding them to fajita tacos, eggs, quesadillas, wraps, sandwiches, or salads throughout the week.  Making a batch of these veggies is a lovely way to get more summer veggies packed into meals during the week!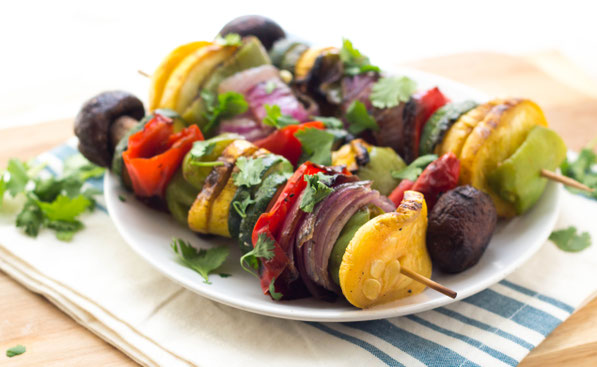 Southwestern Grilled Veggie Skewers
Makes about 6 servings

Veggies:
1 small yellow squash, sliced
1 small zucchini, sliced
1/2 red onion, cut into bite-sized chunks
1 red bell pepper, cut into bite-sized chunks
1/2 green bell pepper, cut into bite-sized chunks
3 cremini mushrooms (can also use white mushrooms)
Seasoning:
1/4 cup light olive oil
1/4 teaspoon salt
pepper to taste
1 teaspoon chili powder
1/2 teaspoon cumin
1/2 teaspoon garlic powder
1/2 teaspoon onion powder
Other:
cilantro for garnish (optional)
3 wooden or metal skewers
Directions: 

If using wooden skewers, soak the skewers in water for 15-20 minutes prior to adding veggies and grilling them.
mix the oil and spices together in a small bowl and set aside.
Add the vegetables to each skewer, using a few slices of each veggie before alternating with a different veggie.  Leave a small amount of space between each vegetable on the skewers for more even cooking.
Use a brush or spoon to coat vegetables with the oil and spice mixture. 
Place the skewers on preheated grill and cook for 20-30 minutes (depending on heat of grill) until the vegetables are tender.  If needed, remove some of the larger vegetable slices and finish cooking them directly on the grill, then add back to the skewers once cooked through.  
Garnish with cilantro if desired.
 Happy Eating!
~Amber
---
---