The BEST four-ingredient egg salad!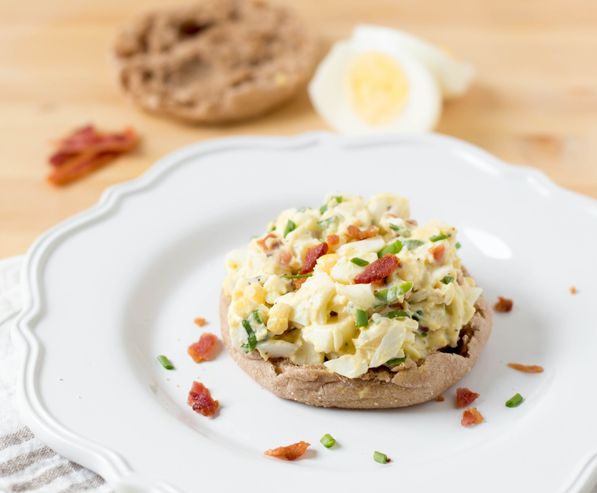 This months' Recipe Redux theme is "break out of breakfast boredom," and I think I've got the perfect recipe to get out of any breakfast rut!  Egg salad.  With bacon.  Yes, that's right.  :D
I think bacon and eggs are pretty much one of the happiest ways to start any day. But even a beloved classic breakfast combo like this can use a little jazzing up to make it a little more exciting!
This egg salad is a lighter way to enjoy the bacon and egg combo, plus it can be made in advance - so you can take some extra time to make this on the weekend then enjoy it for breakfast during the week.  #HealthyFastFood ;)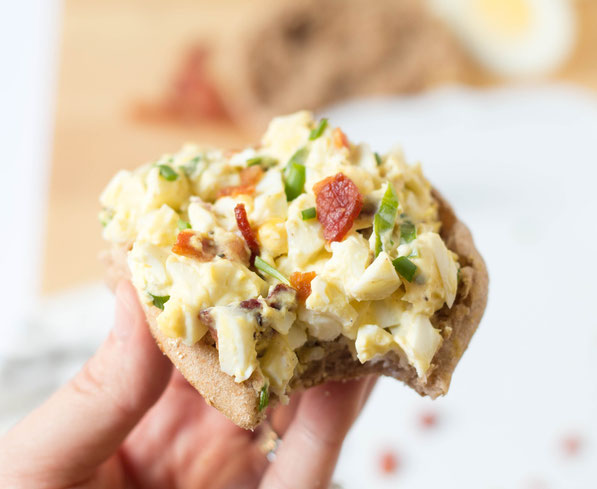 Egg salad isn't usually considered a "light" dish, but I've got a couple of tricks to keep it lighter.  Instead of drowning the eggs in mayo, I use a little less.  And adding more flavor from green onions and bacon means you don't miss that extra mayo.  
And speaking of bacon...one of the things I love most about this recipe is that there's bacon in every bite, but there's not much bacon in the recipe itself.  So it's much lighter than eating multiple pieces of bacon on the side with eggs like we would normally do. Just two pieces of bacon crumbled up is all it takes to get that delicious bacon goodness into this breakfast.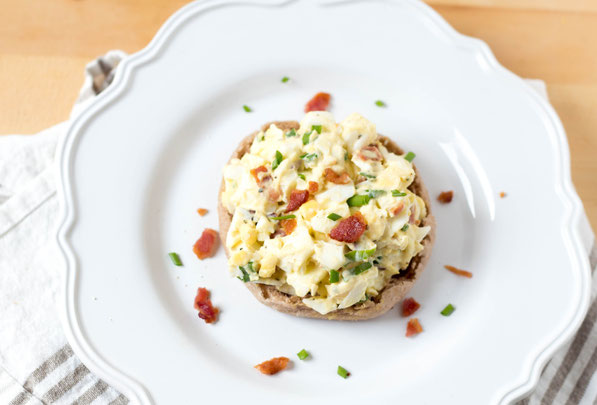 You can either buy pre-made hard boiled eggs or make your own.  Everyone has their favorite way to make hard boiled eggs, but here's how I make mine:  Place whole eggs into a pot.  Fill the pot with cold water (enough to cover the eggs), then bring the water to a boil.  Boil for 1 minute.  
Remove from heat, cover the pot, and leave it alone for 14 minutes.  Bring the pot to the sink, and run cold water into the pot for about 1 minute until the hot water is gone from the pot.  This will cool the eggs quickly but not so fast that they crack open.  From there, you can crack the eggs, peel them, and they're ready for egg salad! I hope you enjoy this delicious breakfast as much as I do!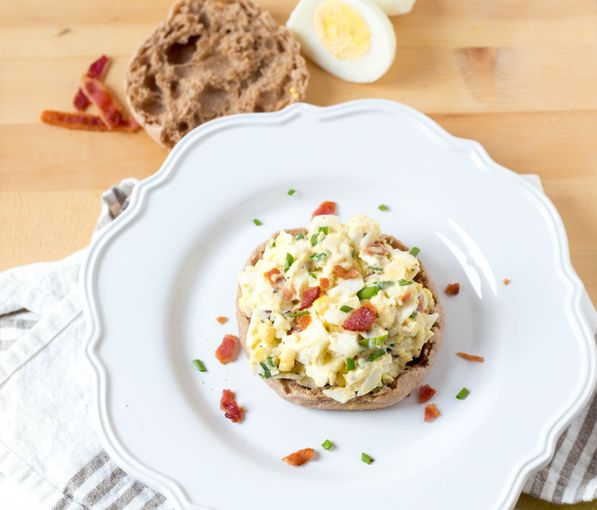 ---
Bacon Egg Salad
Makes 4 servings
Ingredients:
6 hard boiled eggs, peeled and chopped
2 slices cooked bacon, crumbled
1 green onion, sliced
1 1/2 tablespoons mayonnaise 
1/8 teaspoon salt
pepper to taste
Directions:
Add all ingredients to a medium bowl and mix to combine.  
Serve with a toasted whole grain bread, English muffins, crackers, or enjoy all on it's own!
Happy Eating!
~Amber
---
---
Other recipes you might like...
---
Check out these tasty recipes from fellow nutrition bloggers for more breakfast inspiration!