This easy recipe for slow cooker BBQ beef ribs is one of the most requested recipes by family and friends when we have company over.  And the best part is, it takes only  a few minutes to prep, and the result is this beautiful dish everyone will love!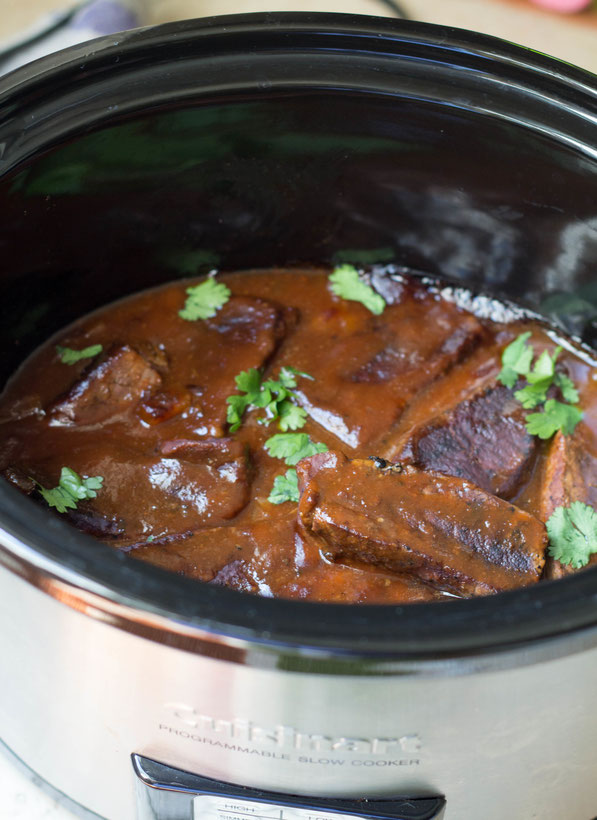 This beef short ribs recipe is always a winner when we have guests over for dinner.  And without fail, at some point while eating this meal my husband will start humming to himself out of happiness, while not missing a beat in shoveling in the next mouthful.  
Maybe he's thinking about getting into his not-so-secret anymore ice cream stash for dessert, but I'd like to think it's because this recipe really tastes that great!  The secret to this recipe, and all slow cooker recipes really, is patience.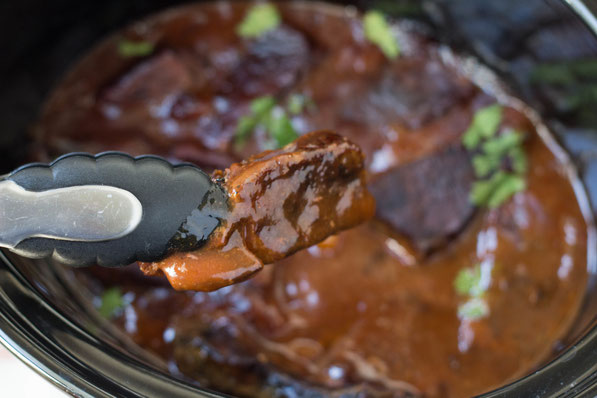 Like I mentioned, this recipe is perfect for entertaining.  All you have to do is get your ingredients together in the morning, place them strategically (not really…actually, just throwing everything in will do fine) in the crock pot, and set on low for 8-10 hours.
This recipe requires a barbecue sauce as the base for the beef to cook in.  If you would like to make your own barbecue sauce, go for it.  To save time I usually buy a pre-bottled sauce from the grocery store.  If you would like to go this route, I have a couple pointers on selecting a barbecue sauce:
1)   Make sure sugar isn't the first ingredient on the ingredients list.  This would mean the sauce has more sugar in it than any other ingredient.  Barbecue sauce is going to have sugar in it, that's a given…just don't get one that will make Mountain Dew jealous.  ;) 
2)   Try to find a barbecue sauce that doesn't have any high fructose corn syrup in it.  There's a simple match equation to remember here: High fructose corn syrup = evil.  Okay, that's a slight exaggeration, but really, there's so much high fructose corn syrup in all the other processed stuff we buy, it's a good idea to go a little more natural whenever possible in my opinion.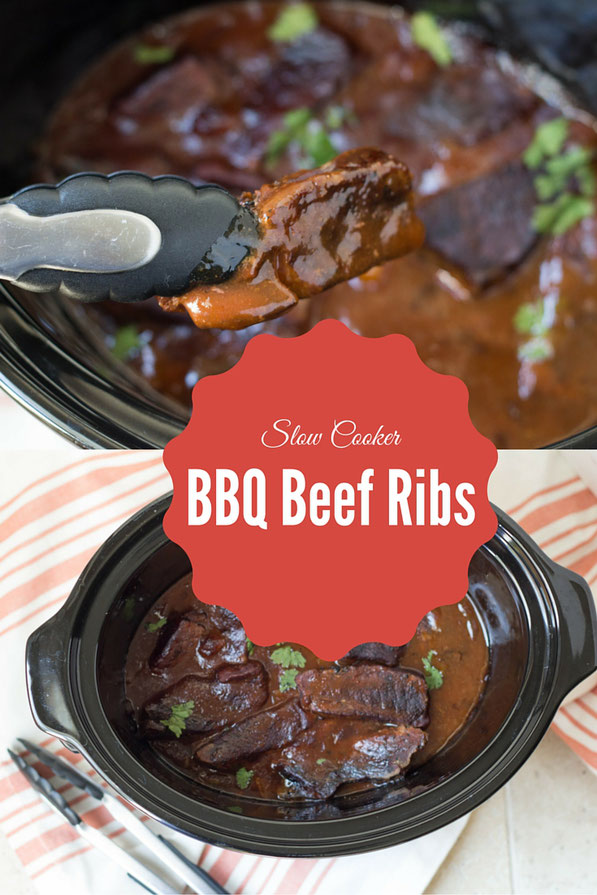 One last note about this recipe is about the cut of beef to use.  I've made this recipe many, many times using several different cuts of meat.  It comes out great every time, but here are my favorite options:  The first is using beef short ribs.  These are SO good and the meat absolutely tender and perfect  when they're done.  
But for a little lighter cut that's also more affordable, lately I've been using "beef chuck ribs" which is basically just a chuck roast that's been cut into rib-like chunks.  And those little "ribs" work beautifully here.  
You can serve this meal a couple of ways.  One way is with mashed potatoes and a veggie or salad on the side - the sauce becomes this delicious interesting gravy-like wonder when it's done... :)  You can also serve these as tacos, with avocado, shredded lettuce, tomato, and some beans on the side.  I hope you enjoy this recipe as much as my family does!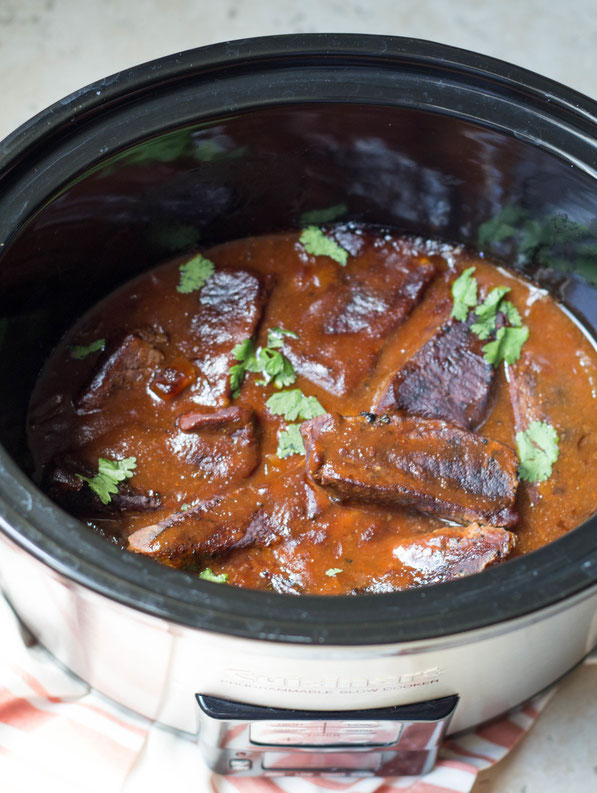 Slow Cooker BBQ Beef Ribs
Makes 4 servings
Ingredients:
1 1/2 pounds boneless beef chuck ribs (can also boneless beef short ribs)
2 teaspoons light olive oil
1 cup BBQ sauce of choice
1 tablespoon cornstarch
1/2 yellow onion, chopped
1/2 teaspoon garlic powder
salt and pepper to taste
cilantro or parsley for garnish (optional)
Directions:

Heat a large skillet over medium-high heat.  Add the oil to the skillet and brown the beef ribs on each side for 2-3 minutes per side.  Add the beef to slow cooker.
In small bowl, mix the BBQ  sauce, cornstarch, onion, garlic powder, salt, and pepper.  
Pour the sauce mixture over the beef, place the lid on the slow cooker, and cook on low for 8-10 hours (I usually do 10), or on high for 5-6 hours.  Garnish with fresh cilantro or parsley when serving if desired. 
Happy Eating!
~Amber
---
---
---