Chocolate and veggies for breakfast...Sounds a little weird, but absolutely works in this creamy chocolate zucchini smoothie!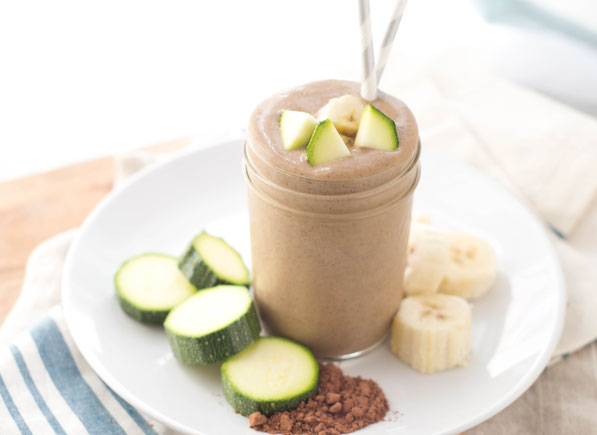 I love finding ways to add different veggies to my smoothies, but recently I got into a bit of a veggie-smoothie rut.  I've been making all sorts of smoothies with greens, red beets, golden beets, and carrots…but then I got stuck.  I needed another vegetable to try in smoothies that would actually taste good.
And that's when squash smoothies entered my life!  I was working with a client (and fellow smoothie-lover) a few weeks ago, and they mentioned reading an article about using different types of squash in smoothies and asked if I had tried it.  And no, I hadn't even thought about using squash in smoothies...but how could I have missed this?! 
There's an abundance of squash in season right now and it's the perfect veggie option for a smoothie because it's like a blank canvas.  There's not much in terms of bold flavor or color in zucchini, yellow squash, or other varieties like patty-pan squash, so they should blend in pretty seamlessly into most smoothies.  And they happen to be packed with nutrition and are naturally lower carbohydrate and high in fiber.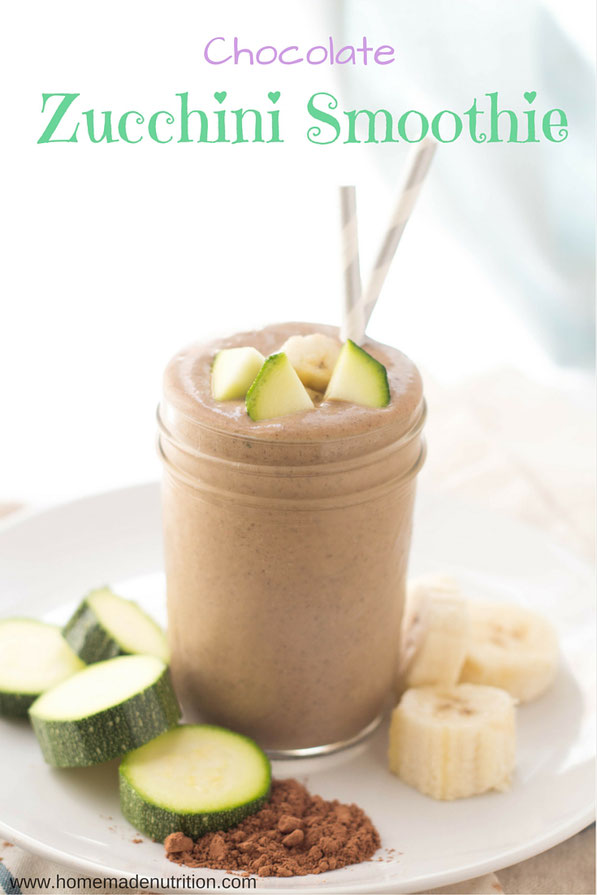 So I went straight to the store on my way home that day to buy some  yellow squash and make a smoothie.  And it came out great!  I tested it out again on co-workers the next day and they absolutely loved it.  That tasty blueberry-peach yellow squash smoothie recipe will be coming to the blog next week, so stay tuned! 
My next venture involved adding zucchini to one of my very favorite smoothies: chocolate, peanut butter and banana.  Here's the original recipe for this smoothie without the veggies; it basically tastes like a chocolate milkshake. :)  Adding zucchini to this recipe was an easy way to boost the nutrition of the smoothie without really changing the flavor.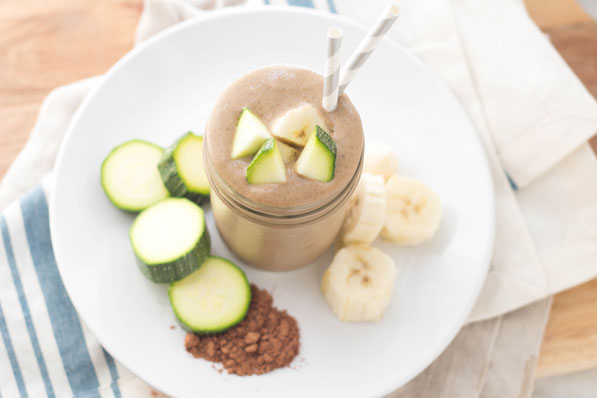 One thing I did notice with the zucchini addition to this smoothie is that the extra bulk of the veggie seemed to mellow out the sweet, chocolaty flavor just a bit, so I added a touch of vanilla and pure maple syrup, and that little problem was solved! 
So if you're a fellow lover of drinking your veggies for breakfast, enjoy! And if you think it's weird, don't knock it till you try it!  ;) Happy blending!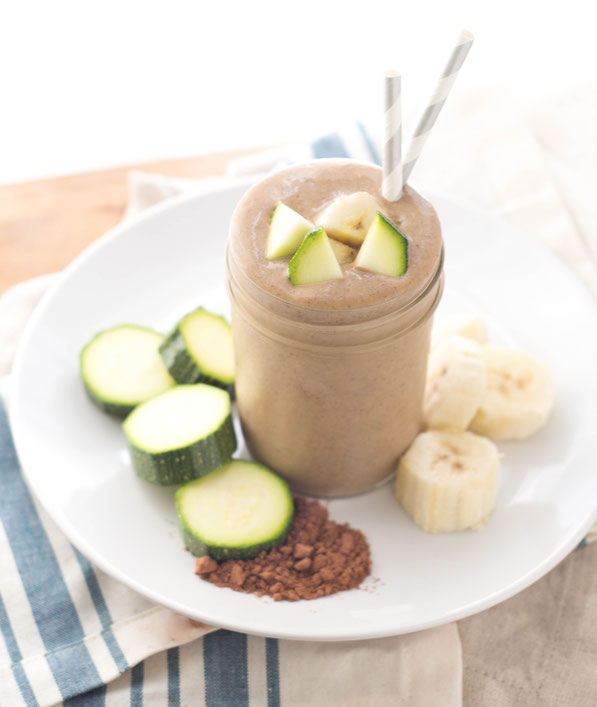 Chocolate Zucchini Smoothie
Makes 1 serving

Ingredients:
1/2 banana

1/2 cup chopped raw zucchini

3-4 ice cubes

1 cup milk of choice (low fat milk, almond, cashew, soy, coconut milk)

2 teaspoons cocoa powder

1 tablespoon natural peanut butter or 2 tablespoons PB2

1/8 teaspoon vanilla
2 teaspoons pure maple syrup
Directions: 

Place all ingredients in a blender and blend at least one minute or until the ingredients are completely combined and the smoothie is creamy.
 Happy Eating!
~Amber
---
---
---