Overnight Oats meets fall in this delicious, high-protein apple pumpkin overnight oats recipe!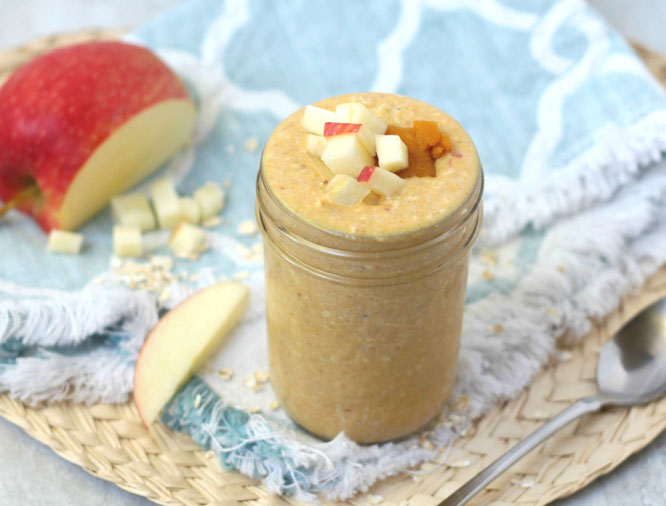 The return of overnight oats is here!  I haven't posted a new overnight oats recipe in a while, although I did post a pretty tasty overnight almond-chia quinoa recipe not too long ago....so I guess maybe I've still had the overnight oats bug just a little bit... ;) 

But when it comes to helping people find new ways to get a high-protein, high-fiber breakfast fix, I mean business!  I feel like it's my duty to help everyone find the perfect breakfast recipe that they will love and will give them the energy needed to power through the morning.   Because that's exactly what breakfast should do.  It should help make you feel better, not weight you down and make you feel more sluggish later, like a drive-through breakfast might do.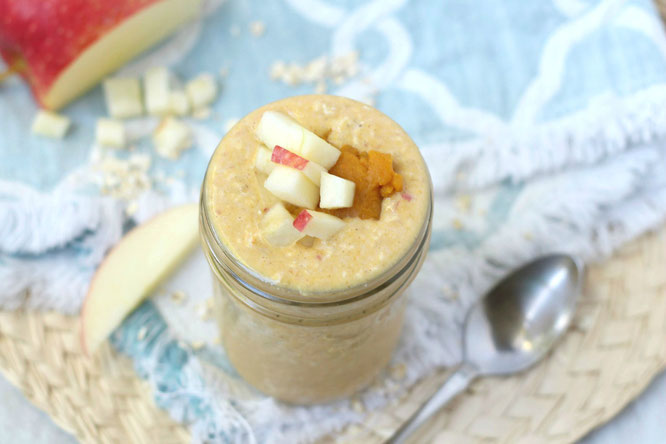 If you are already a fan of overnight oats, you might also enjoy my raspberry-chia overnight oats or my chocolate banana overnight oats recipes, so be sure to check those out! 
And if you haven't had overnight oats before, it's basically a super easy way to make a cold oatmeal-type meal that consists of oats, yogurt, milk, fruit, and other fun things depending on the flavor.  And the beauty of it is that all you have to do is mix everything in a bowl, refrigerate overnight, then enjoy them when you wake up in the morning!  It's the ultimate "no-cook" breakfast!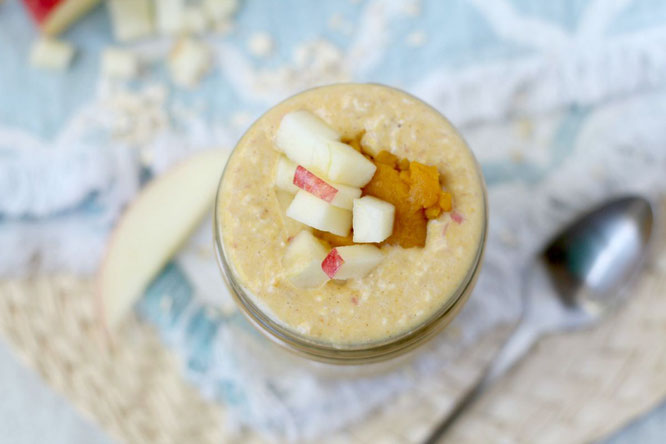 This recipe says "fall" all over it.  But even though it combines fall flavors like apple and pumpkin, one of the things I really like about it is that it isn't too "pumpkin-y." 
There is cinnamon in the recipe, but I decided not to use pumpkin pie spice, nutmeg, or allspice, so it doesn't taste too much like that classic "pumpkin spice" that can become a bit of a flavor-overload sometimes.  Now, with that being said, if you want it to have more of a pumpkin-spice flavor, go ahead and add 1/4 teaspoon of pumpkin pie spice and you will get that special touch of fall flavor!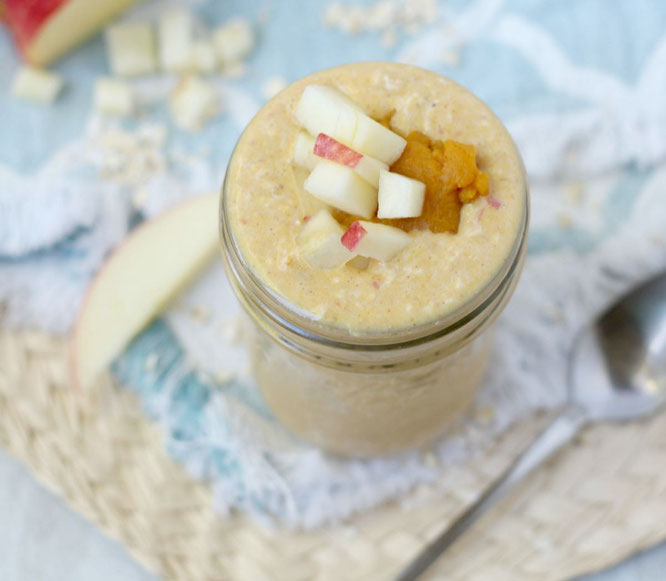 Apple-Pumpkin Overnight Oats
Makes 1 Serving
Ingredients:
1/4 cup canned pumpkin
1/4 cup chopped apple

1/2 teaspoon cinnamon

2 teaspoons maple syrup

1/2 cup milk of choice

1/2 cup plain Greek yogurt

1/4 cup instant (quick-cooking) oats

Directions:
Blend the pumpkin, apple, cinnamon, syrup, milk, and yogurt until smooth. 

Pour the mixture into a jar or bowl and add the oats. 
Stir to combine, then cover and refrigerate overnight.

Happy Eating!
~Amber
---
---
---