This make-ahead overnight quinoa with golden raisins, almonds, and chia seeds is the perfect filling and satisfying breakfast!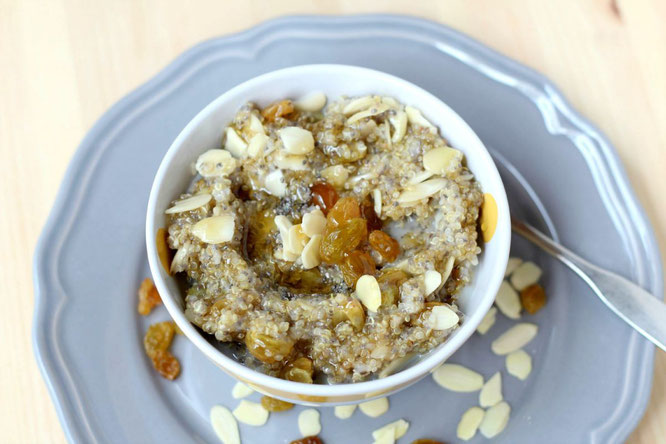 Overnight oats are a great breakfast option because the whole meal is made in advance then placed in the refrigerator to "cook itself" overnight.  When working with clients who have very busy lifestyles, overnight oats are often the perfect solution for breakfast because of how easy it is to make and also how filling and satisfying it is first thing in the morning.  And after two other overnight oat recipes on the blog (raspberry chia overnight oats and chocolate-banana overnight oats), I decided to switch the grain and try a quinoa version of overnight oats, which came out absolutely delicious!  There is one big difference with this recipe from traditional overnight oats:  you have to pre-cook the quinoa.  It may take a few extra minutes, but the result is completely worth it! 

Quinoa (pronounced "keen-wah")is an ancient grain (technically a seed) that's been around for thousands of years, but has really become popular in America over the past decade or so.  These days you see it everywhere, which is great!  Quinoa is one of the highest protein grain options out there - a cup of cooked quinoa has 8 grams of protein, and the amino acids that make up the protein in quinoa are about as close to a complete protein (like the protein in animal products) as you can get from a plant-based food.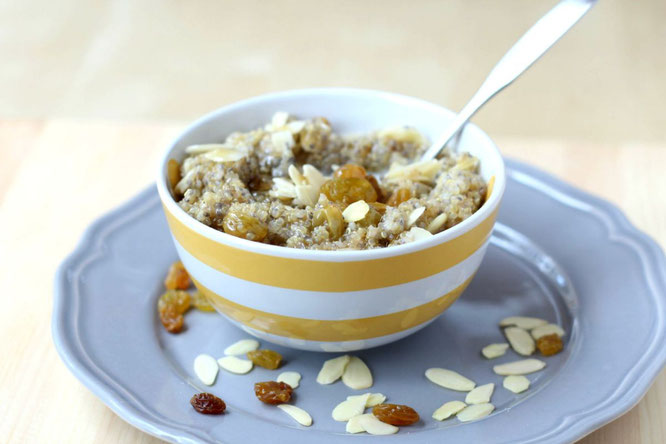 If you haven't tried quinoa before, there are a couple of things to note when cooking it. 
Quinoa has a pretty "earthy" flavor, so to take some of that earthiness away and have a milder finished product, it's important to first toast the quinoa in a dry pan or skillet for a few minutes.  This helps bring out it's natural nutty flavor.  Next, you'll want to rinse the quinoa before cooking it.  Rinsing it will remove most of that strong flavor.  After that, you just cook it like you would cook any grain:  two parts water to one part grain, and it's ready in 15-20 minutes.  It will triple in size when you cook it, so if you start with 1 cup dry quinoa, you'll end up with 3 cups once it's cooked.   

This recipe is full of different flavors and textures.  The quinoa gives a nutty flavor, the golden raisins plump up as they sit in the milk mixture overnight, making them soft and sweet, and the almonds add a nice crunchy texture to the dish. 
The other thing I love about it is the way the whole recipe just comes together as it sits overnight.  You add all of the ingredients to the cooked quinoa along with 3/4 cup of milk, and while it sits in the fridge, the quinoa, chia seeds, and raisins absorb the milk and everything just comes together beautifully!  This recipe can easily be doubled or tripled and made-ahead for several days - perfect for a healthy breakfast on the go!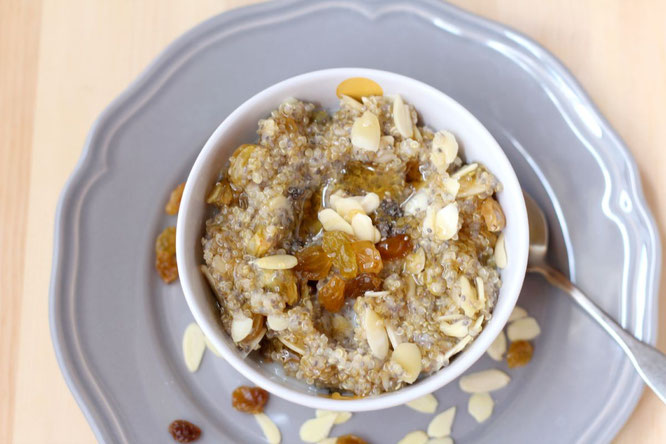 ---
Overnight Almond-Chia Breakfast Quinoa
Makes 2 servings
Ingredients:
1/4 cup uncooked quinoa
1/2 cup water

1 tablespoon chia seeds

3/4 cup low fat milk of choice

1/4 cup sliced almonds

1/4 cup golden raisins

2 teaspoons honey

Directions: 

To make the quinoa, heat a small saucepan over medium heat.  Place the dry quinoa in the pan and let the quinoa toast for 2-3 minutes, stirring occasionally.  Remove from heat, and carefully rinse the quinoa using a fine-mesh strainer.  Return to the stove and add the water.  Bring to a boil, reduce heat to low, cover and cook the quinoa for about 15-20 minutes or until it becomes tender and the water is absorbed.  Remove from heat and let it cool completely.  To speed up the cooling process, you can rinse the cooked quinoa under cold water for 10-15 seconds and drain well. 

Place the cooked quinoa in a bowl, and add remaining ingredients.  Stir to combine, cover the bowl with plastic wrap or a lid, and refrigerate overnight.  When ready to serve, remove from the refrigerator and enjoy the quinoa cold or heat in the microwave if desired.
*Option:  add more milk to the quinoa in the  morning to create desired texture. 

 Happy Eating!
~Amber
---
---