These easy peach crostini with cream cheese, honey, and cinnamon are the perfect way to satisfy your sweet tooth while still keeping on track with a healthy eating plan!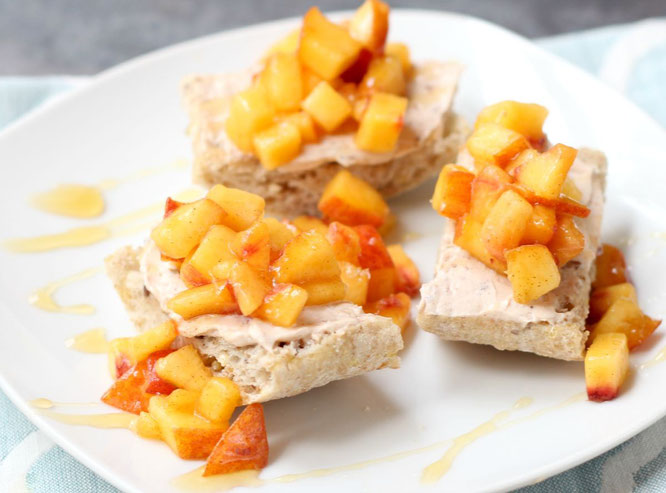 If you've followed my blog for a while (especially for the past month or two), you might have noticed a whole bunch of peach recipes.  And yes, in case you were wondering, I happen to really like peaches - they're one of my favorite fruits!  But it's also peach season, so I've been celebrating by eating a whole lot of perfectly ripe peaches pretty much anytime of the day - breakfast, lunch, and dinner.  
Peach season runs from late May through August, so that window of time when the best peaches are available is quickly coming to an end.  But August also happens to be national peach month, so there's still time to enjoy some peachy goodness!   In fact, I'm going to finish out national peach month with a few more peach recipes, so stay tuned for even more peach fun coming very soon!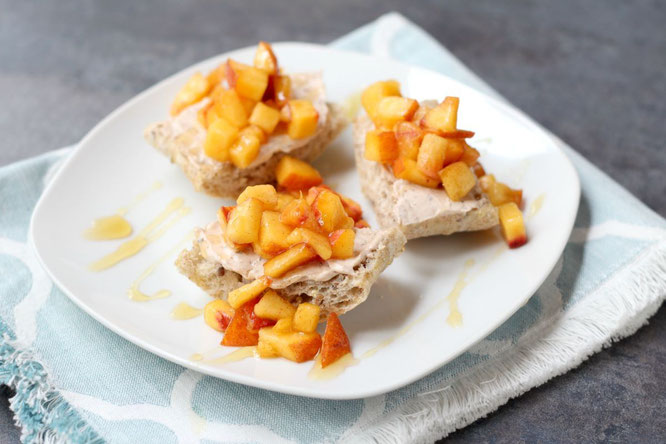 The recipe I have today is a dessert, so you're in for a treat!  As far as desserts go, most of them tend to be pretty heavy and not exactly "waistline friendly."  Most clients I work with are looking to lose weight and adopt healthier lifestyles, and while dessert can fit into a healthy eating plan, traditional dessert recipes are better off being reserved for a special occasion rather than being eaten on a regular basis.  
But if you're one of those people who enjoys a little something sweet after dinner, that's probably not what you're looking to hear...and that's why I like creating recipes like this one!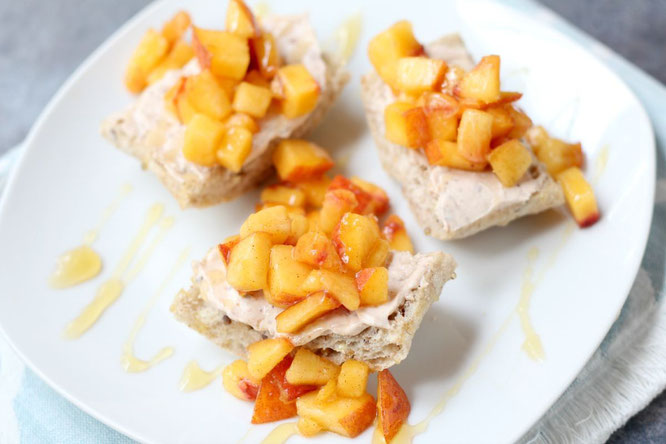 This recipe is still sweet and flavorful, but it's also a little lighter than the typical dessert, so it's perfect for satisfying that sweet tooth on a weekday without getting off track from a healthy eating plan.  
It's also SO easy to make!  The hardest part is making sure not to burn the bread when you toast it in the oven. ;)  And the peaches basically "cook" themselves, without any heat at all.  It takes just a bit of sugar and a few minutes for the peaches to create their own sweet, delicious syrup that's just perfect for a dessert like this one!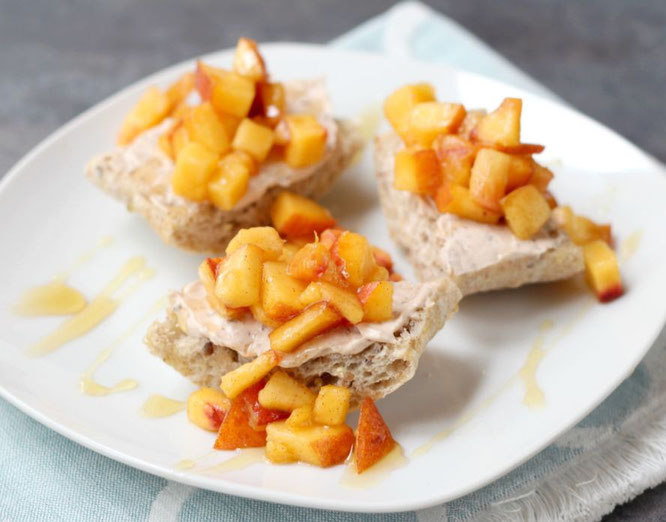 If you missed any of my other peach recipes, you'll definitely want to check out my post with six tasty peach recipes!
Fresh Peach Crostini with Cinnamon and Honey
Makes about 6 servings

Ingredients:
3 large peaches, chopped
2 teaspoons sugar
1 tablespoon freshly squeezed lemon juice
1 small whole grain baguette (about 6 ounces)

non-stick cooking spray
1/2 cup honey-pecan flavored cream cheese
2 tablespoons honey
Cinnamon to taste
Directions:

Place the peaches in a large bowl and add the sugar and lemon juice.  Mix to combine, and set aside.  Let the mixture sit for at least 15 minutes, or refrigerate up to 24 hours until ready to use.
Preheat the oven to 400 degrees.  Slice the baguette into pieces about 1/2 inch thick and about 2 inches around in size.  Place the baguette slices in an even layer on a baking sheet.  Lightly spray the top of each slice of bread with the non-stick cooking spray.  
Bake for 10-15 minutes, or until the bread is toasted and lightly golden in color.  Remove from the oven and set aside.
To assemble the crostini, spread about 2 teaspoons cream cheese on each slice of toasted bread.  Use a spoon to top each crostini with 1-2 tablespoons peaches.  Sprinkle with cinnamon to taste, and lightly drizzle with honey.  
 Happy Eating!
~Amber
---
---