This iced latte smoothie is the perfect healthy cold treat for a hot summer day.  Chia seeds, banana, and a boost of protein also make this a great option for a quick meal!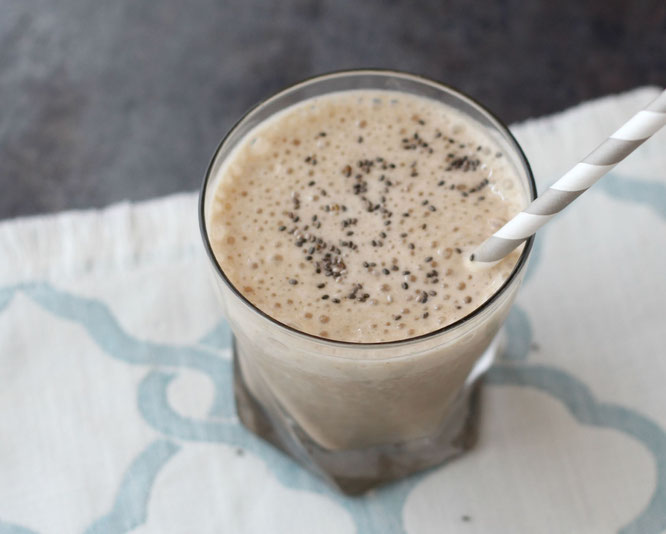 It's really hot in Texas right now, and when temperatures hover right around 100 degrees, cold food and drinks are SO much more enjoyable than hot food.  And this ice-cold recipe combines two things I like very much:  coffee and smoothies.  
It's also a great alternative to fancy store-bought iced coffee drinks because those are often full of more than a days' worth of sugar and don't have much else going for them in terms of nutrition.  In order to turn this iced coffee into an all-out healthy meal option, I decided to add a few bits of deliciousness:  banana, chia seeds, and a scoop of protein powder.  
These foods combine to provide a nice boost of vitamins, minerals, healthy fat, fiber, and satisfying protein that will help keep you feeling full all morning.  I also happen to think it tastes just as good (if not better) than any coffee drink you can buy!  If you like your coffee a little sweeter, feel free to add a bit of honey or pure maple syrup, but the banana already brings a touch of natural sweetness that's perfect in this recipe.  And if you're really into coffee, check out my iced peppermint mocha smoothie for another ice-cold coffee treat!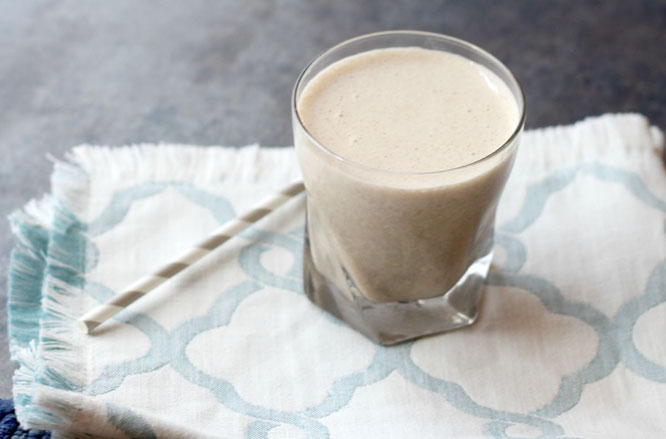 ---
Iced Latte Banana-Chia Smoothie
Makes 1 serving
Ingredients:
1/2 cup brewed coffee, cooled
1/2 cup low fat milk

1/2 banana

1 tablespoon chia seeds


3-4 ice cubes

1 scoop protein powder of choice (optional)
Directions: 

Place all ingredients in a blender and blend at least one minute or until the ingredients are completely combined and the smoothie is creamy.  
 Happy Eating!
~Amber
---
---