This one-skillet vegetarian ravioli with easy roasted red pepper sauce is the perfect Meatless Monday dinner in a rush.  It's simple, filling, and full of flavor!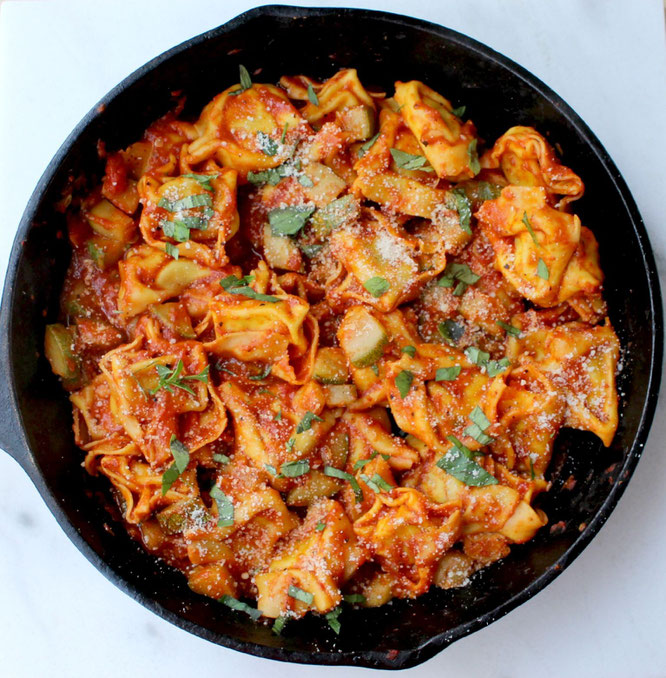 One of my favorite categories of dinner has to be the "one-skillet" concept.  I think the main reason I like one-skillet meals so much is because they only take one dish to cook in, which means fewer dishes to wash!  The other reason is that I really like the time-saving concept of all components to a meal that cook together, including the veggies. 
Here are a few of the other tasty "one-skillet" dinners I've made on the blog that are definitely worth adding to your dinner rotation: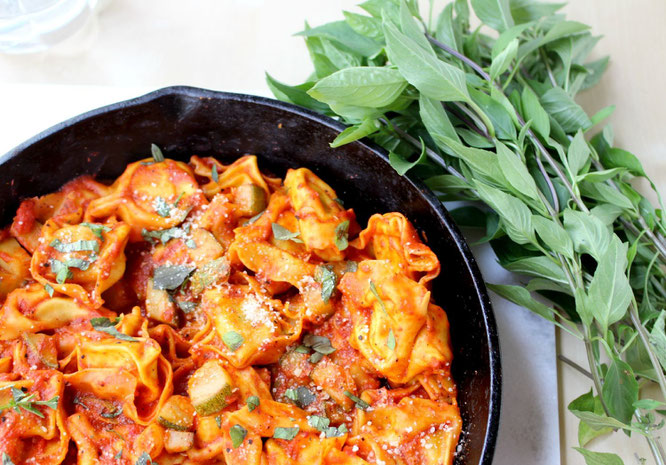 There are two twists on this recipe that make it different than your standard ravioli dinner.  The first is that the ravioli are cooked directly in the sauce, rather than boiling them in a large pot of water then adding them to a sauce.  By cooking them in the sauce, it not only saves having to bring a big pot of water to a boil, which takes time and uses an extra dish, but the sauce adds much more flavor to the ravioli as they cook. 
The second thing that makes this ravioli dinner unique is the sauce itself.  Instead of the typical marinara sauce, I decided to blend a jar of roasted red peppers packed in water with some Italian seasoning.  The result is one of the easiest two-ingredient sauces ever that also makes this recipe just a little more special than your standard weeknight dinner.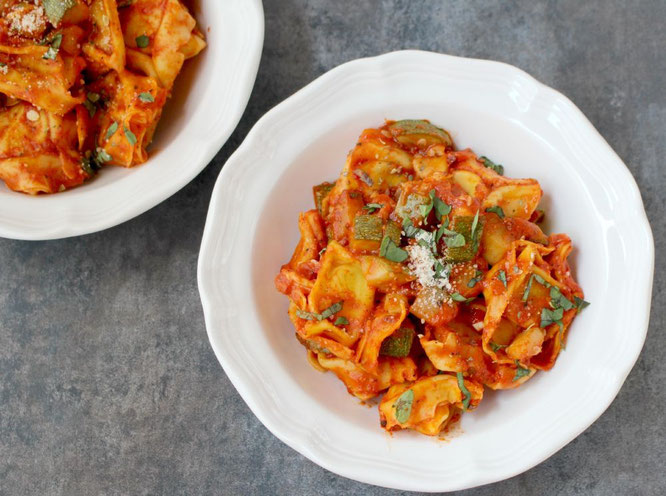 One-Skillet Ravioli with Easy Roasted Red Pepper Sauce

Makes 4 servings
Ingredients:
1-12 ounce package frozen vegetarian ravioli of choice (look for natural, lower sodium brand)
2 teaspoons canola oil
1 large zucchini, chopped

2 cloves garlic
1-12 ounce jar roasted red peppers packed in water

1 tablespoon Italian seasoning

salt and pepper to taste
1/2 cup grated Parmesan cheese

1/4 cup chopped fresh basil for garnish (optional)

Directions:
Heat a large cast-iron or non-stick skillet over medium-high heat.  Add the oil, zucchini, and garlic, and saute for 5 minutes. 

Blend the roasted red peppers (with the water in the jar) with the Italian seasoning, salt, and pepper until it forms a smooth sauce. 
Pour the sauce in the skillet, add the ravioli, cover and simmer, stirring occasionally, for 15 minutes or until the ravioli are cooked through.  Add 1/2 cup water to the sauce if needed. 

Garnish with the grated Parmesan and fresh basil if desired.

Happy Eating!
~Amber
---
---
---