This easy vegan ice cream is the perfect solution for a cold summer dessert that's free of dairy, gluten, and has no added sugar.  It's a treat the whole family will enjoy!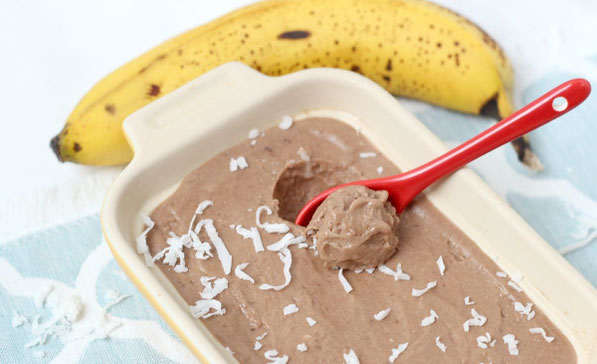 Ice cream.  It's probably the most popular sweet treat ever! It's often one of the first dessert choices for kids and grownups alike because it's so tasty and also happens to live happily in the freezer, ready to eat at any moment!  It's rich, creamy, cold, and perfect on a hot summer night.  But then there's the other side of ice cream... 
We all know it:  there's quite a bit of fat and sugar in ice cream, and while that fat isn't as much of a concern these days, added sugars are one of the biggest problems in the American diet.  Too much sugar may contribute to health conditions such as Type 2 Diabetes, heart disease, becoming overweight or obese, and more.  The American Heart Association recommends no more than 6 teaspoons of added sugar for women and 9 teaspoons for men each day.  And most of us eat way more sugar than that every day. 
For reference, a 20-ounce bottle of soda has around 17 teaspoons of sugar, which is almost triple the recommended daily amount for women and almost double the recommended maximum amount of sugar for men.   And that's just in one soda!  
Think of all the other things we eat and drink that contain added sugar during the day;  things like sweetened yogurt, cookies, pastries, other sweet treats, most breads, coffee, tea, or other drinks we often sweeten.  Added sugars are also hiding in places you wouldn't expect them, like in most peanut butters, BBQ sauce, and even in flavored chips.  Since we get plenty of added sugars in our daily eating routine, it's a good idea to choose naturally sweet foods like fruit  whenever possible instead. 
The other major issue with ice cream is that we tend to enjoy it in extra-large portions.  If you've ever looked on the back of an ice cream carton, you'll notice the serving size is 1/2 cup, which is roughly the size of half of a baseball.  I don't know many people who stick to that portion when eating ice cream; it's a challenge for me too!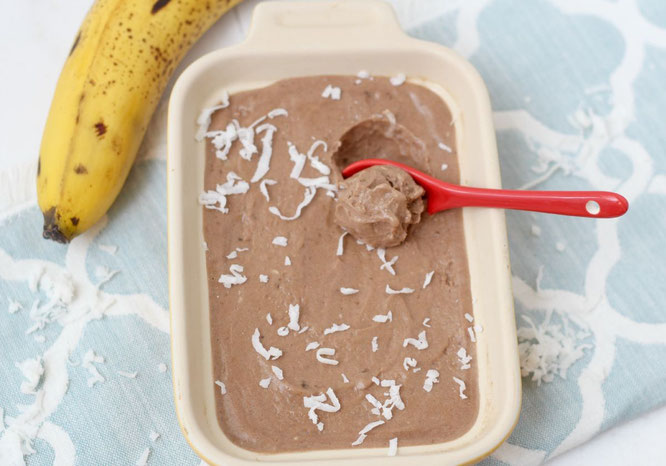 This recipe is the perfect solution to satisfy those sweet ice cream cravings for anyone who's looking to cut back on added sugars in their food, and also those who can't or choose not to eat dairy foods.  There is NO added sugar in this recipe, just natural sugar from fruit!  The base of this ice cream is bananas - and the key to making sure it comes out nice and sweet is to let the bananas turn very ripe, with those little dark spots on them.  That means the sugars have had enough time to fully develop so they taste extra sweet and yummy! 
There are only two other main ingredients:  coconut cream and cocoa powder.  The coconut cream comes in a can and is rich and decadent, so it doesn't take much to add a beautiful creamy texture and mild coconut flavor to this ice cream.  As for the cocoa powder, it's the thing that makes this "chocolate" ice cream.  If you aren't a huge fan of chocolate, feel free to leave it out, and you'll still have a tasty banana-coconut flavored treat! 
This recipe is a simple way to change up the normal ice cream routine.  Natural ingredients, dairy free, gluten free, but best of all...delicious!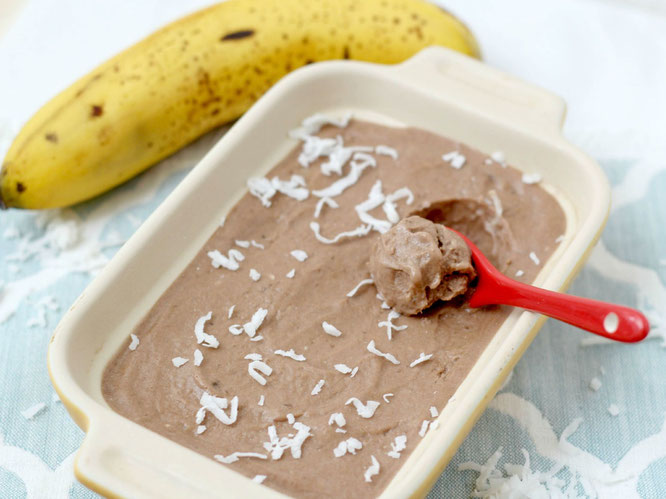 Chocolate Coconut Banana Ice Cream

Makes 4-6 servings

Ingredients:
4 very ripe bananas, peeled, sliced, and frozen

1/4 cup coconut cream

4 teaspoons cocoa powder

1/4 cup unsweetened shredded coconut for garnish (optional)

Directions:

Place all ingredients in a blender or food processor and blend for about 3-5 minutes or until the ingredients are completely combined and create a creamy texture.  Serve immediately, or freeze for later use. 



 Happy Eating!
~Amber
---
---