This green chia-lemon smoothie will completely wake up your taste buds and pack a punch of nutrition into your morning!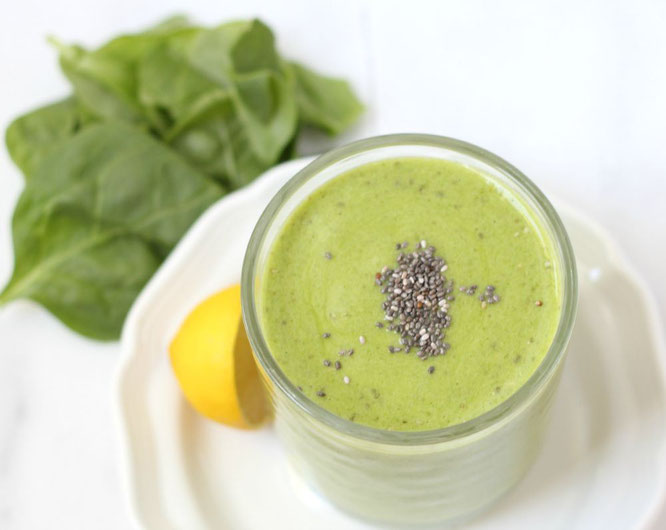 This smoothie is a truly refreshing way to start the day.  There's just something special about the power of fresh fruit and veggies first thing in the morning that really "wakes the body up" and gives a boost of energy completely different than caffeine, sugary cereals or a granola bar.  This smoothie is a great way to start off the day with a nutrient-packed meal, and it can be enjoyed either as a complete meal or a light side with your regular breakfast. 
To enjoy this smoothie as more of a side with breakfast, leave out the protein powder, and eat a source protein on the side.  Or, you can add a scoop of protein powder to make it a complete meal.  I make this smoothie both ways - some mornings I still want something like an egg and whole grain toast for breakfast, so I'll skip the protein in the smoothie.  Other days, I'm in a rush and add the powder for that punch of protein that will help me get through a busy morning.  
If you're not a fan of protein powder or just don't have any on hand, a cup of plain Greek yogurt will do the trick!  It also makes the smoothie extra creamy.  As you can see, it's pretty easy to customize this smoothie to fit into your daily routine - the goal is to get those veggies in and start the day feeling fantastic!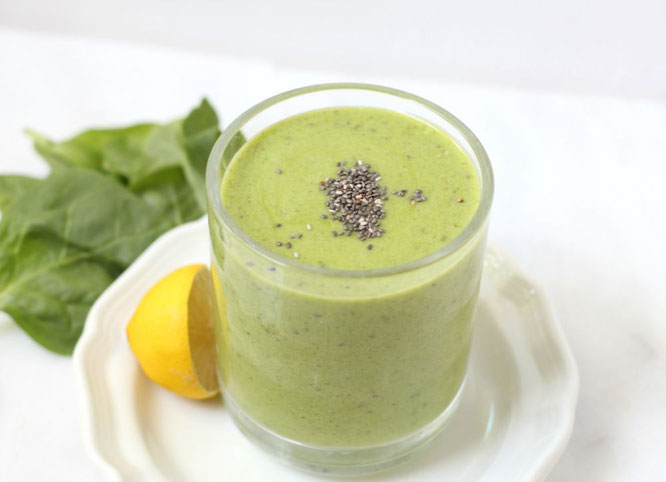 ---
Green Chia-Lemon Smoothie
Makes 1 serving
Ingredients:
1/2 cup frozen peach or mango chunks


1/2 banana

juice of 1 lemon

1 cup baby spinach leaves


1 cup water 

3-4 ice cubes

1 tablespoon chia seeds




1 scoop protein powder of choice (optional)
Directions: 

Place all ingredients in a blender and blend at least one minute or until the ingredients are completely combined and the smoothie is creamy.  
 Happy Eating!
~Amber
---
---