These easy mini frittatas with green chiles and spinach come together in just a few minutes and are perfect for a busy weeknight or Meatless Monday!  They're gluten free, vegetarian, and absolutely delicious!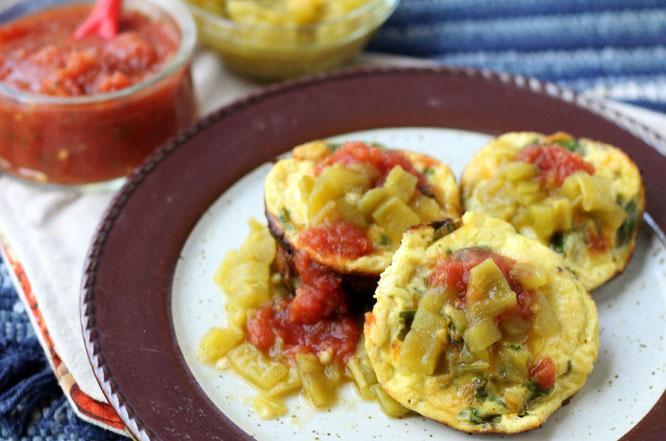 I love making mini frittatas as a quick weeknight dinner.  They're quick, easy to prep, affordable, and simple to customize based on whatever mood I'm in flavor-wise.  I like to pair this entrée with a small side-salad and fresh fruit for a completely satisfying and nutrient-packed meal. 
This is actually my third "mini-frittata" recipe on the blog - there's also my Four-Ingredient Mini Frittatas and Southwestern Mini Frittatas that are definitely worth a try!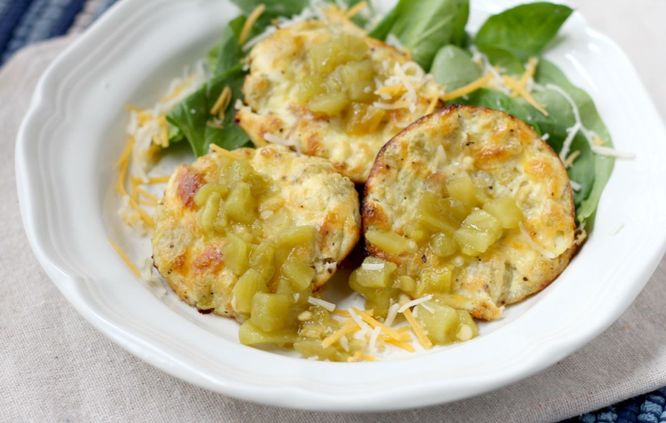 For this "green chile" version of my mini frittata recipe, I used an ingredient that I really like:  canned green chiles.  I usually get the mild variety, and add them to sandwiches, casseroles, enchiladas, salsa...you get the idea!  So I thought why not make them the star of this savory egg dish?  And they came out great!  I added some chopped baby spinach for an additional veggie-boost and added texture, and the awesome thing about how it came out (other than the delicious taste) is that it was all done in just 25 minutes start to finish! 
That means even after a busy day, it really is possible to make something healthy at home.  I added some extra green chiles and red salsa on top which I really enjoyed, but some people like ketchup or hot sauce with their eggs, and that's fine too!  Tailor this recipe to your taste buds, and watch it become a regular on your dinner rotation!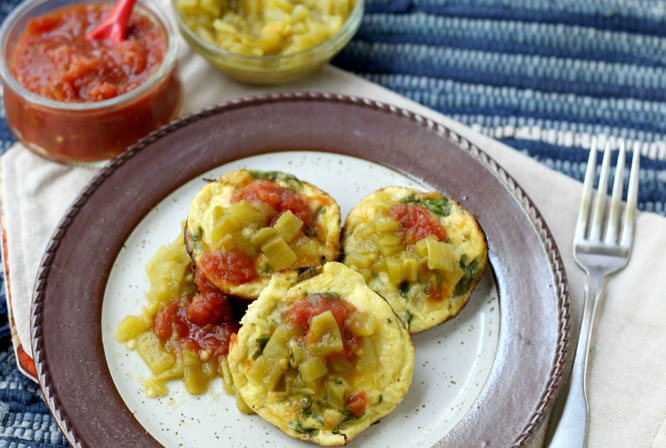 ---
Easy Green Chile Mini Frittatas
Makes about 12 muffins, 4 servings
Ingredients:
6 large eggs

3/4 cup milk

3/4 cup shredded reduced fat Monterrey Jack cheese

1 7-ounce can chopped mild green chiles


2 cups baby spinach leaves, roughly chopped
 pepper to taste

cooking spray
Directions:
Preheat oven to 400 degrees.  In a large bowl, mix the eggs, milk, pepper, cheese, chiles, and spinach until well combined. 

Lightly spray a muffin pan with nonstick cooking spray and pour the egg mixture to fill each muffin tin about 2/3 full.  Bake for about 15-20 minutes or until the eggs are set and the tops are lightly golden.  Top with extra green chiles or red salsa.  

*Note:  These mini frittatas will puff up as they cook, then deflate as they cool. 
Happy Eating!
~Amber
---