This quick grilled parmesan zucchini is ready in minutes and makes the perfect side dish or addition to sandwiches, wraps, pasta, or salads.  It's also gluten free and a family-friendly recipe that everyone is sure to love!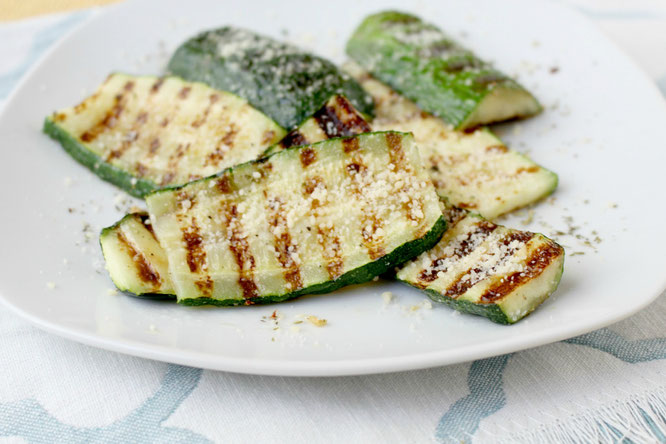 If you've followed my blog for a while or looked through some of the recipes in my recipe archive, you might have noticed that I use a lot of zucchini.  I love almost every veggie out there so I don't really like to pick favorites, but this one happens to be the one that is the most popular at my house, so I guess it could be considered a favorite!  
I love that zucchini is versatile and goes with pretty much any entree.  It's also tender so it cooks very fast, and you don't even have to peel it, so it's easy to cook and retains all of the great nutrition found in the skin.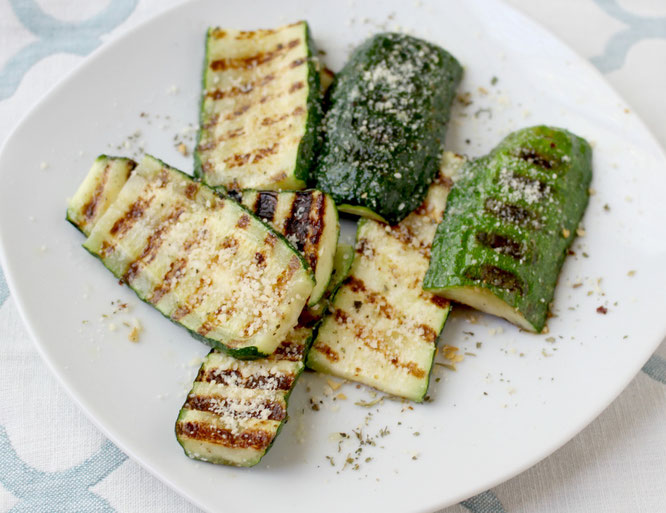 There are several different ways  you could use this recipe, which means you can make a big batch of it one day and then enjoy it in different meals throughout the week.
Here are a few ideas for grilled zucchini:
Serve as a flavorful, unique veggie side dish with any Italian-style entree



Add it to a wrap or sandwich.  This would work beautifully in my Roasted Veggie Wrap recipe or in my Zucchini Panini recipe
Chop up the cooked zucchini and add it to a hearty whole grain salad like my Barley Salad recipe
Bulk up egg dishes like scrambled eggs, omelettes, or my Four-Ingredient Mini Frittatas
Chop it up and add to your favorite pasta recipe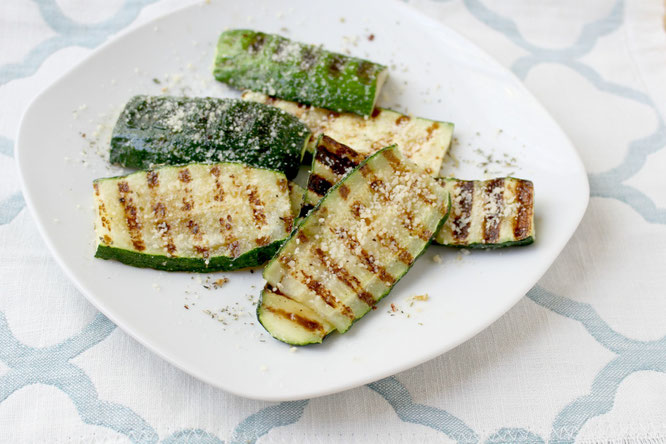 This recipe has only 5 main ingredients and takes about 10-15 minutes to make start to finish.  And if you've got picky eaters in the house, this dish is very kid-friendly or non-veggie-loving adult friendly.  It is such a great alternative to regular steamed or boiled veggies and has so much more flavor and great texture.  I hope this simple recipe becomes a regular at your house!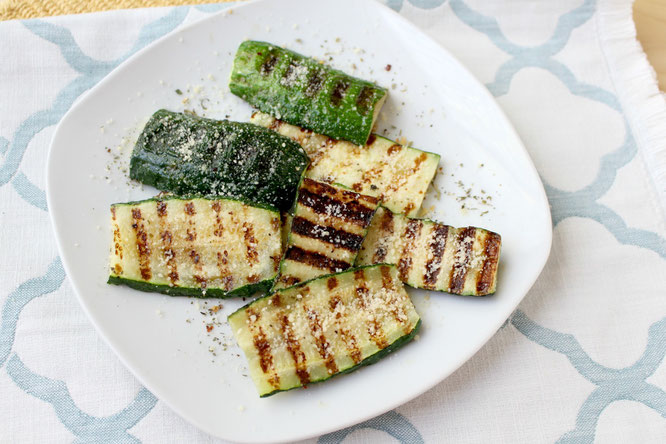 Easy Grilled Parmesan Zucchini
 Makes 2 servings

Ingredients:
1 large z

ucchini, sliced in 1/4 inch length-wise pieces
2 teaspoons canola oil
salt and pepper to taste
1/4 teaspoon garlic powder 
1 teaspoon Italian seasoning
2 tablespoons finely grated parmesan cheese
Directions:

Preheat panini press, grill, cast-iron skillet, or non-stick skillet over medium-high heat. 

In a small bowl, combine the oil, salt, pepper, garlic powder, and Italian seasoning.  Use a brush or spoon to coat both sides of the zucchini with the oil and seasoning mixture.  

Place the zucchini on panini press, grill, or skillet.  Cook for about 5-7 minutes on panini press, or about 5 minutes per side on grill or skillet.  Cook until the zucchini slices are tender and slightly browned.  
Remove from heat, place on serving platter, and sprinkle the cheese over the top.  
*Serve this dish as a veggie side with dinner or as an addition to sandwiches or wraps.  The cooked zucchini can also be chopped and added to pasta dishes.  
Happy Eating!
~Amber
---
---