This kiwi-jalapeno marinated chicken with kiwi pico de gallo is the perfect blend of sweet and heat.  It's a unique, fun dinner that's just right for summer!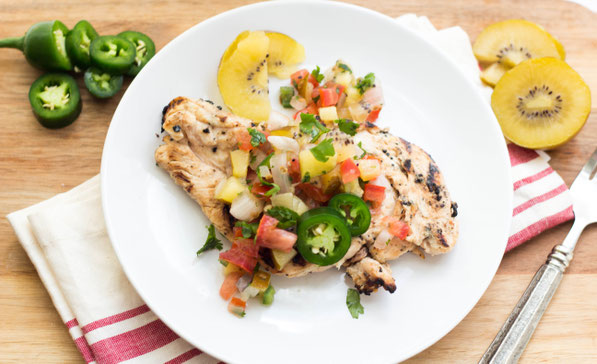 Disclosure:  I received free samples of Zespri SunGold Kiwifruit mentioned in this post. By posting this recipe I am entering a recipe contest sponsored by Zespri Kiwifruit and am eligible to win prizes associated with the contest. I was not compensated for my time.

Kiwifruit has always been one of my favorite fruits...I actually went through a phase a few  years ago where I ate a kiwi every.single.day.  One of my favorite breakfasts was (and still is) a kiwifruit sandwich:  a toasted whole grain bagel thin with cream cheese and sliced kiwi in the middle.  It's SO good! 
And something that I've just recently discovered and fallen in love with is Zespri's golden kiwifruit.  This golden beauty is actually a cross-bred variety of kiwifruit but it has not been genetically modified.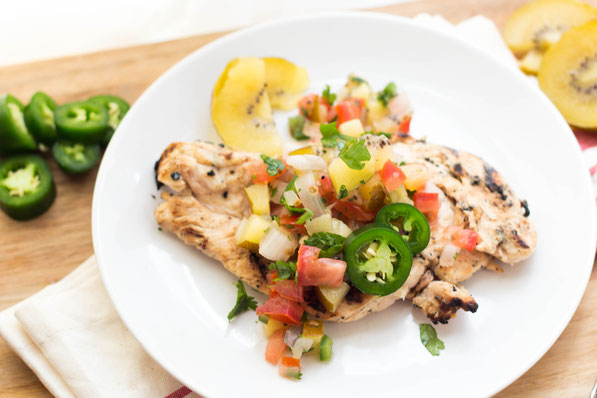 Here are a few things that make golden kiwifruit different from the traditional green ones:
The skin:  They have a thin, smooth, hairless, edible skin.  I like to eat the skin, but here's a tip: whether you eat the skin or not, don't peel kiwifruit.  They're actually super easy to eat - all you have to do is cut it in half and use a spoon to scoop out the fruit and enjoy! 

The color: The outside is a little lighter in color than the green kiwi, which has a brown skin, and the inside is golden in color instead of green.

The

flavor

:  The golden kiwifruit has a tropical, sweet taste.  To me, it's a little less acidic than the green variety.
If you've ever wondered how to tell if a kiwi is ripe:  Hold a kiwifruit in the palm of your hand and squeeze gently. It should yield to slight pressure when ripe.  They will ripen on the counter in 3-7 days, but you can speed up the ripening process by putting them in a paper bag with apples or bananas (the ethylene gas emitted by these fruits make kiwifruit ripen faster). #NowYouKnow ;)
Once ripe, kiwifruit can be left in the fridge for up to 2 weeks, which I think is pretty impressive!!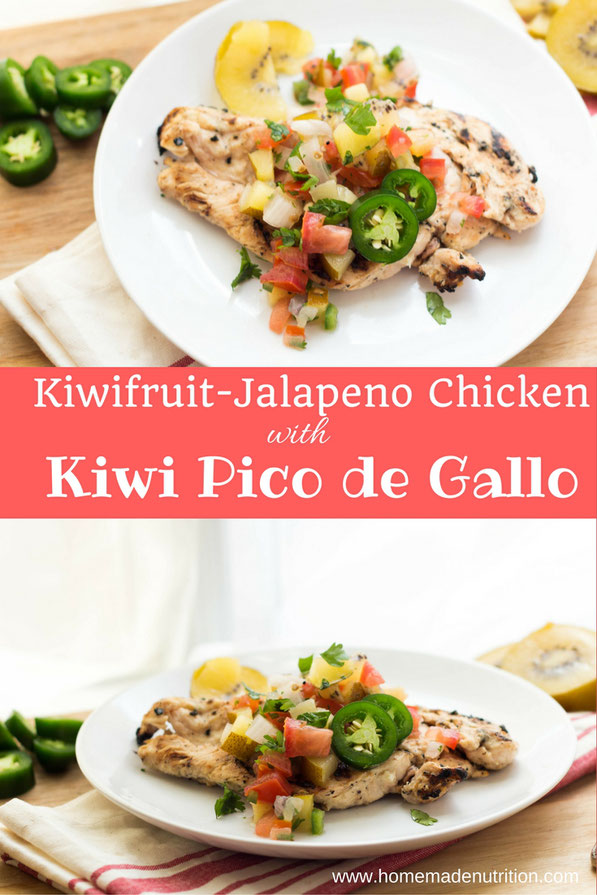 Another fun fact about both green and golden kiwifruit:  did you know you can actually use them to marinate meat?  There's an enzyme called actinidin (it's only found in kiwifruit) which helps break down protein.  It may also improve digestive comfort by helping facilitate digestion.  
Quick side note on actinidin:  it also breaks down the protein in dairy, so dairy foods mixed with kiwifruit should be eaten right away after they're combined! 
Which brings us to today's recipe.  I've never used kiwifruit as a tenderizer  or in a marinade, so I decided it was time to give it a try.  I grilled the chicken, topped it with a kiwi pico de gallo, and crossed my fingers that it could come out delicious.  And it did! 
I love that chicken came with a very distinct sweet (from the kiwifruit) heat (from the jalapeno) flavor.  And adding more of that beautiful golden kiwifruit to some pico de gallo makes the perfect topping to bring all of the flavors together.  If you're looking for a fun summer twist on your chicken dinner, this is a must-try!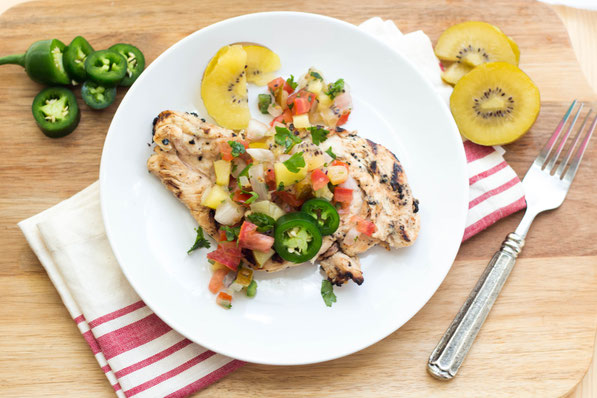 Kiwi-Jalapeno Grilled Chicken with Kiwi Pico de Gallo
Makes 4 servings
For the chicken:
1 Zespri SunGold kiwifruit, cut in large chunks

1 pound boneless skinless chicken breast cutlets

1 tablespoon canola oil   

2 small or 1 large jalapeno, sliced

1/2 teaspoon garlic powder

Salt and pepper to taste
For the kiwi pico de gallo:
2 Zespri SunGold kiwifruit, skin on, diced

1 cup store-bought or pre-made pico de gallo
Directions: 

Place the chopped kiwifruit in a small bowl and mash with a fork.  Place the kiwi along with all ingredients for the chicken in a large zip-lock bag.  Gently squeeze the bag to completely coat the chicken in the kiwi-jalapeno marinade.  Close the bag and refrigerate for at least 20-30 minutes but not longer than 2 hours.




Heat grill, Panini press, or cast iron skillet over medium high heat.  Add the chicken and cook 4-5 minutes per side or until the chicken is cooked through.  Discard the marinade.

While the chicken is cooking, make the pico de gallo by combining the diced kiwi and store-bought or pre-made pico de gallo in a medium bowl. 
Top the cooked chicken with the kiwi pico de gallo to serve. 
Happy Eating!
~Amber 
---
---
---
Here are some other amazing kiwi-inspired recipes from fellow nutrition bloggers!