This vegan carrot, mango, and ginger smoothie is packed with vitamins, minerals and fiber.  It's a great way to add a refreshing boost of nutrition to a busy morning!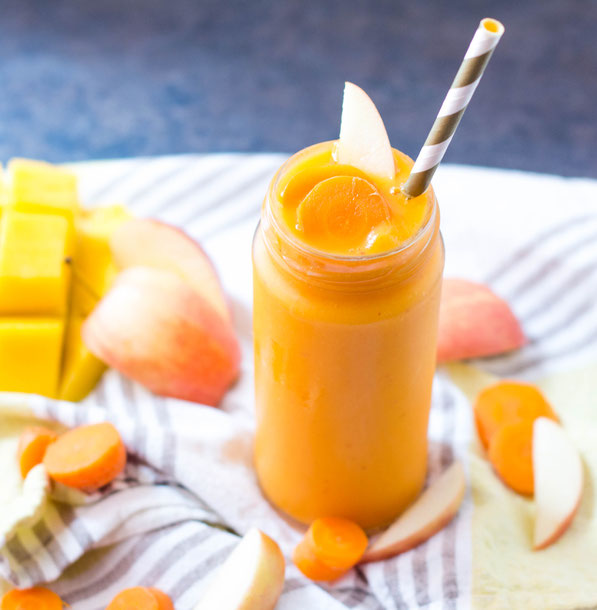 I've got a new smoothie recipe to share today!  This one is a lighter smoothie that focuses on getting some extra servings of fruit and veggies into the day; it's not necessarily meant to be a full meal replacement smoothie like many of the others I post, but this bright beauty is the perfect wake-me-up smoothie! :) 
I consider smoothies to qualify as "meal replacement smoothies" if they contain a good amount of protein to help fuel the body, stabilize blood sugar, and keep you feeling full all morning.  I also like them to contain  a combination of fruit and veggies (not just fruit).  For example, smoothies that contain these foods are make for a more complete recipe that fits the description of meal more than a snack: 
Greek yogurt

Peanut butter or other nut butters

Chia, flax, or hemp seeds

Milk 

Fruit and Veggies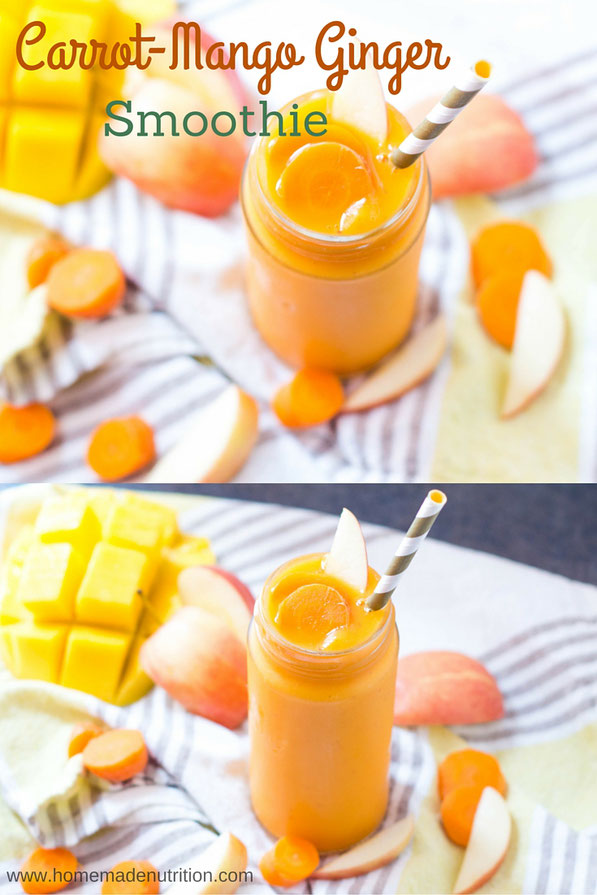 Because this smoothie consists mainly of fruit and veggies, it's light on calories and protein so I count it more as a side or snack than a full breakfast.  To make it a meal, you could add some Greek yogurt or a scoop of your favorite protein powder. 
Mango, fresh ginger, coconut water, apple, and a splash of orange juice make this smoothie very bright and refreshing.  I happened to have some fresh carrots from my parent's garden on hand when making this recipe, and they're a little sweeter than the carrots you find at the grocery store (I know, #spoiled). ;)   So if you find this smoothie isn't quite sweet enough for you, add a teaspoon or two of honey for more sweetness, or agave nectar if you're keeping this recipe vegan.  Enjoy!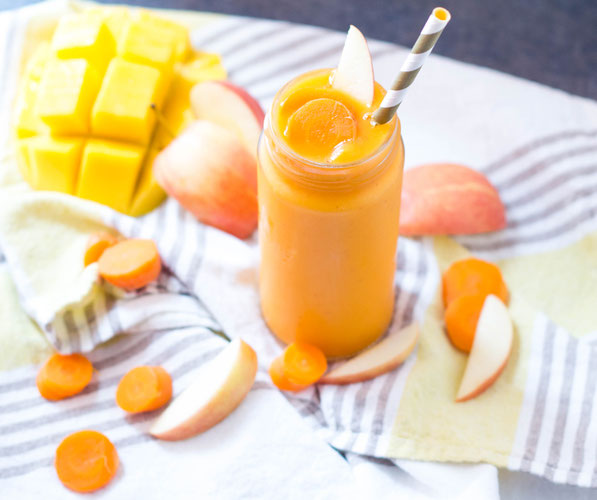 Carrot-Mango Ginger Smoothie
Makes 1 serving

Ingredients:
1/2 cup cooked carrots, sliced
1/2 cup fresh or frozen mango
1/2 cup chopped apple
1/2 cup coconut water
1/4 cup 100% orange juice
1/4 cup water
3-4 ice cubes
1/4 teaspoon fresh grated ginger
1-2 teaspoons agave nectar (optional)
Directions:

Place all ingredients in a blender and blend at least one minute or until completely smooth. 
 Happy Eating!
~Amber
---
---