Does a two-ingredient, healthy, and tasty meal sound too good to be true?  Read on to see one of my favorite go-to "healthy fast food" meals!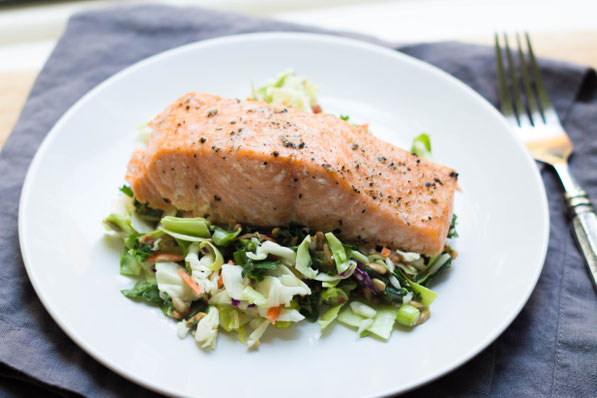 A huge part of my job is helping people figure out what they need to do with their eating habits in order to become healthier or reach whatever health goals they may have.  And by far the number one, most common nutrition struggle I hear is that the person doesn't have enough time to cook.  
Now, there are several ways around this, like working on meal planning techniques, grocery shopping guides, and kitchen tips and tricks.  But sometimes there's still the need for a quick go-to meal that requires absolutely no brain power to put together, but tastes great and is still a good-for-you meal option. 
So today, I'm sharing a meal that I made when my sweet friend Shannon came over for a long overdue visit.  Shannon is a fellow dietitian and also has a nutrition blog over at Kiss in the Kitchen, so be sure to go check her awesome blog out after this!!  
Now when you're having a friend over for a visit, there are two very important things that make it extra special:  Good food and flowers.  In this case we had both, and we actually ended up getting flowers for each other, which was a fun surprise for both of us!  These bright yellow beauties made for one very sweet visit!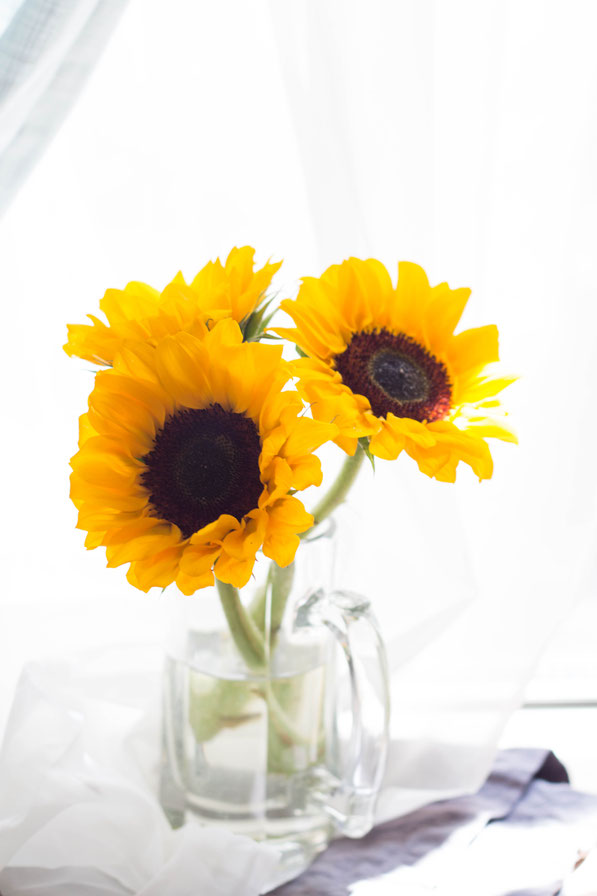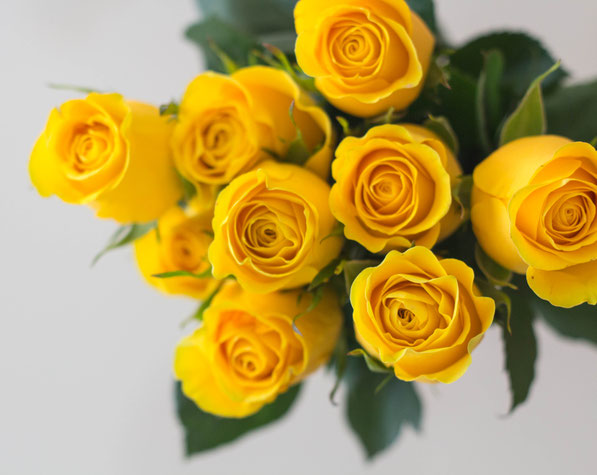 Now on to the food.  It had been a busy week and I wanted to make something special but also something that didn't require much work, or dirty dishes... ;)  
So I turned to one of my very favorite "healthy fast food" meals, which is a protein (I used salmon this time) paired with a bagged chopped salad kit.  My absolute favorite chopped salad kit is the Dole Chopped Sunflower Crunch Kit.  Side note:  this isn't a sponsored post, I just absolutely love this salad and recommend it to all of my clients, friends, and family!   This salad is SO good because it's got all sorts of textures and flavors going on in every bite.  Everything comes in the bag, so all you have to do is pour the greens into a bowl and add the slightly sweet dressing, sunflower seeds, dried cranberries, and bacon that come with it.  
I baked two salmon fillets while mixing the salad together, and that was it...lunch was served!   This is the perfect protein-packed, low carb, and gluten free meal option that also happens to be completely delicious.  You can pair this salad with any protein you like, and if you're new to cooking salmon and interested in mastering the technique of baked salmon, be sure to check out my post on how to make the perfect baked salmon.  
This meal has become a staple at our house on busy weeknights and for when company comes over; I hope you love it as much as we do!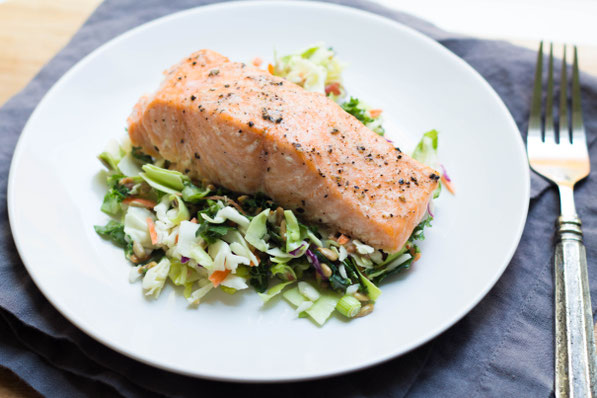 Baked Salmon with Chopped Salad
Makes 2 servings

Ingredients:
2 4-ounce salmon fillets
2 teaspoons light olive oil
salt and pepper to taste
1 bagged chopped salad kit of choice
Directions:

Preheat oven to 400 degrees.  Coat each salmon fillet with the oil, salt, and pepper.  Bake for 18-20 minutes, or until the salmon is cooked through.
While the salmon is baking, prepare the chopped salad kit according to package directions.  
Place a bed of the chopped salad on each plate, top with the baked salmon, and serve.
 Happy Eating!
~Amber
---
---