These easy baked cheese puffs are a perfectly pop-able treat for parties, picnics, or for snacking!  They're easy to make and are naturally gluten free!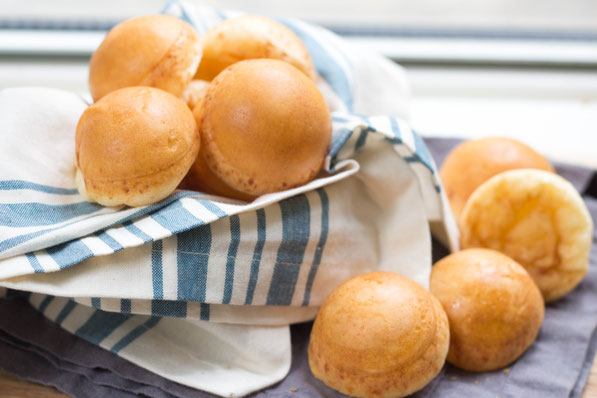 I love being a member of The Recipe Redux for many reasons, but one of the main ones is that it gives me a chance each month to think outside of the box and come up with a recipe based on a specific theme.  This month, the theme is "Small Plates for Sunny Days,"  basically fun things that you'd find at picnics, parties, or as fun sides to go with smaller meals. 
When thinking about what to make for this recipe, one special treat in particular came to mind:  cheese puffs....Because they're just wonderfully delicious and everyone loves them.  These are like the cheese puffs often served as the bread at Brazilian steak house restaurants.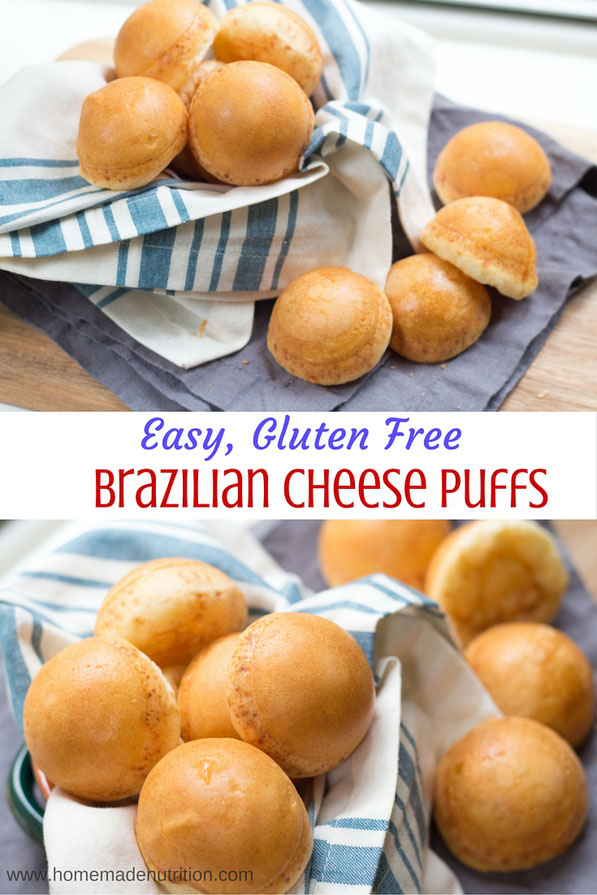 There are a few things that makes this recipe extra special and great for any gathering.  First off, they are SUPER easy to make.  There are only a few ingredients which go directly into a food processor or blender and that's it for the batter.  Pour the batter into mini muffin tins and bake for about 18 minutes and they're done!  
They puff up in the oven and become golden and crispy on the outside, but thanks to the tapioca flour, on the inside they're ooey-gooey and a little sticky and since they puff up, there's also some air in the middle.  You could actually stuff these with ham, cheese, or other fillings if you wanted to, but I like them all on their own!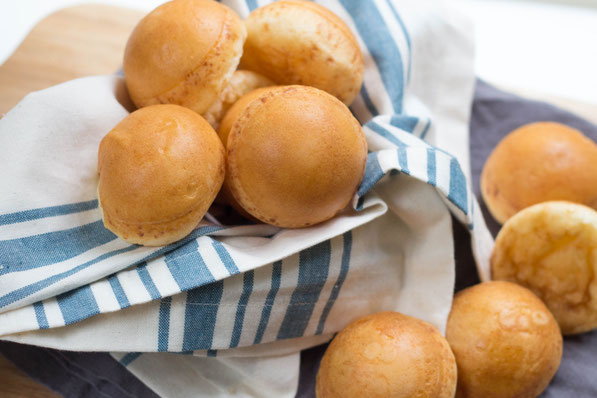 The other nice thing about preparing these for parties is that they are naturally gluten free since the base is tapioca flour.  So if there's anyone coming who is gluten-free, they've got a delicious treat that everyone else enjoys too, so it's a subtle way to have more options available for those everybody.  
These taste best right out of the oven, so I like to make this batter in the morning or even the day before I need it, that way all I have to do is pour the batter into a mini-muffin pan and bake them right before it's time to eat!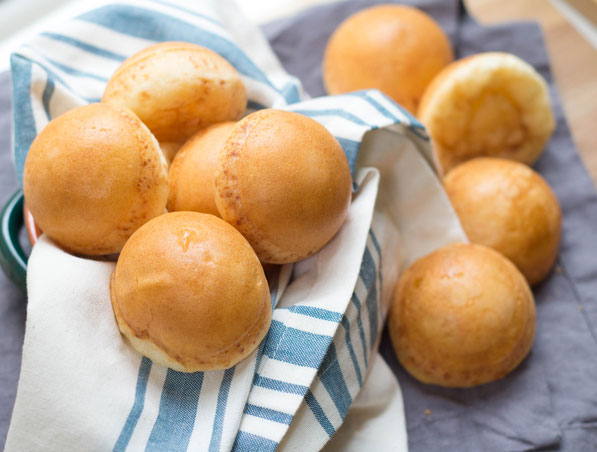 Easy Brazilian Cheese Puffs 
Makes about 24 puffs, or about 8 servings

Ingredients:
1 1/2 cups tapioca flour
1/3 cup light olive oil or canola oil
1 large egg
2/3 cup milk
1/2 cup crumbled queso panela (can also  use queso fresco or grated cheddar)
1/2 teaspoon salt
Directions:

Place all ingredients in a blender or food processor and blend until smooth.  Refrigerate the batter until ready to use (can be made a day in advance).

When ready to serve, preheat oven to 400 degrees. 

Pour about 1 1/2 tablespoons of the batter into each space in a non-stick mini muffin pan.  

Bake for about 18 minutes, or until they are puffed up and lightly golden on the outside.  Serve immediately.  
 Happy Eating!
~Amber
*Recipe adapted from Epcot International Food and Wine Festival: Recipes and Stories Celebrating 20 Years (2015), Brazilian Cheese Puffs, page 77.
---
---
---
Check out these awesome "small plates for sunny days" from other nutrition bloggers below!