This beautiful medley of roasted beets, potatoes, and carrots with garlic-thyme seasoning makes for one delicious side dish!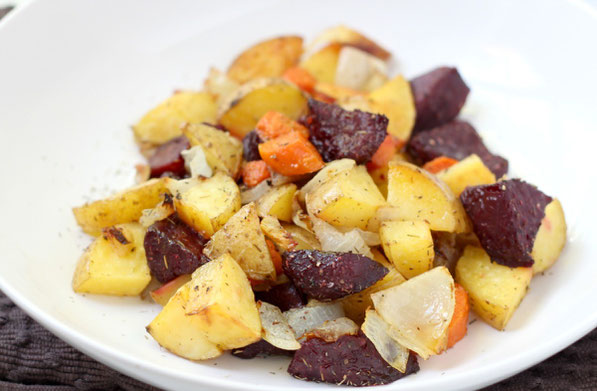 Because one beet recipe this week wasn't enough, here's another bit of beet-loving this week!  If you missed my post this past Monday, I talked about my love of beets and the nutrition benefits they offer, along with a tasty cherry-lime beet smoothie recipe.  And since I had a big batch of leftover steamed beets on-hand, I decided to go a different direction with some of them and make a roasted vegetable side dish to add a little variety to my beet routine.  :)
I've talked a lot about how roasting vegetables is one of my favorite ways to cook them since it brings out a different texture and flavor that's a nice change of pace from blanched, boiled, or steamed veggies.  I've found that roasted veggies also seem to go over much better with kids and non-veggie-loving family members, so that's definitely a bonus when it comes to finding ways to get everyone to eat those veggies at family meals!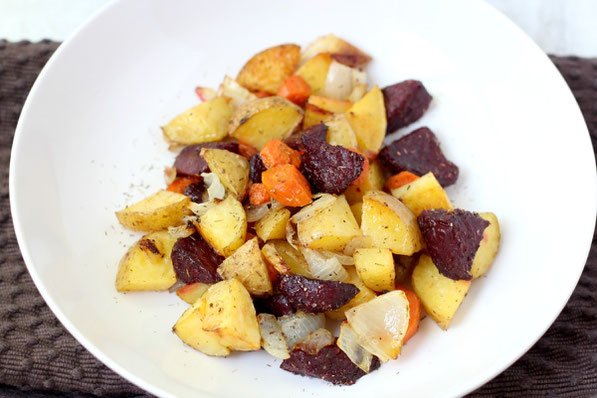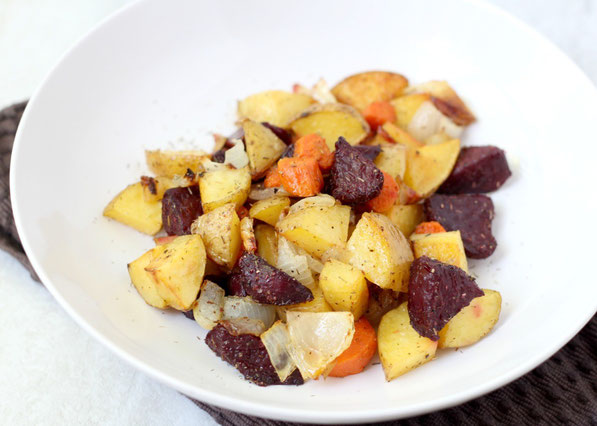 This combination of root vegetables (beets, yellow potatoes, onion, and carrots) is really tasty and perfect for fall and winter.  Dried thyme adds a nice earthy flavor that compliments all of these vegetables really well, and the colors make it pretty to look at,  which is always important since we eat with our eyes first! 
I like starting with cooked beets (either steamed or canned beets) in this recipe because starting with raw beets can make the beet-red color bleed on the other vegetables...so you might end up with pinkish potatoes.  But if that's not a big deal to you, go ahead and start with raw beets!  You can also make a big batch of this recipe at the beginning of the week so you'll have cooked veggies ready to go for the next few days!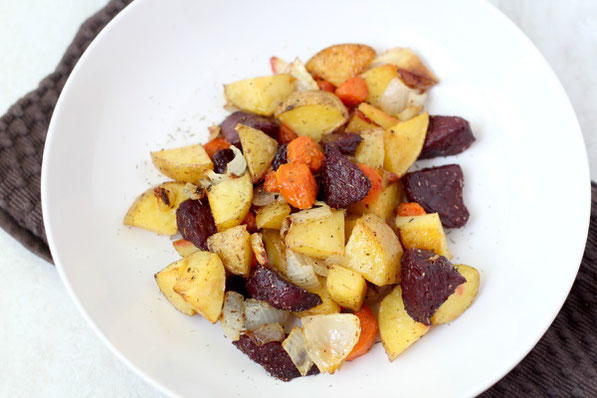 Roasted Garlic-Thyme Root Vegetables

Makes 4-6 servings

Ingredients:
2 cups cooked beets (about 1 large beet), cut into bite-sized pieces

2 medium yellow (or Yukon gold) potatoes, chopped into bite-sized pieces

3 large carrots, sliced

1 small yellow onion, chopped

1 tablespoon canola oil

1/2 teaspoon garlic powder

1 teaspoon dried thyme

salt and pepper to taste
Directions:

Preheat oven to 425 degrees.  Place all ingredients in a large bowl and toss to combine. 

Spread the mixture onto a lightly greased non-stick baking sheet, and bake for 25-35 minutes or until the vegetables are tender.



 Happy Eating!
~Amber
---
---