Looking for the perfect football-watching snack?  These crowd-pleasing taco nachos are a little lighter than your typical party snack, but are full of flavor and protein!

Football season has begun, marking the beginning of what I also refer to as "party snack season" - basically that time of year when we start eating lots of tasty snacks and treats with family and friends on those lazy Sunday afternoons.  The holidays start making their way into the picture very soon after that, and the treats continue all the way through the end of the year... and all of those treats can make it difficult to stay on track with eating well and maintaining a healthy weight. 
It's important to watch out for snacks that are high in calories, fat, salt, and sugar (I know, I know, that's all the stuff we love...).  But since those are things most of us enjoy eating, finding alternatives that are a little lighter but still have all the flavor everyone craves is really important, and it's one of my favorite things to do!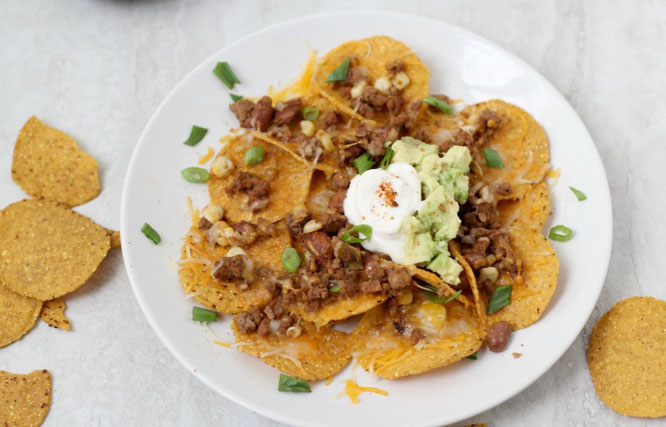 I love tacos.  And I love nachos.  So it seems natural to put them together into a beautiful plate of deliciousness.... :)

These taco nachos use lean ground beef and have added veggies and beans, making for a high-protein, high-fiber main filling for this recipe.  Of course, because these are nachos, there are still chips and cheese - but the cheese is reduced fat, and instead of sour cream, fat free Greek yogurt makes an appearance as the perfect lighter substitute.  Taco seasoning brings amazing flavor, and the whole recipe comes together really fast, especially if you make the taco mixture the night before.  This recipe can be made as a snack or even paired with a salad on the side for a quick and tasty lunch or dinner!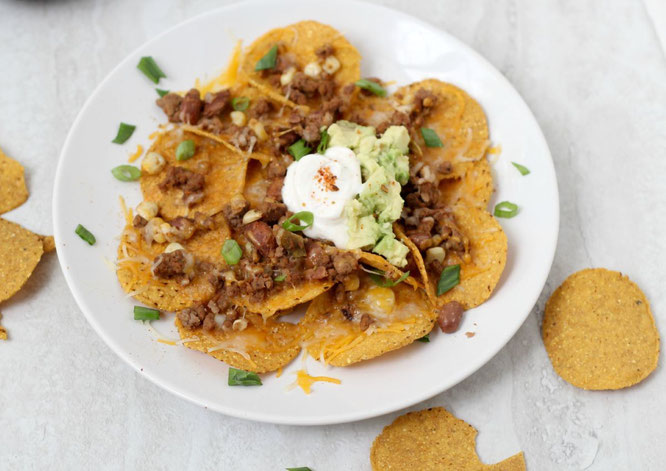 Easy Taco Nachos
Makes 4 servings
Ingredients:
1 teaspoon canola oil

1/2 pound lean ground beef (95/5 or higher)

1/2 small yellow onion, chopped

1/2 cup frozen corn kernels

1/2 cup low sodium pinto beans, drained

1 teaspoon taco seasoning

pepper to taste

1 bag tortilla chips or sweet potato tortilla chips (about 48 chips for the recipe)

1/2 cup reduced fat shredded cheddar or Monterrey Jack cheese

1/2 medium avocado, chopped

1/4 cup plain nonfat Greek yogurt

2 green onions, sliced
Directions:

Preheat oven to 400 degrees.
Heat a large cast-iron or stainless steel skillet over medium-high heat.  Add the canola oil and beef, and use a spatula or spoon to break up the beef as it begins to brown. 
After about 5 minutes, add the onion, corn, beans, pepper, and taco seasoning and cook an additional 5-10 minutes, or until the beef is cooked through.  Drain any excess fat. 
To assemble the nachos, spread the 4 servings of tortilla chips on a baking sheet.  Top with the cheese and beef mixture.  Bake in the oven for about 8-10 minutes or until the cheese is melted. 
Remove from the oven, and top nachos with the avocado, dollops of Greek yogurt, and the green onions.
*Cooking option:  you can also make the nachos on individual microwave-safe plates.  Heat each plate of nachos in the microwave for about 30 seconds instead of heating in the oven.  Then top each plate of nachos with the avocado, yogurt, and green onion. 
Happy Eating!
~Amber
---
---