These easy baked french fries have all of the texture and flavor you'd expect from regular fries, but are a much lighter alternative!  Very family-friendly and easy enough to make on a weeknight!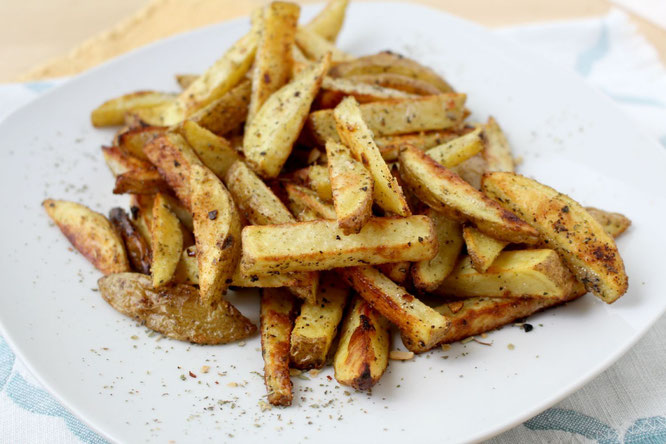 I love french fries.  But I don't love that they aren't very good for you - at least the ones' you get at restaurants aren't.  The potatoes are peeled, deep fried, then showered in salt before arriving on your plate at a restaurant, and to me, that just doesn't do the potato justice.  Cooking them this way takes away so much of the nutrition potatoes have to offer.  Potatoes are packed with nutrition, despite their bad reputation.  The reason many people try to avoid potatoes is because they're considered a starchy vegetable, which means they have a higher carbohydrate content than most other vegetables, with a carbohydrate content per serving is similar to bread.  

But here's the neat thing about potatoes in terms of nutrition: if they're portioned out correctly there are many benefits to including them in your eating plan.  A small (about 4 inches long), whole baked potato with skin only has about 130 calories but also has over 3 grams of fiber and 3 grams of protein, and more potassium than a banana.  Potassium is a mineral that's essential to the function of all cells in the body.  They also contain B-vitamins, iron, and vitamin C, which are all important for energy.  
Potatoes are gluten-free, making them a good carbohydrate alternative for those with Celiac Disease or gluten intolerance.  The other nice thing about these little spuds is the price.  Potatoes are an extremely affordable "whole food" meaning straight from nature, so they can be a good way to provide vitamins, minerals and fiber at an affordable price.
To get the most benefit from potatoes, I recommend leaving the skins on them because that's where most of the vitamins, minerals, fiber, and protein are located.  The other thing I recommend in terms of controlling carbohydrate content in meals is to count the potato as a serving of bread or grain instead of counting it as a vegetable.  This eliminates the carbohydrate overload that often occurs at potato-containing meals, because if you treat them like the bread,  you'll end up eating less bread and fewer carbohydrates.  This is also a good way to make sure you get an extra veggie on your plate, since you're counting the potato as the carb source instead of as a vegetable.  My favorite potato to cook with is the "golden" or "yellow" variety, also called "Yukon gold."  I find that the inside of the potato is very tender and the skin is also more tender than other potatoes.  
This recipe is simple and delicious!  It would make the perfect side dish to my Easy Baked Southwestern Fish Sticks because everything can be cooked at the same time in the oven, plus it doesn't get more kid-friendly than "fish and chips!"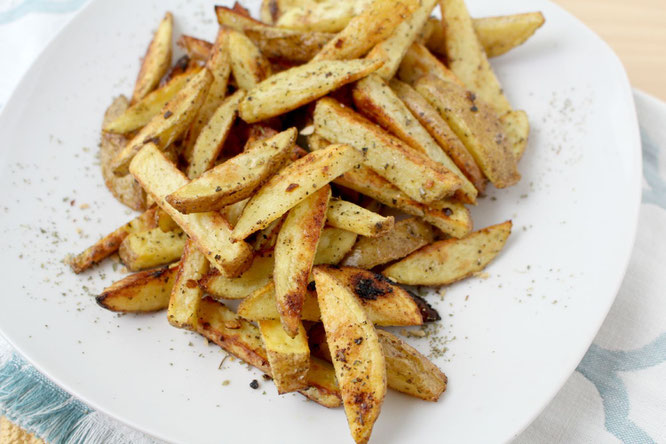 Easy Baked Parmesan-Herb French Fries
Makes 4 servings
Ingredients:
3 medium yellow potatoes (or Yukon gold), washed and cut into wedges

non-stick cooking spray
2 tablespoons canola oil
1 tablespoon Italian seasoning
1/2 teaspoon salt
1 teaspoon garlic powder
black pepper to taste
2 tablespoons finely grated Parmesan cheese 
Directions:
Preheat oven to 425 degrees.  
In a large bowl, combine all ingredients and mix well. 
Spray two baking sheets with the non-stick cooking spray and spread the potatoes out in an even layer on each baking sheet, making sure the potatoes don't overlap or touch.  
Bake for about 15 minutes, then carefully flip the fries with a spatula and bake an additional 5 minutes or until the fries are golden brown and tender.  
Happy Eating!
~Amber
---
---
---