This might just be the easiest roasted vegetable recipe ever!  It's perfect for a busy weeknight!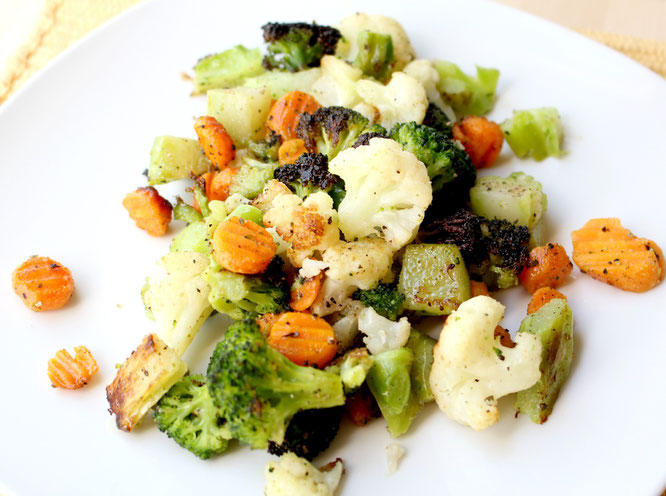 This is the easiest roasted veggie recipe ever (not to mention super cheap to make).  There's no washing, no chopping...you don't even have to thaw these veggies before you roast them.  Really! :)

This is one of my favorite recipes for making a quick veggie side on a busy weeknight.  It literally takes under 5 minutes to get these veggies prepped for the oven, and they cook while I'm getting the rest of dinner ready.  I love recipes where the food basically cooks itself with minimal effort on my part, because it allows me to really speed up the dinner-making process, and I usually have time to clean the kitchen while these simple recipes cook, so there's almost no clean-up to worry about after dinner.  Recipes like this are great for the busy cook who wants to get a delicious, healthy dinner on the table in a hurry!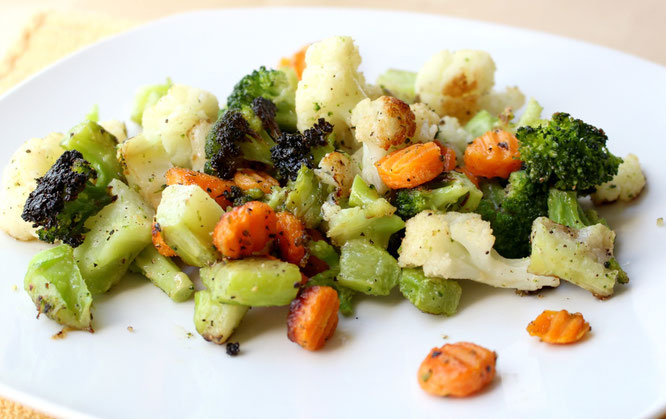 I've talked about the benefits of using frozen vegetables in previous posts because they are one of the most cost-effective and easy-to-prepare healthy foods in the grocery store.  Fruits and veggies are frozen at their peak ripeness, so there's maximum nutrient retention, not to mention long-term storage in the freezer without going bad, and no washing or chopping involved in cooking them because that's all been done.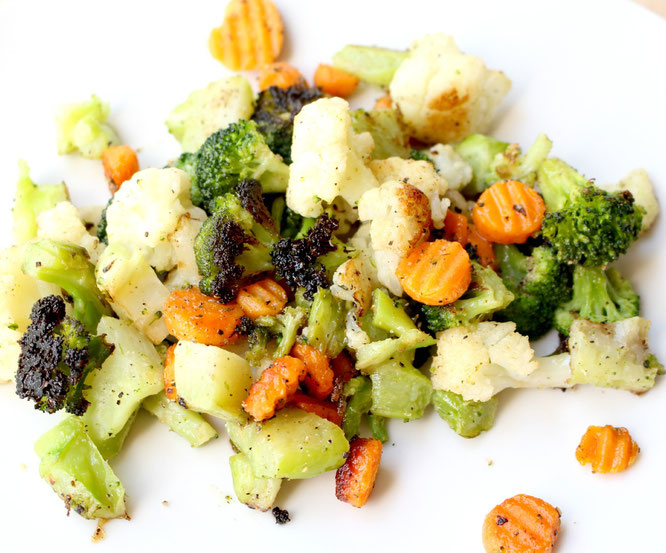 I use frozen vegetables for roasting all the time, but I always used to thaw them and dry with a paper towel before putting them in the oven.  Then one day I was in a hurry, so decided to try  just putting the oil and seasonings on them frozen, and it totally worked!  They came out exactly the same as if I had thawed them first.  I consider this one of my greatest kitchen discoveries to date (kidding, but not really...)! 
Roasting vegetables is the favorite way to cook and eat them in my family, and it just got so much easier to make them this way anytime we want them!  I hope your family loves this simple way to eat veggies as much as mine does, and that this becomes a regular on the veggie-rotation at your house.  You can do this with other frozen veggies too, so try it with any of them that you like!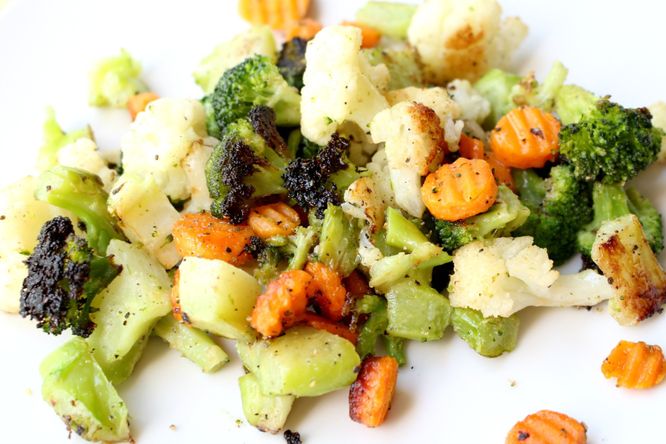 ---
Easy Roasted Vegetable Medley
Makes 4 servings
Ingredients:
1-16 ounce bag frozen vegetable medley of broccoli, cauliflower, and carrots

3 tablespoons canola oil or light olive oil
1/2 teaspoon garlic powder
salt and pepper to taste
Directions:
Preheat oven to 425 degrees.  In a large bowl, combine the frozen vegetables, oil, seasonings, salt, and pepper

Lightly spray a baking sheet with nonstick cooking spray and spread the vegetable mixture evenly on the pan (you can use two separate pans if needed to spread the veggies in an even layer).  Bake for about 20-25 minutes or until the vegetables are tender and lightly browned, stirring halfway through baking time.

Happy Eating!
~Amber
---