Skillet pizzas are the perfect way to make a fast, easy, and healthy pizza for a weeknight dinner!  Cooking the pizza in a skillet makes a perfect round crust that's crispy on the bottom and soft on the inside.  This version with tomatoes, cheese, and fresh herbs is perfect for summer!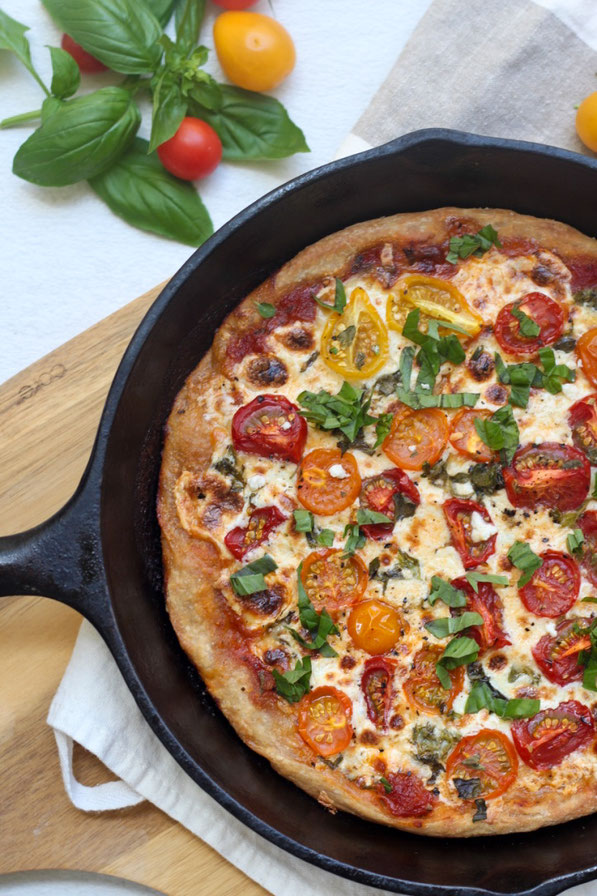 Have you tried skillet pizzas?  They're a relatively new thing at our house but I've been making pizzas like this one almost every week now that I've discovered them!  If you haven't seen a skillet pizza before, it's simply a pizza assembled in a skillet, but cooked entirely in the oven.  
You may be wondering what the benefit could be of cooking pizza in a skillet versus a pizza pan or a pizza stone, and for me there are two main reasons for it.  The first is the crust.  Adding a touch of oil to the skillet before adding the crust promotes a nice crispy bottom and sides of the crust while the inside of the crust stays soft and delicious. 
The other is that the pizza is perfectly round and everything stays in the skillet.  I know, that part isn't the biggest deal, but I can't help that I like pretty food. ;)  There's also no need to pre-cook the crust; it all cooks in around 20 minutes in the oven!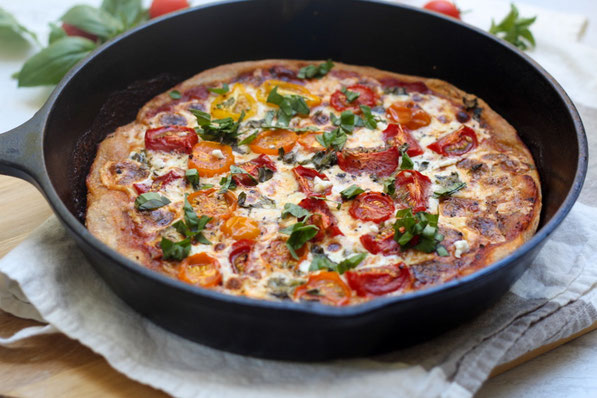 I use my trusty large cast iron skillet to make skillet pizzas.  Cast iron is a good choice for recipes like this one because it has a nice, evenly distributed heat throughout the whole pan.  It's also sturdy and has high edges so all the ingredients stay in the pan and it's easy to transfer it to and from the oven.  With that said, if you don't have a cast iron skillet, you could use another oven-safe skillet (preferably non-stick) and I'm sure it will work fine! 
Now, as far as the servings go, this pizza should probably (and can definitely) serve four people if you serve it with a side salad.  But honestly, my husband and I can finish one of these puppies all in one sitting if I've made it with a thinner crust.  So keep that in mind if you're cooking for a larger family. :)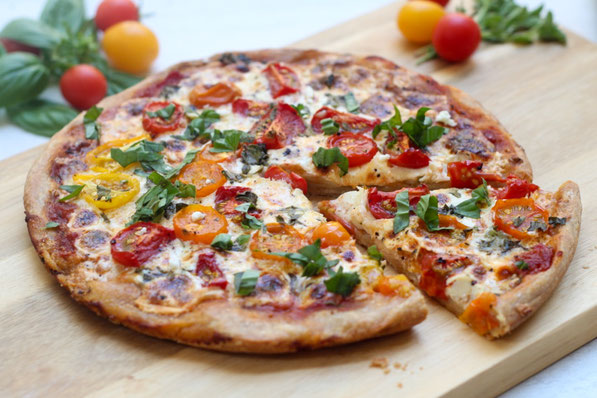 As far as the crust, I usually make my own dough and I use half of a dough recipe for one thin-crust skillet pizza.  I'll try to share my pizza dough recipe soon, but it's still a delicious work in progress! 
So if you have a favorite dough you make, use half of a recipe for this dish for a thin crust pizza, and if you buy store-bought pizza dough, look for one that is 10-14 ounces (it will have the weight on the front of the package).  A 14-ounce dough will make a thicker crust pizza.  You can easily freeze the other half of the dough for a pizza another night.  Just pull it out of the freezer and move to the fridge the night before or morning that you'll need it.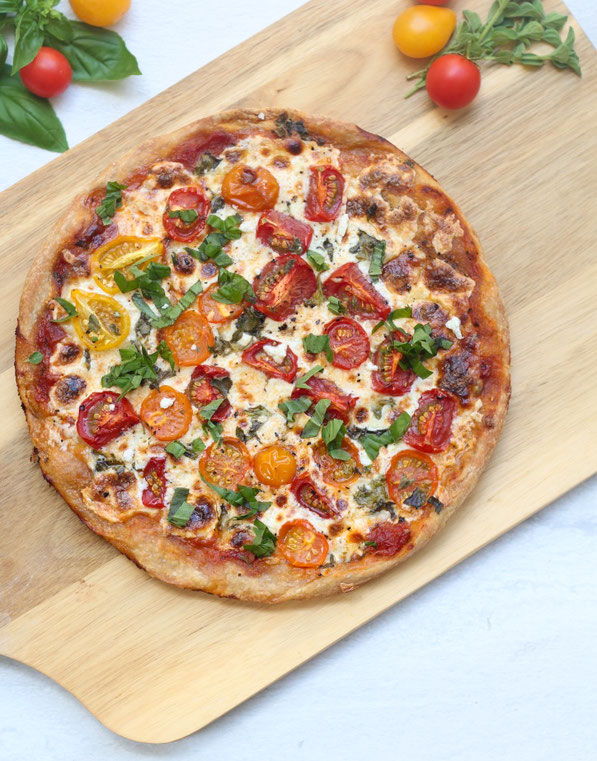 As far as the toppings for today's pizza, I currently have an abundance of summer produce at my fingertips thanks to my very small backyard garden, my parent's garden, and a neighbor's garden (I know, I'm pretty lucky!).  That means I have lots and lots of tomatoes right now, and my basil and oregano are doing beautifully in their little pots. :) 
So, I went with a simple summer-themed vegetarian pizza.  I started with a little marinara sauce as the base, and fresh mozzarella cheese and sliced provolone cheese, then added the tomatoes, some chopped oregano, a little salt and pepper, and drizzle of olive oil over the top.  Fresh basil finishes the pizza off with the perfect bright flavor!  It's a simple, fresh pizza that I know we will be enjoying over and over again all summer! 
Tomato and Cheese Skillet Pizza
Makes 4 small servings (or 2 larger servings) 
Ingredients:
1 10-14 ounce store-bought pizza dough  (you can also use half a homemade dough recipe)

2 teaspoon + 1 tablespoon light olive oil

1/2 cup marinara sauce

1 cup shredded mozzarella cheese

4 slices provolone cheese

1 cup cherry tomatoes, cut in half, or 2 medium tomatoes, sliced

2 teaspoons fresh oregano, chopped (or 1/2 teaspoon dried oregano leaves)

2 tablespoons chopped fresh basil leaves for garnish
Directions:
Preheat oven to 400 degrees.  Pour the 2 teaspoons of olive oil around the bottom of a large cast iron or other oven safe skillet.  Roll the dough to approximately the size of the skillet, then Add the dough to the skillet.  Press the dough out to evenly cover the entire bottom of the skillet. 

Spread the marinara sauce over the dough, then add the cheeses, tomatoes, and oregano.  

Sprinkle salt and pepper over the entire pizza, then drizzle with the remaining 1 tablespoon of olive oil.  

Bake for 20-25 minutes or until the cheese is bubbly and the crust is golden.  Sprinkle the fresh basil over the top of the pizza.  Once it has cooled slightly, carefully remove the pizza from the pan, slice it, and enjoy! 
Happy Eating!
~Amber
---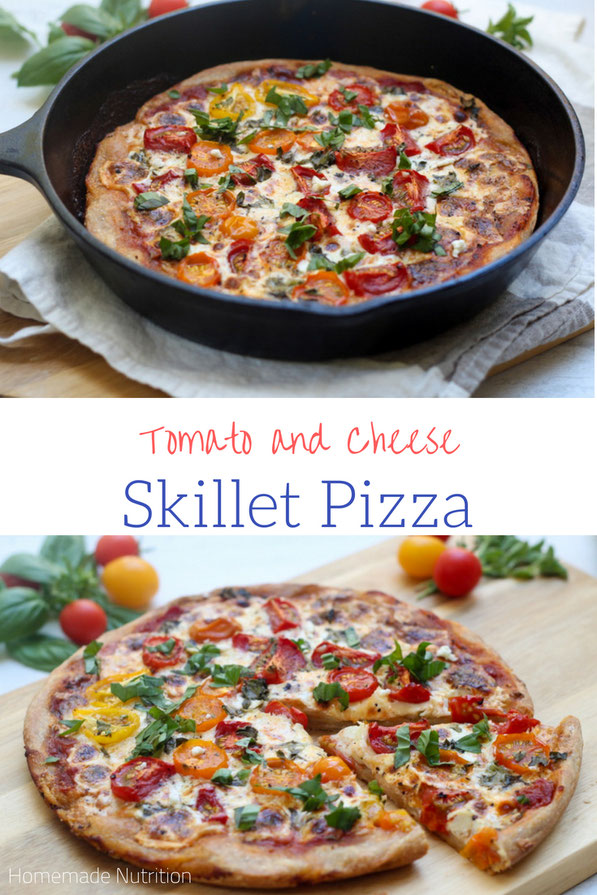 ---