These philly cheesesteak sandwiches are packed with flavor and are a breeze to make! It's a weeknight-friendly dinner recipe with just 5 main ingredients and is on the table in 15 minutes!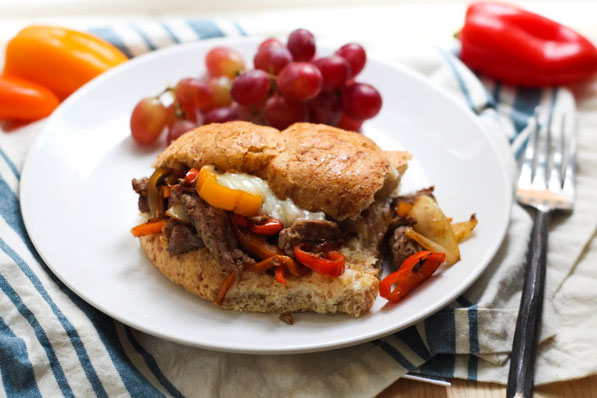 Happy New Year!  I hope everyone had a beautiful holiday season!  And I don't know about you, but now that the new year has begun, I've been thinking a lot about goals for the upcoming year.  I'm really not one to make resolutions like "losing weight" or "being healthier,"  but to me a new year is like a blank canvas filled with possibilities for setting some new goals and thinking of a few things I'd like to focus on for the next twelve months.  
And this year I'm keeping things simple when it comes to food.  I always try to make easy, healthy meals that taste great and are cost-effective.  But I've decided to kick things up a notch:  This year I'm focusing more on super quick meals (like today's 15 minute meal and my quick cheesy BBQ chicken), breaking out the slow cooker for more meals, and.....the one I'm most excited/nervous about because it's newer territory:  freezer-friendly meals.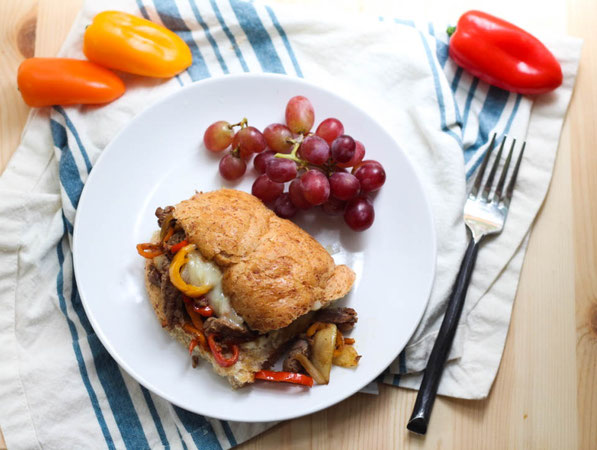 I've been looking at make-ahead freezer meals for a long time on Pinterest, and this year, I've decided that I really want to try/master the concept of meals that can be prepped in advance and kept in the freezer for quick weekday or weeknight meals.  So stay tuned, because now that I've actually committed to it here, I better start practicing my freezer meal skills! ;)
But back to today's recipe.  These Philly cheesesteak sandwiches are the perfect weeknight dinner for two that literally takes just 15 minutes to make!  And there are only five main ingredients...and it only dirties up one pan....and it's delicious.  So an all around winner for sure!  I like to use a lean sirloin steak for the base of this recipe - I usually cook it to medium because that's how we like it at my house, then slice it really thin so the meat ends up being nice and tender with every bite.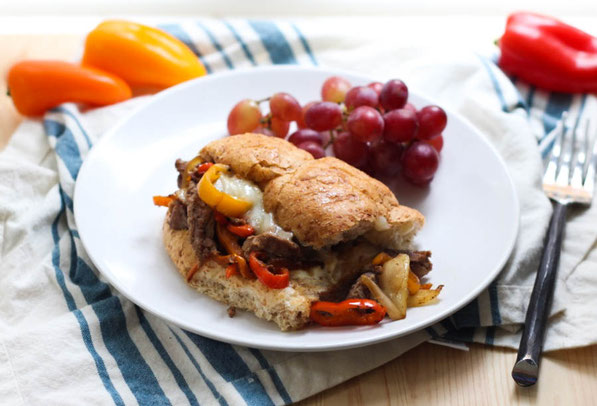 I also use those cute little mini peppers you find in a pre-packed bag at the grocery store because they're adorable, easy to slice, and have different colors to make the dish pretty. :)  Add some onion and provolone cheese and the perfect sandwich is born!  
I started making this recipe about a month ago, and it's been on the dinner menu quite a bit since then because it's so good.  Here's to quick-cooking successes and a healthy start for the new year!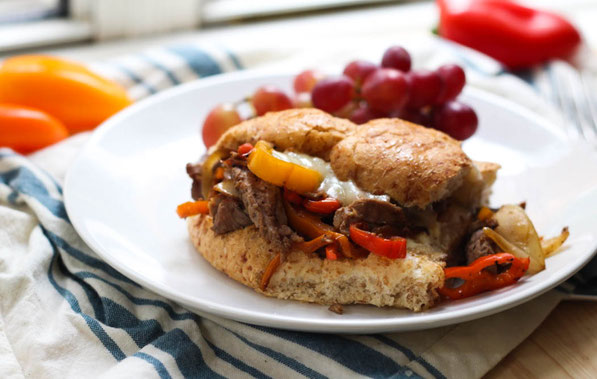 One-Skillet Philly Cheesesteak 
Makes 2 Servings
Ingredients:
2 teaspoons light olive oil, separated
1/2 pound thin sirloin steak (about 1/2 inch thick)
1/2 cup sliced mini multi-colored peppers (about 5-6 mini peppers, or 1/2 large red bell pepper)
1/2 cup sliced onion
salt and pepper to taste
2 slices provolone cheese
1 large or 2 small whole grain baguettes, sub sandwich rolls, or buns
Directions: 
Heat a large non-stick or cast iron skillet over medium-high heat.  Season both sides of the steak with salt and pepper.  Add 1 teaspoon of the oil to the skillet and add the steak.  Cook for 2-3 minutes per side or until desired doneness.  Remove from skillet and set aside on a cutting board to rest. 
Meanwhile, add the sliced peppers and onions to the same skillet, season with salt and pepper to taste, and saute for 5-7 minutes, or until the vegetables are tender.
 While the vegetables are cooking, slice the steak very thinly.  
Once the vegetables are tender, add the steak slices back to the skillet and stir everything to combine.  Turn off skillet and remove from heat. 
To assemble the sandwiches, slice each roll or bun in half, and place a slice of provolone cheese on the top half of each bun.  Heat in the microwave for for about 30 seconds to melt the cheese.  Add 1/2 of the beef and vegetable mixture to the bottom of each bun and close the sandwich with the cheesy top half of the bun.  Serve with a side salad or fresh fruit. 
 Happy Eating!
~Amber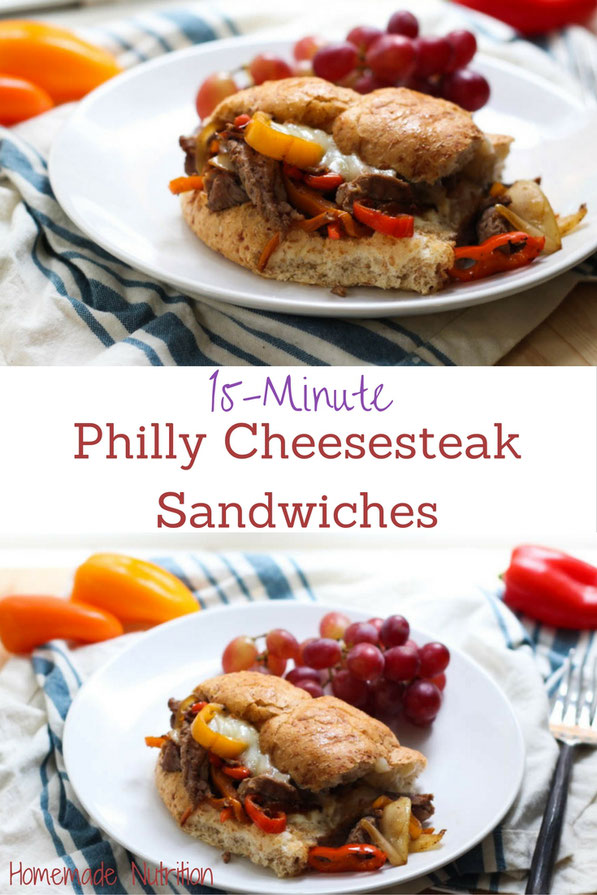 ---
---