This easy make-ahead 5 ingredient, 10 minute homemade pumpkin pudding is the perfect lighter dessert option placed in single-serve portions that everyone will love! It also doesn't have have a crust, so this is a great gluten-free option!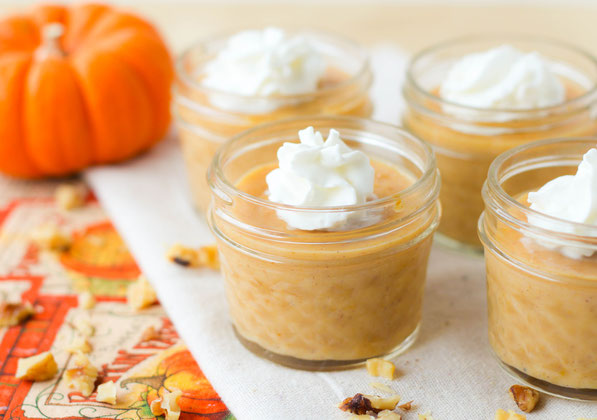 There are so many reasons to try this pudding as a Thanksgiving dessert, I had to make a list using bullet points that pretty much makes up most of this post!  Here's why I love this recipe:
It's delicious.  Sorry to state the obvious, but it's true!  This is is SO tasty!
It's gluten free:  The lack of crust on this dessert makes it a friendly option for any guests who are skipping out on gluten for medical or personal reasons. 
It's lower in fat and sugar than many other of its' Thanksgiving dessert counterparts.  I used low fat milk, but other than that, there isn't any added fat or oil in this dish (unless you add some whipped cream on top, which even that is only a small addition of calories and fat).  Yes, it does have sugar...because it's a dessert!  But it has less sugar than many other sweet treats. 
It is portioned into single-servings.  So I sort of took this idea from a whole bunch of restaurants that's become really popular...Have you ever seen those little "dessert shots" at restaurants?  It's just a little taste of some sweet treat (usually only 2-3 bites).  It's that perfect size to get a taste of sweetness to end a meal without going overboard on the portion.  Same idea here.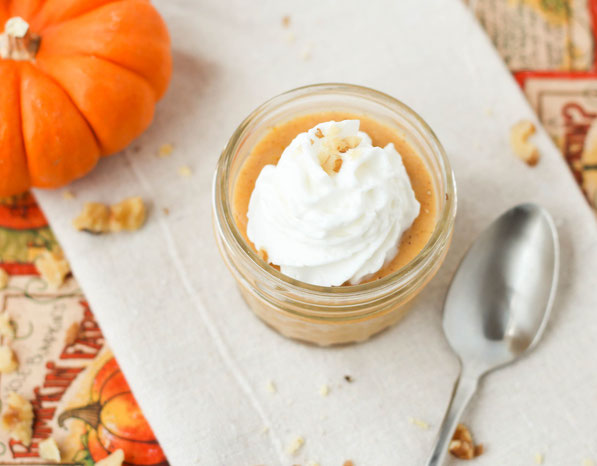 It's a make-ahead recipe.  Make this the day before, pop it in the fridge, and save the oven/stove space and extra stress of making dessert on Turkey Day...you're welcome! ;)
It only takes 10 minutes to prep.  We're already extra busy this time of year, and if you're getting ready for a holiday gathering (especially if you're the host), the last thing you need is a dessert that takes hours to make.  I love pumpkin pie, but I don't like how many steps and how much bake time is involved in making it from scratch.  This dessert (made from scratch) is still special, but without taking so long to make. And you'll only dirty up one pot to make it! yay!! :D
It's light.  This is the kind of dessert that won't leave you feeling overly stuffed and uncomfortable after already eating too much food at that Thanksgiving table.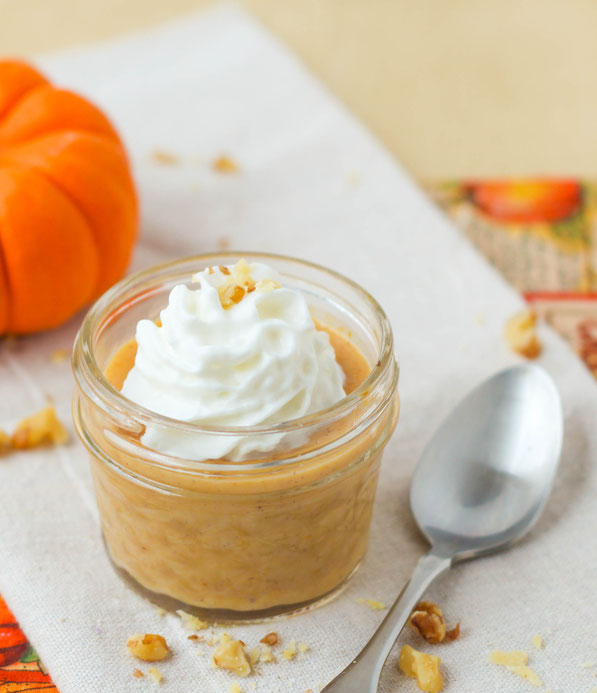 Now if that wasn't enough to convince you to try this recipe, I don't know what else to say! 
But I do have a couple of notes to end on for this recipe.  It makes 4 perfect 1/2 cup portions, so depending on how many you're cooking for, just multiply the recipe accordingly.  I found these super cute 4-ounce mason jars at a local craft store, but I've done parties with mini-desserts before using small clear disposable cups.  For larger groups or a more budget-friendly option, use the plastic cups!  Just make sure to use clear ones, and these desserts will still look beautiful.  
Also, be sure to pour the pudding into whatever serving containers you're using while it's still warm.  Pudding sets as it cools and doesn't look very pretty (and it gets lumpy) if it has to be re-mixed after it has been in the fridge.  So pour it directly from the pot into your serving containers, let them come to room temperature, then pop them in the fridge and you're good to go until dessert!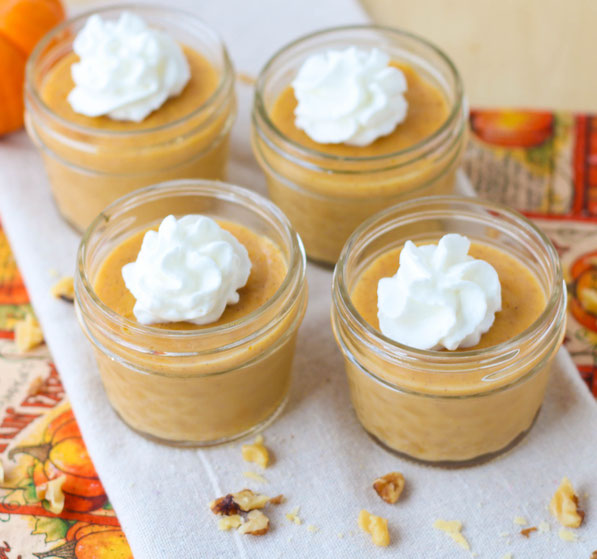 Five-Ingredient Pumpkin Pudding
Makes 4 servings (1/2 cup each)
Ingredients:
1/4 cup sugar




2 tablespoons corn starch




1/2 teaspoon pumpkin pie spice




1 3/4 cup low fat milk




1/4 cup plain pumpkin puree 



Optional additions:  

whipped cream (optional but highly recommended!)




finely chopped walnuts or pecans




cinnamon sprinkled over the top



Directions:
Preheat a medium pot over medium high heat on the stove.  Add the sugar, corn starch, and pumpkin pie spice.  Whisk to combine.  




Add the milk and pumpkin.  Bring the mixture to a light boil, whisking constantly.  




Continue to whisk the mixture for 5-7 minutes, or until it thickens into a pudding texture.  Turn off the heat and let cool for a few minutes. 




Pour warm pudding into individual serving containers, let the pudding cool to about room temperature, then cover and refrigerate until ready to serve.  This recipe can be made 2-3 days in advance.



 Happy Eating!
~Amber
---
---
---