This is the recipe for my family-favorite roasted vegetables with the addition of farro to create a beautiful, hearty whole grain salad that can be enjoyed as a quick lunch or dinner option!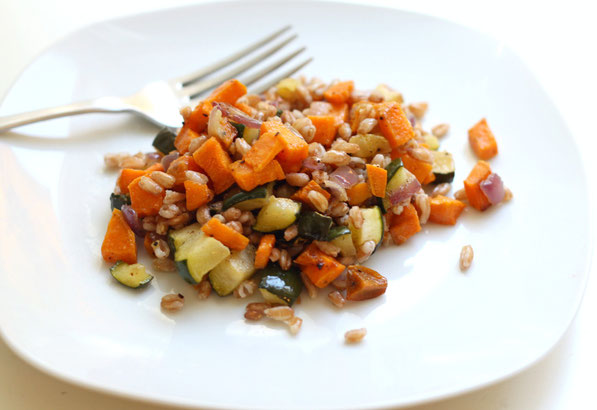 Farro is one of my favorite grains, especially in this recipe.  It's nutty, hearty, and very filling.  I buy quick-cooking farro at my grocery store (on the same aisle as rice) because otherwise this grain takes more like an hour to cook, so this is a valuable shortcut!  If you can't find farro, you could also use brown rice or barley to get the same delicious, hearty effect!  
This recipe is also the perfect make-ahead lunch or dinner option, because you can keep it in the fridge for at least 3-4 days and add different things to it to change it up a bit (I like adding nitrate-free ham or salmon to make this a high protein, balanced meal).  Feel free to get creative and add what you love to this recipe to make it your own!  :)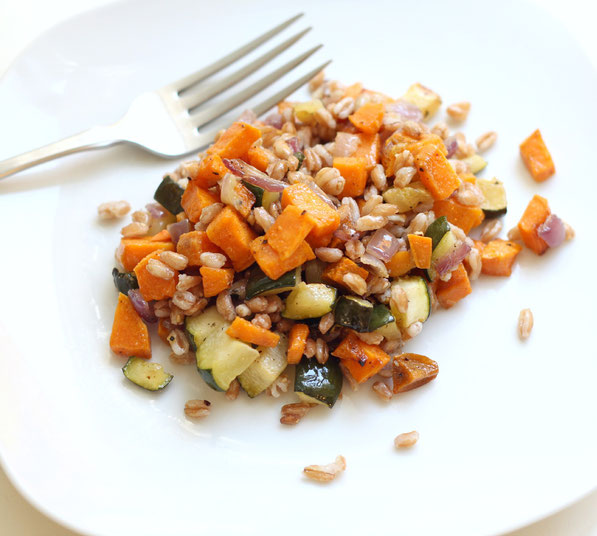 Farro Salad with Roasted Butternut Squash and Zucchini
Makes about 6 servings
Ingredients:
3 tablespoons canola oil




2 cups frozen butternut squash cubes




1 large zucchini, chopped




1 red onion, chopped




1 teaspoon garlic powder




1/2 teaspoon salt




black pepper to taste




2 cups quick-cooking farro (can also use barley or brown rice)



Directions: 
Preheat oven to 425 degrees.  Place all ingredients in a large bowl and toss to combine. 




Spread the mixture onto a lightly greased non-stick baking sheet, and bake for 30-45 minutes or until the vegetables are tender.




While the vegetables are cooking, cook the farro according to package directions.  Once the vegetables and farro are cooked, mix them all together and serve immediately or refrigerate up to 5 days.  
Happy Eating!
~Amber
---
---
---