These healthier pumpkin muffins have a delicious chocolate-swirl layer on top that makes them just a little extra special for a beautiful fall treat!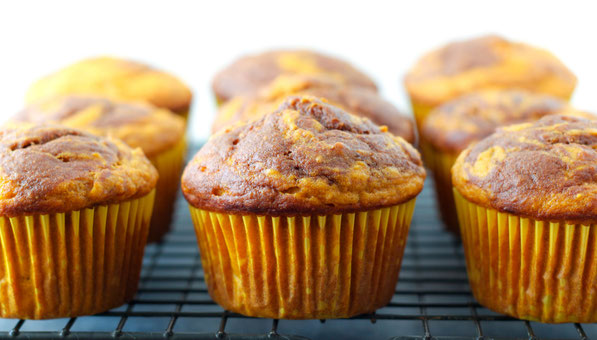 I haven't always been great at baking, but I've made it my mission over the past year to work on the quality of my baked goods so I can feel better about sharing sweet treats with family and friends.  One of the problems I always had with baking is that I was making too many changes to recipes in my effort to make them healthier.  And more often than not, the result was just plain gross.  :/
I've finally come to realize that you really can't change every part of a recipe and expect it to taste like what it was meant to be (that goes for baked goods or regular cooking).  The other thing I've come to understand is that when you're baking something like cookies, cupcakes, or muffins, those foods aren't meant to be eaten as "healthy meals" but instead are foods to be enjoyed in moderation.  So if you aren't going to eat these foods everyday, it's okay to leave certain parts of the recipe as they were to come out with an outstanding product that everyone will absolutely love.

With all that said, I have found a few simple modifications that seem to work beautifully to make baked goods just a little lighter while still keeping that light, fluffy texture you'd expect in a perfect muffin, cupcake, or other treat.  Replacing part of the flour with white whole wheat flour, reducing the total sugar by about 1/3, and using ground flax seed to reduce the oil by about 1/2 has been giving me really nice results in baked goods! 
I'm so happy with how these muffins came out.  I wanted just a touch of chocolate to add a little something different to this recipe, so the recipe calls for separating part of the batter out and adding cocoa powder to make it chocolaty.  
I only swirled a bit of the chocolate batter on the top of each muffin because I like it keep the same pumpkin color on the inside of the muffins, but you can add the chocolate part in the middle of the regular batter for a swirled center.  Up to you!  These muffins didn't last very long at my house, so I'm guessing they will be popular at your house too!  :)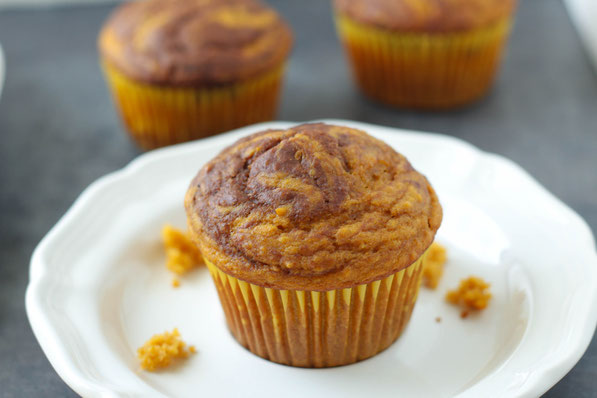 Chocolate Swirl Pumpkin Muffins
Makes 12 muffins
Dry Ingredients:
1 cup flour




1/2 cup white whole wheat flour




1/4 cup ground flax seed




1/4 teaspoon salt




1 teaspoon baking powder




1/2 teaspoon baking soda




2 teaspoons pumpkin pie spice
Reserve to add later:  2 tablespoons cocoa powder



Wet Ingredients: 
1 cup canned plain pumpkin puree 




1/3 cup canola or light olive oil




3/4 cup buttermilk




1/3 cup sugar




1/3 cup brown sugar (not packed)




1 egg



Directions:
Preheat oven to 350 degrees.




Mix the dry ingredients in a medium bowl and set aside.  Mix the wet ingredients in a separate large bowl.




Gradually add the dry ingredients to the wet ingredients, using a whisk to mix the batter well.  




Separate 1/3 cup of the batter in a small bowl.  Add the cocoa powder and mix well to combine.  




Line muffin tin with cupcake wrappers and lightly grease the wrappers.  Fill each of the cupcake wrappers about 2/3 of the way full with the pumpkin batter.  Add 2 teaspoons of the chocolate batter to the top of each muffin and use a toothpick to swirl the chocolate batter into the pumpkin batter (note:  the swirl will come out on the top of the baked muffins, not throughout the whole muffin).  




Bake for 20-25 minutes or until toothpick inserted in the center of a muffin comes out clean.  



 Happy Eating!
~Amber
---
---
---