These lighter stuffing muffins makes this normally heavy holiday side dish a bit healthier while still tasting like "normal" stuffing!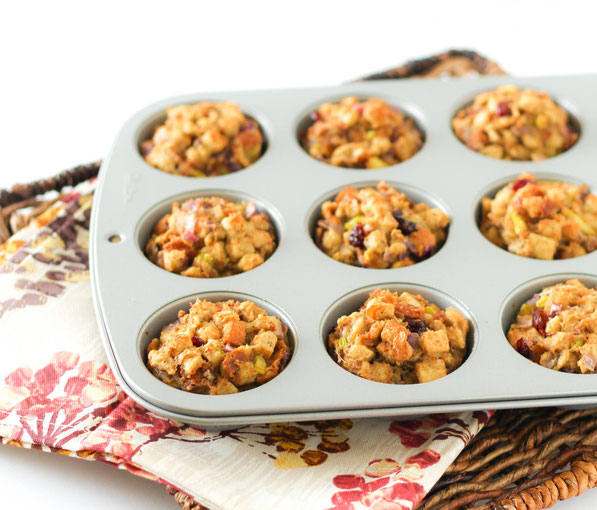 You can either use these tricks with your favorite stuffing recipe, or you can make my healthier stuffing muffin recipe at the end of this post! 
Everyone has their family-favorite stuffing recipe, but generally you can reduce the butter/fat by half and add extra chicken broth as a substitute to greatly reduce the fat content.  Then portion it out into a muffin pan (1/2 cup each) before baking so everyone gets a perfect portion of stuffing instead of taking a heaping portion that's too big.  
Another reason to make stuffing in a muffin pan is that each muffin has it's own crispy edges all the way around....and let's face it, that's everyone's favorite part of stuffing!  
And if you're looking for other small healthy swaps to make to holiday favorites, check out my post on subtle changes that no one will notice at Thanksgiving dinner.  
---
---
Lighter Stuffing Muffins
Makes 11 muffins
Ingredients:
2 tablespoons unsalted butter

1/2 red onion, chopped

3 stalks celery, chopped

salt and pepper to taste

2 teaspoons dried thyme

1 teaspoon dried rosemary

1/4 teaspoon dried sage

1/2 cup dried cranberries

7 cups dried whole grain bread cubes (plain, not pre-seasoned)

4 cups low sodium chicken broth
Directions:
Preheat oven to 350 degrees.

Heat the butter in a large skillet over medium heat.  Add the onion, celery, salt, pepper, and herbs and cook for about 5 minutes or until the vegetables become slightly tender. 

Add the cranberries, bread cubes, and chicken broth and mix everything to combine well.  The mixture should be wet.  

Lightly grease muffin pan.  Fill each muffin cup with 1/2 cup of the stuffing mixture.

Bake for 30-40 minutes or until the stuffing is golden and slightly crispy on top and the inside is cooked through to your taste preference.
Happy Eating! 
~Amber