I'm very excited about today's recipe because it's a real "winner winner chicken dinner" in terms of taste, but it's also ready in under 15 minutes, which is healthy "fast food" at its finest!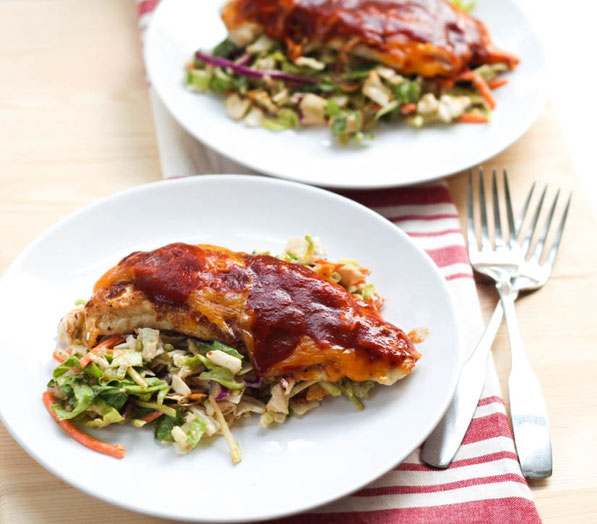 This month's Recipe Redux theme is to grab the nearest cookbook and find a recipe that on a page that plays off of the numbers "2016" (so 216, 206, etc)… and "redux" it, or make it our own.  The cookbook nearest to me at the time was my Taste of Home cookbook, which is one of my favorites since it's very versatile and everything I've made from it comes out great. 
The recipe on page 216 was for a "cheesy BBQ chicken".  The first thing I love about this recipe is that it literally has three ingredients:  chicken breast, cheese, and barbecue sauce.  It just doesn't get any better than that!  At first I thought there wasn't much I could  change about this recipe, but once I read the directions, I found a way to make it even easier.  The original recipe calls for regular chicken breasts that you have to carefully cut a little bit along the side to make a pocket for the cheese and BBQ sauce.  I don't know about you, but I really try to avoid touching raw chicken whenever I can.  Chicken's great to eat, but it kind of grosses me out to work with while it's raw. 
For that reason, my favorite way to cook chicken breast is to buy chicken cutlets, which are thin-sliced chicken breasts.  All the cleaning and slicing has been done, and as a bonus, they're nice and thin so the cutlets cook way faster than whole chicken breast pieces do.  I swapped the cheese to cheddar instead of pepper-jack (because that's what I had in the fridge), and added a little spice to the meat with salt, pepper, garlic powder, and paprika.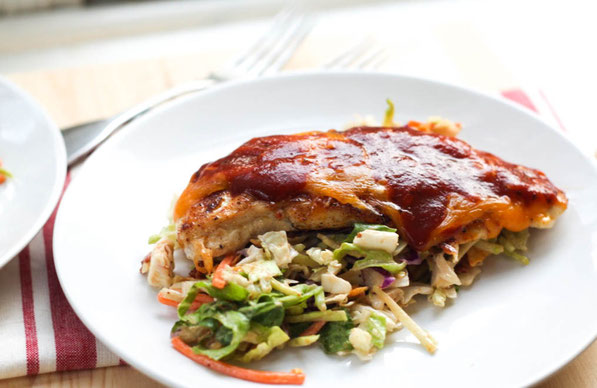 This meal literally could not be easier to make, and has just a few steps.  I like to cook my chicken in a cast-iron skillet, but you could definitely use a non-stick or stainless steel skillet.  I spray cooking spray in the skillet, and while it's preheating, season the chicken.  While the chicken cooks on the first side, which literally takes about 3 minutes, I grate the cheese.  Then the chicken gets flipped over, topped with the cheese and a little BBQ sauce, and then covered for about 3-5 minutes, or until the chicken is finished cooking.  That's it.  Really. ;)
Side note on the barbecue sauce:  I don't always get the same brand, but I always get one that does not have high fructose corn syrup.  Most of the major brand sauces have that as the first ingredient, so that means there's more sugar in the sauce than anything else.  I look for sauces that have tomato sauce as the first ingredient, and then just molasses or sugar, vinegar, and spices.  No extra additives.  These sauces taste way better in my opinion and are a little better for you.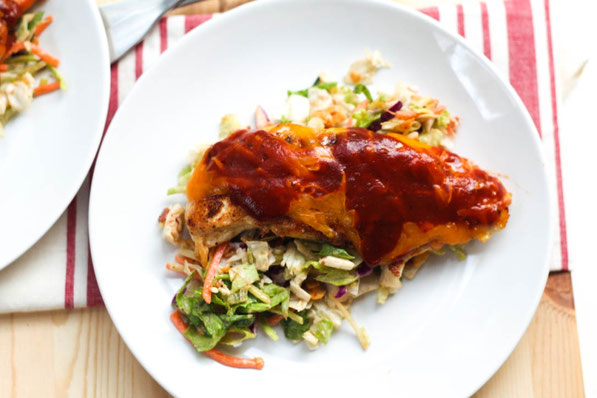 To make this a complete meal, I pulled one of my favorite store-bought staples out of the fridge:  a chopped salad kit.  If you haven't tried these, you absolutely need to! These are not your typical "random lettuce with a few sprinkles of carrots in a bag" kind of salad kits, these are the real deal.  There are different types of finely shredded lettuces and cabbage along with dressing and usually two extra ingredients depending on the flavor and brand of the kit. 
The one I got for this meal was a barbecue chopped salad kit, which came with the shredded greens, ranch dressing, barbecue sauce, crushed tortilla chips, and some bacon crumbles.  All you do is toss everything in a bowl together and a salad that tastes completely amazing is born.  So if you're looking to change up your veggie routine, check the produce section chopped salad kits.  The whole family will like them! 
Anyway, the chopped salad completed the meal.  I just topped the salad with the chicken and dinner was served!  In 15 minutes…on a weeknight…AND it was healthy! #success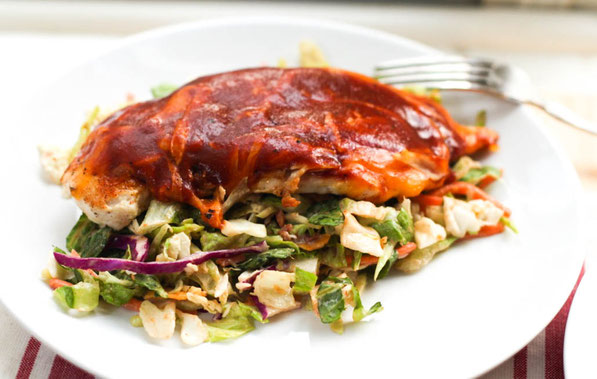 Quick Cheesy BBQ Chicken
Makes 2 servings
Ingredients:
Non-stick cooking spray
2 large chicken breast cutlets (or 4 small cutlets)
salt and pepper to taste
½ teaspoon garlic powder
1 teaspoon paprika
½ cup shredded cheddar cheese
¼ cup favorite barbecue sauce
Directions:
Preheat a large cast-iron, non-stick, or stainless steel skillet over medium-high heat and spray with cooking spray.  While the skillet is preheating, season both sides of the chicken cutlets with the salt, pepper, garlic powder, and paprika. 
Add the chicken to the skillet and cook for about 3 minutes.  Flip the chicken over in the skillet, and top each cutlet with half of the cheese and barbecue sauce. 
Cover the pan, reduce to low heat, and cook for 5 minutes or until the chicken is cooked through.  Remove chicken from the pan and set aside until ready to serve.* 
*I recommend serving this chicken with a store-bought chopped salad kit for a quick and complete meal. 
Happy Eating!
~Amber 
Recipe adapted from The Taste of Home Cookbook from Reader's Digest, page 216
---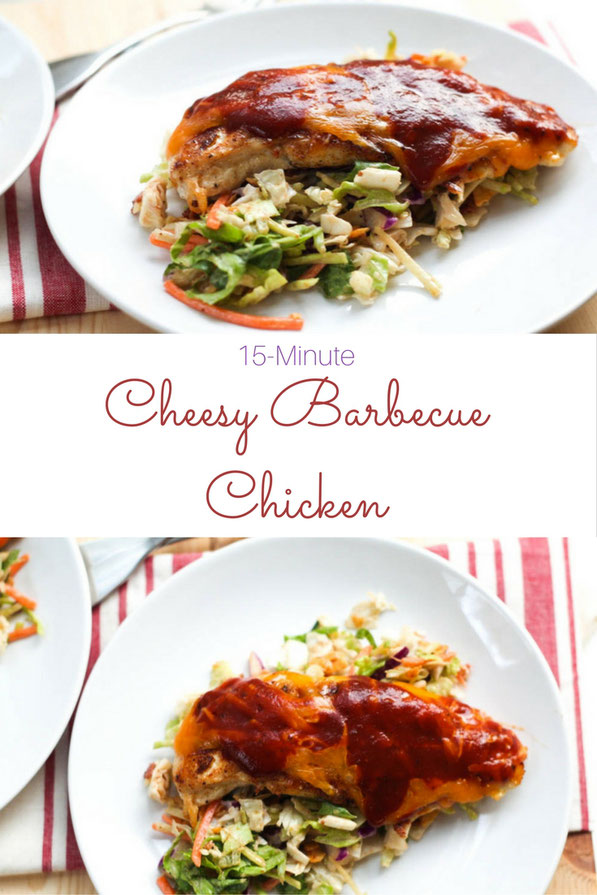 ---
---
---