Creamy, flavorful refried beans are so easy to make in the slow cooker! These beans are a healthier, vegetarian version of classic refried beans that the whole family will love!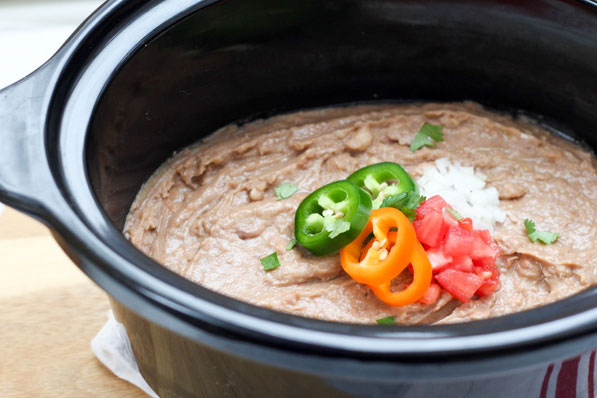 Disclosure: I'm so excited to be partnering with Farmer Direct Co-op  for this post.  All opinions are my own.  Thanks for supporting the brands that keep Homemade Nutrition up and running! 
I love refried beans!  They are creamy, flavorful, and go with so many different meals, like bean and cheese tacos, chalupas (tostadas), as a tasty dip for chips, or as a side for enchiladas.  Most people buy canned refried beans to have on hand for quick meals, but did you know they are actually really easy (plus way healthier and cheaper) to make from scratch?  
As a Texan, beans are a staple....especially pinto beans.  But until recently, I had only ventured into homemade re-fried beans made from canned beans.  They came out pretty good, but the problem I was having is that it took a lot of oil to get that soft, velvety texture, and while I wasn't using lard, which is the traditional fat of choice for refried beans, the amount of oil I was using was just too much.  
So, I decided to break out my trusty slow cooker and do some experimenting.  And honestly, I'm so happy with the results!  These beans are very easy to make.  They start with a pound of pinto beans, and for this recipe I used Farmer Direct Co-op pinto beans.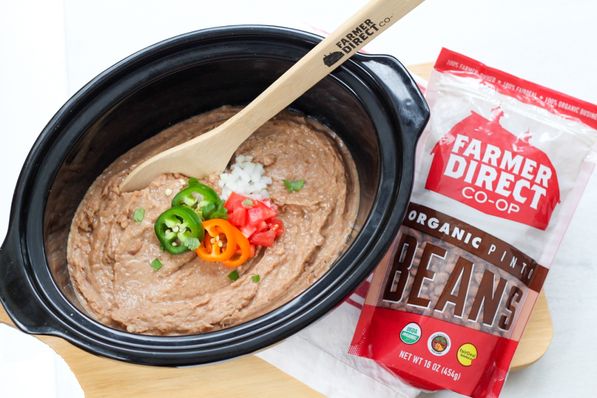 I'm actually a little picky when it comes to the dried beans I buy because I've found that some brands just have better quality beans than others - and by that I mean beans that are  nice and consistent in size and the bag doesn't have a ton of dirt or broken bits of beans in it.  My Dad is the bean-making expert in our family, and he's the one that first pointed out to me that the dried beans you start with in a recipe actually do make a difference in the finished product.  And I have been very impressed with the quality of Farmer Direct Co-op beans. 
The other thing I love about this brand is that they're USDA certified organic and fair-trade, which means workers are paid living wages and working conditions are safe .  The company is 100% farmer-owned and just has really good business practice standards, which I always try to support. 
You can find Farmer Direct Co-op products at Whole Foods in the bulk bins as well as on the shelf in 1-pound packs of Pinto Beans, French Green Lentils, Split Green Peas, Regular Rolled Oats and Quick Rolled Oats.  Here's their website if you want to check them out, and be sure to follow them on Facebook and Instagram!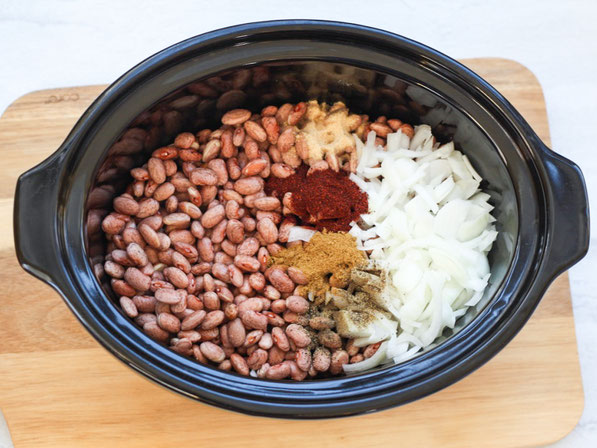 Now on to the rest of the recipe!  Once the beans have been sorted and soaked overnight or using a quick-soak method (which is simply bringing the beans to a boil in a pot of water, removing it from heat, covering, and then letting them sit for 1-2 hours), they need to be drained and placed into the slow cooker.  The rest happens so fast!  Add chili powder, garlic powder, pepper, and a small chopped onion, cover them with water, and cook on low for 8-10 hours or high for 5 hours.  I always add the salt to my beans at the end after they're tender because I find the beans cook to a better texture this way, especially if cooking them in the slow cooker. 
Once the beans are tender, add the salt, then drain all of the liquid from the beans - this step is key!  I drain the liquid into a bowl in case any needs to be added to the beans later.  Place the drained beans into a food processor, add 1 tablespoon of olive oil to help them get  that velvety texture, then pulse until they're as smooth as you want them (this is where you can add that reserved bean-cooking liquid if the beans aren't smooth enough for you.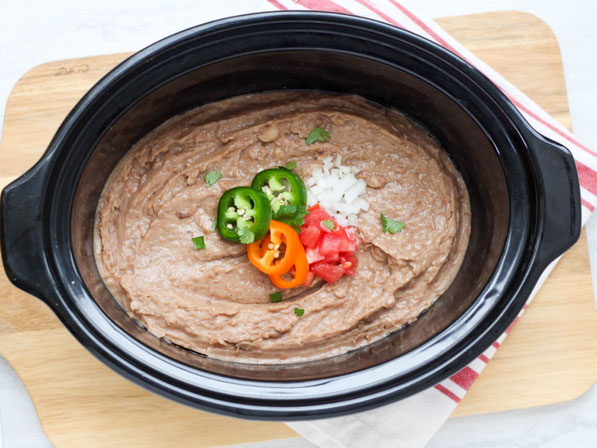 I usually leave a few beans whole in the mixture for a little more texture.  You could also put these in a blender as long as you don't over-blend them, or even grab a potato masher and mash them if you like a chunkier-style bean mixture.  This recipe is actually completely vegan, meaning there's no animal product like the lard in traditional refried beans.  They also technically aren't "refried" since they're never actually cooked in a skillet with oil, but they totally taste like those creamy refried beans everyone knows and loves! 
Super important note for this recipe: Make sure to not skip the step of draining the cooked beans very well!  You can always add liquid to them, but you can't take it away, so to prevent making a "bean smoothie,"  drain those beans!   
The last thing that I love about these beans is the price.  A few dollars for a bag of high-quality organic beans yields about 3 cans-worth of beans!  It's roughly 1/3 of the price of the same amount canned beans.  After the refried beans are cooled, all you have to do is portion them out into one or two cup potions (2 cups is a typical can size) and freeze in ziplock bags.  Enjoy!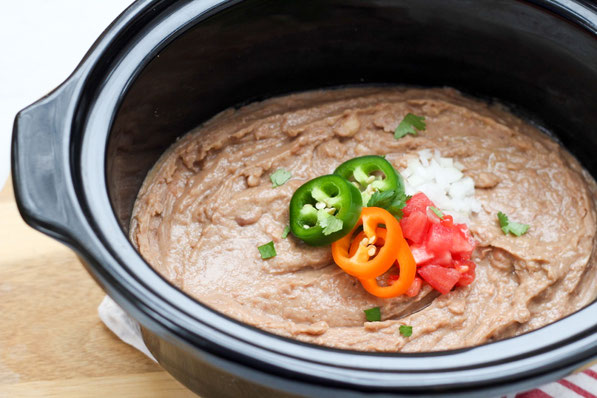 Slow Cooker Refried Beans
Makes about 6 cups refried beans (12 servings)
Ingredients:
1 16-ounce bag Farmer Direct Co-op Organic Pinto Beans, rinsed and soaked overnight or using a quick soak method (see instructions below)*
1 small onion, chopped
2 teaspoons chili powder
1 teaspoon garlic powder
1 teaspoon ground cumin
1/2 teaspoon black pepper
2 teaspoons salt (or to taste)
1 tablespoon light olive oil
Directions:
Place the beans, onion, chili powder, garlic powder, and cumin in a slow cooker (4-quart size or larger).  Add enough water to cover the beans; about six cups depending on the size of your slow cooker.  
Cover, and cook on low for 8-10 hours or on high for 5 hours or until beans are tender.  Add the salt and mix into the beans.  Let cool slightly, then drain all of the liquid off the beans into a separate bowl.  
Add the drained beans and olive oil to a food processor and pulse until mostly smooth or to desired consistency.  If the beans are too chunky, add some of the reserved cooking liquid to thin them out.  
Serve immediately, or portion the beans into one or two-cup portions in freezer bags, and freeze up to six months. 
*Note: Quick soak method: Place dried beans in a large pot, cover with water and bring to a boil.  Cover, remove from heat, and let sit for 1-2 hours .  
Happy Eating!
~Amber 
---
---
---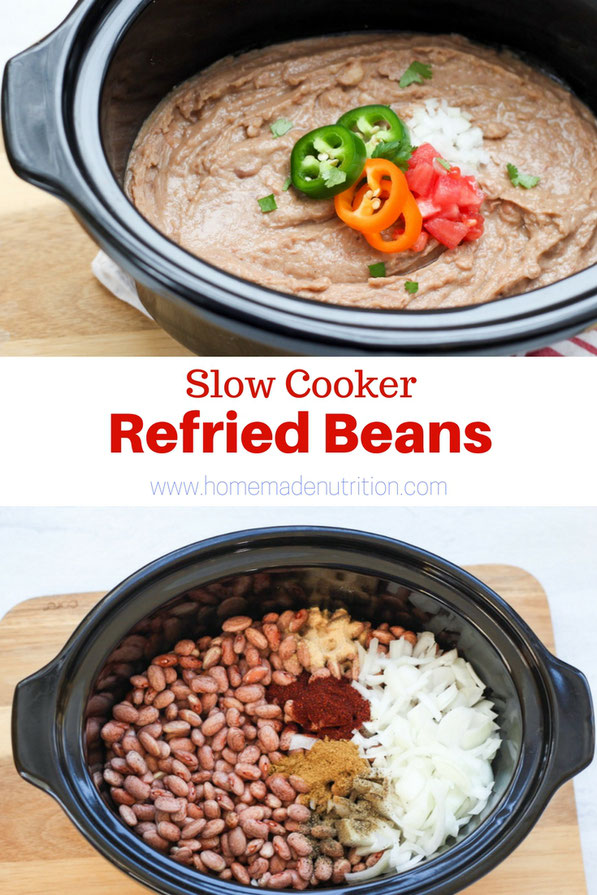 ---