This warm and creamy oatmeal with pumpkin, cinnamon, and pure maple syrup is the ultimate comfort-in-a-bowl breakfast for fall and winter!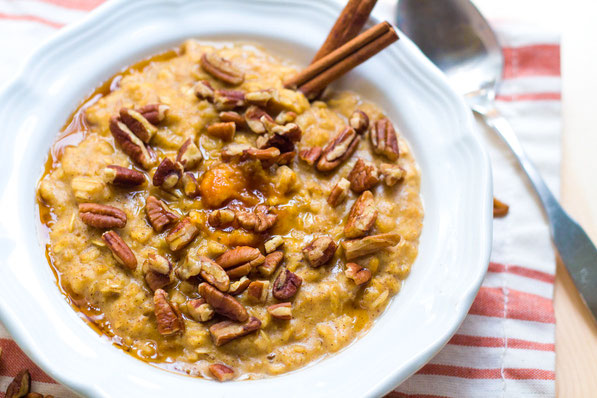 Fall has arrived!  And even though I'll be waiting a while longer for that cooler fall-weather to arrive here in Texas, I'm breaking out the pumpkin and fall flavors to start enjoying now!
I make oatmeal all year round, but I usually only make hot oatmeal if it's cooler outside, or at least getting close to it.  The rest of the time, I prefer my cold overnight oats.  So it's a real treat when I get to change it up with the hot variety instead.  
I love the creamy texture pumpkin adds to the oatmeal, plus it packs in some vitamin A and even more fiber to the dish.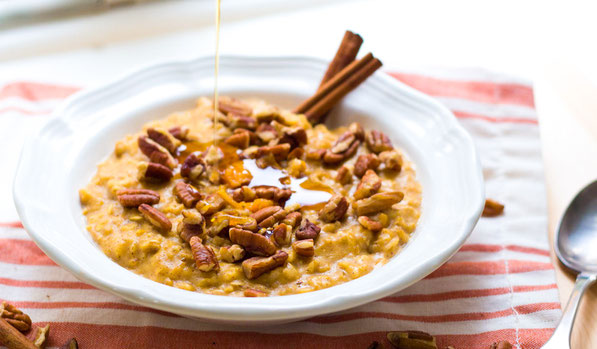 To make this recipe one that has "fall" written all over it, I added some cinnamon for a beautiful warm flavor, a touch of pure maple syrup for rich sweetness, and chopped pecans for a crunchy texture.  
Fall is my favorite time of year, and as we enter into the holiday season, I love cozy, flavorful recipes like this one that bring that comfort-food experience without being too heavy.  It can be hard to stay on track with eating well this time of year, so finding that balance of taste and nutrition is especially important.  Here's to a warm and sweet start to the holiday season!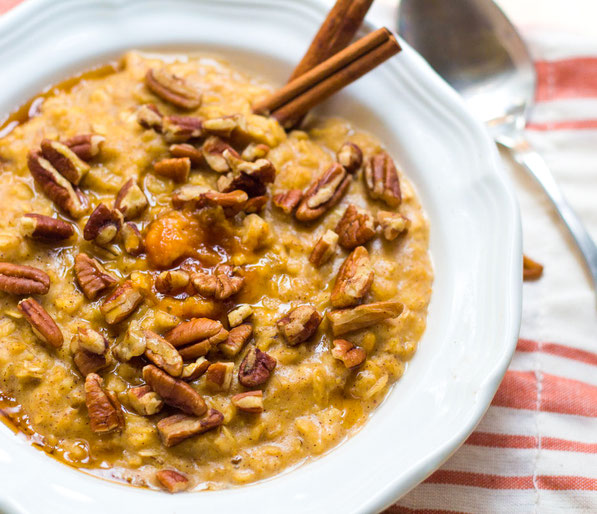 Creamy Pumpkin-Maple Spiced Oatmeal
Makes 1 serving (or 2 small servings)
Ingredients:
1/2 cup instant or "quick cooking" oats
1 cup low fat milk 
2 tablespoons pumpkin puree
1/4 teaspoon vanilla extract
1/4 teaspoon cinnamon
1 tablespoon pure maple syrup
2 tablespoons chopped pecans
Directions: 
Place the oats, milk, pumpkin, vanilla, and cinnamon into a large microwave-safe bowl.  Cook for 1 to 1 1/2 minutes or until the oatmeal is creamy and slightly thickened.
To serve, drizzle the maple syrup over the top of the oatmeal and sprinkle with the pecans.  
Note:  This recipe make one hearty (1 cup) serving of oatmeal, or 2 smaller (1/2 cup) servings) 
 Happy Eating!
~Amber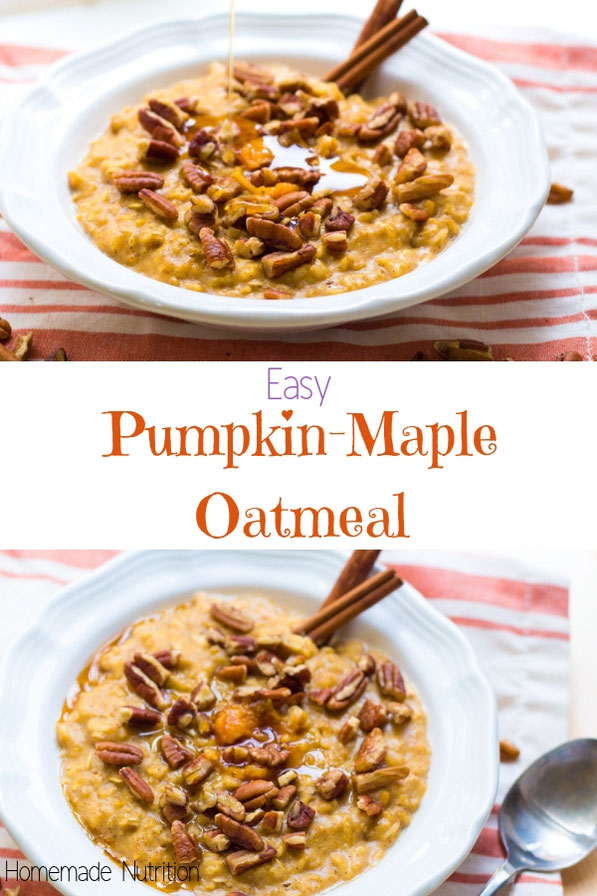 ---
---