This fresh smoothie with blueberries and zucchini is the perfect way to sneak some veggies in at breakfast!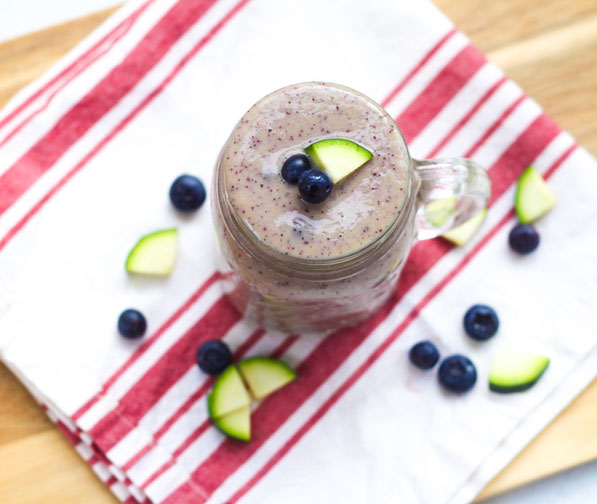 Zucchini is one of my favorite vegetables!  It has a mild flavor and tastes great cooked a variety of ways.  My favorite way to cook zucchini is to roast it, but it's also delicious eaten raw.  If you've never tried cutting zucchini into sticks or round slices to serve with hummus or other dips, you need to!  It's a great addition to a veggie platter alongside cucumber and carrots.  
Another way to enjoy raw zucchini (plus get a serving of veggies in at breakfast!) is to put it in a smoothie.  Today's recipe is actually my second smoothie on the blog featuring raw zucchini.  The first one is my chocolate zucchini smoothie, which has gotten great reviews!  It's creamy, nice and chocolatey, and you'd never even know there are veggies in it!  
Same goes with this smoothie.  Blueberries, mango, and banana bring the sweetness to the smoothie, so know one will notice the veggie goodness!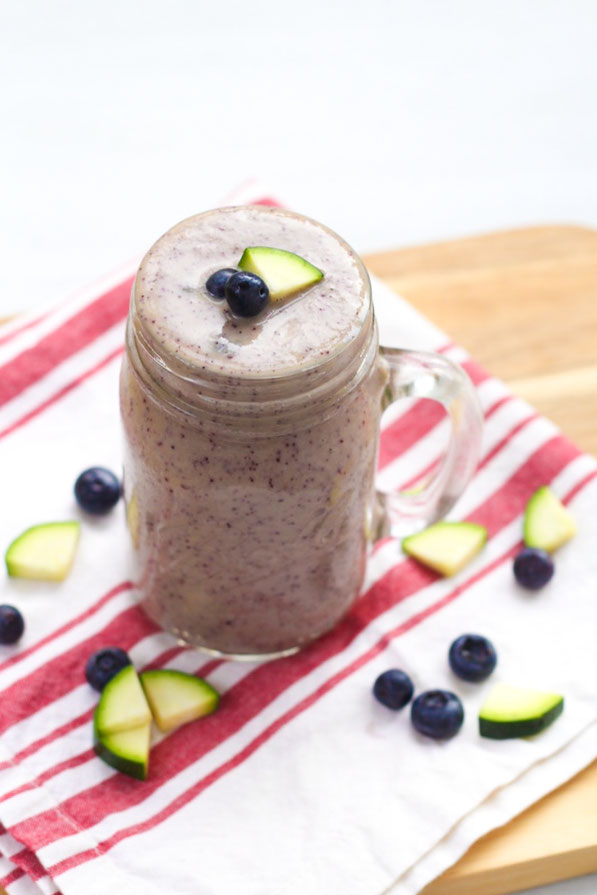 And speaking of smoothies, one of the questions I'm often asked is what type of blender I use since I make so many smoothies.  And that question fits perfectly with this month's Recipe Redux theme, where healthy food bloggers were asked to share our favorite kitchen gadget, either new or tried-and-true, that we can't do without in our kitchen.  For me, that gadget is my blender!  
I use the NutriNinja blender because it's high-powered but also compact, so it does't take up much room in my kitchen.  Plus, it's SO easy to clean!  I literally use it every single day.  I love smoothies, and my husband is finally warming up to them, so every night I make a smoothie for us to have in the morning, and now that our babies are eating solid foods, I use my NutriNinja to make all sorts of purees for them.  Blenders have come a really long way over the past 5-10 years, and this is the best small blender I've used so far. 
I hope you enjoy this recipe, and if you love smoothies like I do, check out my breakfast recipes page in the recipe archive to see lots of other smoothie recipes I've made.  Happy Blending!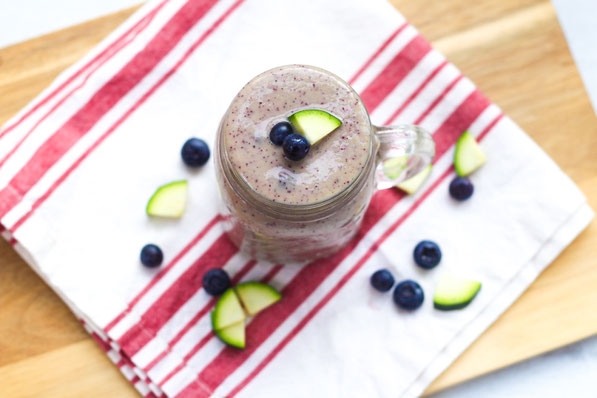 Blueberry-Zucchini Smoothie
Makes 2 Servings

Ingredients:
1 cup fresh or frozen blueberries
1/2 cup chopped zucchini
1/2 banana
1/2 cup frozen mango
1/2 cup ice cubes (only add ice if using fresh blueberries)
1/4 cup plain Greek yogurt (can used flavored yogurt for sweeter smoothie)
1/2 cup water (can use 100% apple juice for sweeter smoothie)
Directions: 

Place all ingredients in a blender and blend at least one minute or until completely smooth. 
Happy Eating!
~Amber 
---
---
---
---