This easy sheet pan dinner made with turkey sausage,  sweet potatoes, apples, and zucchini is the perfect quick fall-inspired weeknight meal!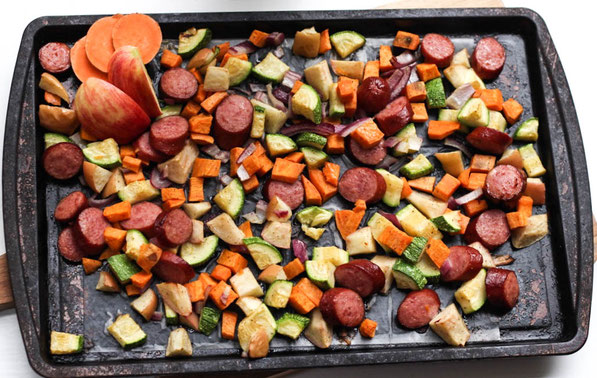 Happy first day of Fall! Today's recipe is the monthly Recipe Redux post, and this month Recipe Redux bloggers were challenged to create sheet pan recipes.  Sheet pan dinners have become really popular in the last year, and it's easy to see why...they're super easy to make!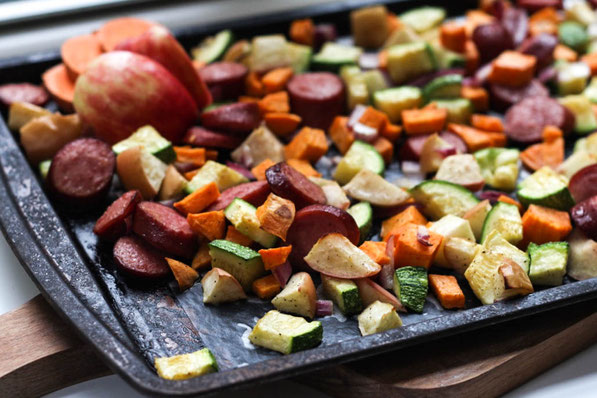 The whole idea behind sheet pan meals is cooking a complete meal start-to-finish on one pan.  That means very little cleanup is needed after dinner, which is always a goal for me, because who wants to spend the whole evening washing dishes?  No, thank you.  ;)
Since I knew today's post would come out on the first day of Fall, I wanted to choose ingredients that say "Autumn has arrived," even though the temperatures are still in the 90's here in Texas. :-/  So I used turkey sausage (to save on the grease-factor of traditional pork/beef sausage), sweet potatoes, apple, onion, and zucchini.  Yes, you saw that right - there are roasted apples in this dish.  They pair beautifully with the sausage and sweet potatoes!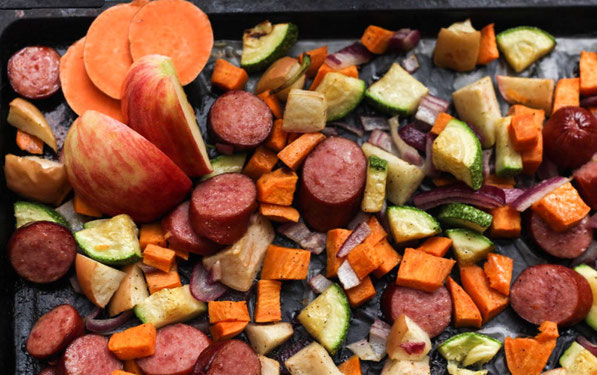 This recipe is actually a modified version of another one pan taco recipe with sausage and zucchini, but instead of black beans and paprika to make it a taco-filling, I used apples, added zucchini, and different seasoning.  Changing just a few things from that recipe created this totally different one!
And it couldn't be easier to make.  It literally involves a knife, cutting board, and the sheet pan used to cook the meal.  Everything gets chopped or sliced, placed onto the pan, then mixed with the seasonings:  some oil, salt, pepper, and caraway seeds - if you don't have these, they are totally worth getting for this recipe!  They're the thing that makes rye bread taste like rye bread, and add a very distinct flavor here that just works really well in the dishes and to me makes it really taste like a "Fall" recipe.  Bake at 425 for 15-20 minutes, and that's it!  A delicious dinner awaits you.  Here's to a happy (and tasty) start to Fall! :) 
Sheet Pan Sausage, Sweet Potato, and Apples 
Makes 4 Servings
Ingredients:
1 medium sweet potato, peeled and chopped (about 1 cup)
1/2 medium red onion, chopped
1 large zucchini, chopped
2 medium or 1 large gala apple, chopped
2/3 of a 13-ounce link natural turkey sausage, sliced (I used this one)
2 tablespoons light olive oil or canola oil
1 teaspoon caraway seeds
1/2 teaspoon salt
pepper to taste
Directions:
Preheat oven to 425 degrees.  Add all ingredients to a large sheet pan lined with foil or parchment paper and toss to combine.  Spread ingredients in an even layer.
Bake for 15-20 minutes, or until the vegetables are tender and cooked to desired doneness. 
Happy Eating!
~Amber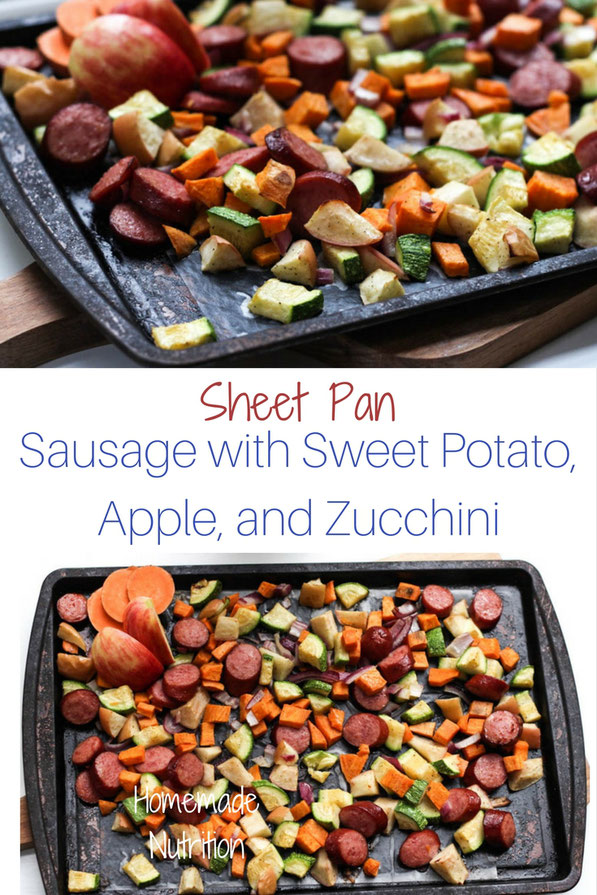 ---
---
---
---