Taco pepper poppers are a fun mix between tacos and  jalapeno poppers.  Sweet mini peppers make this a flavorful family-friendly (non-spicy) option for dinner, snacks, or appetizers.  Perfect game-watching recipe! :)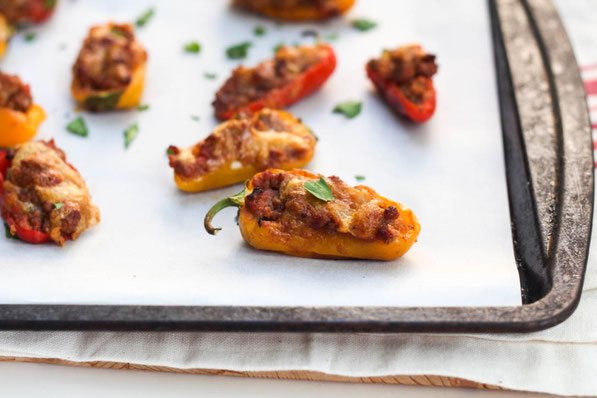 I'm feeling pretty excited about this recipe because it's a different take on something we love and eat all the time:  beef tacos.  We make beef tacos of all sorts - soft tacos, crispy tacos, taco nachos, taco salad...you get the idea. ;)  
And since tacos are such a family-friendly food (because, who doesn't like tacos?!), I'm always looking for new twists to keep them interesting.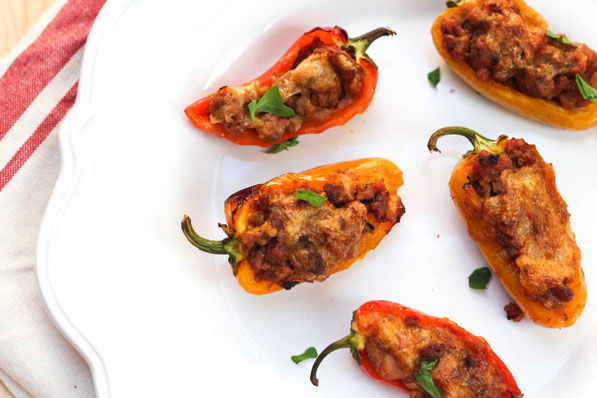 So for today's recipe I decided to take my standard taco meat, stuff it in mini sweet peppers, top with cheese, and bake till the peppers are tender and perfect.  If you're like me and love jalapeno poppers (check out my lighter bacon jalapeno poppers recipe here), these sweet peppers are a must-try!  
They're a protein-packed alternative that's also a little more family-friendly than traditional jalapeno poppers, since those can be a little spicy.  I got these tiny pepper cuties at Trader Joes - they come in a bag with yellow, red, and orange mini peppers.  You can usually find smaller sweet peppers already packed in bags at most grocery stores, but they do come in different sizes. 
Look for the most "pop-able" size you can find, but keep in mind that different sized peppers mean different amounts of taco filling and cheese for each one.  That means that the recipe will make different amounts of stuffed peppers based on the peppers you find.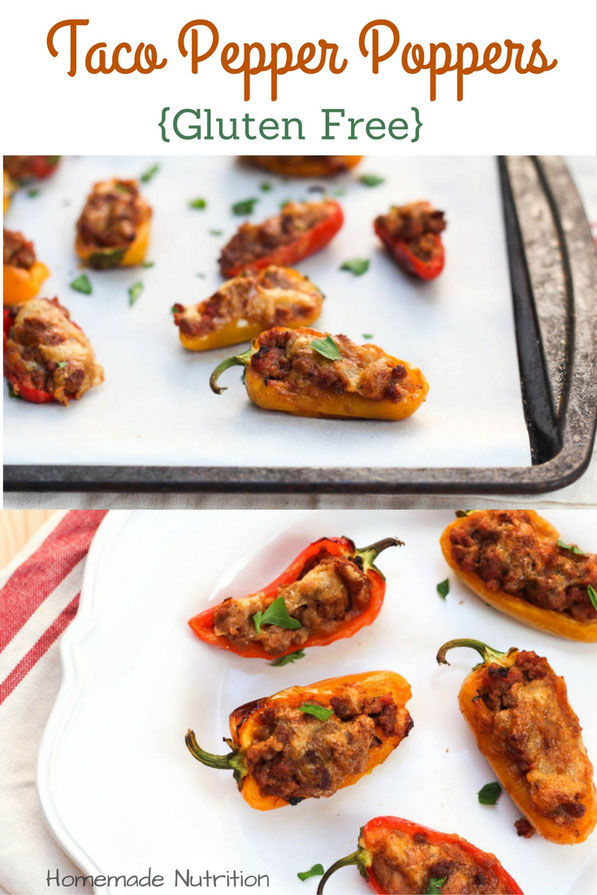 We ate these peppers a couple of different ways at our house.  The first night they were the "entree" that went with a side salad and some tortilla chips, and after that, they made for the perfect "after-work-before-dinner" snack for us. :)  
Next time, I'll definitely be making this recipe as an appetizer when we have family over, I may even venture into the land of prepping these poppers and freezing them (before baking), so I'll be able to make them in advance and just bake them straight out of the freezer.  I'll let you know how that goes, or if you try it, please let me know how it turns out!  Happy pepper-popping!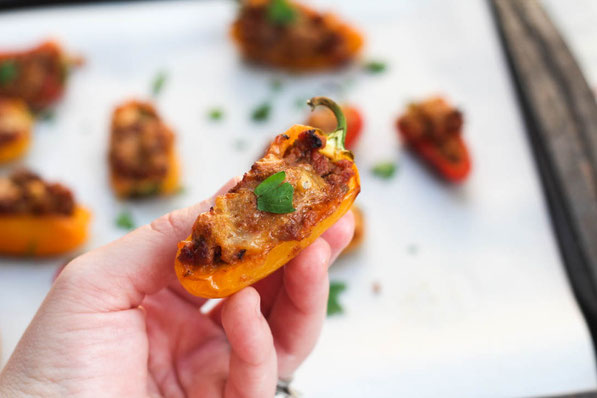 Mini Sweet Taco Pepper Poppers
Makes about 20 pepper poppers,  8-10 servings
Ingredients:
1 teaspoon light olive oil

1/2 pound lean ground beef (95/5 or higher)

1/2 small yellow onion, chopped

1/2 cup low sodium pinto beans, drained

2 teaspoons taco seasoning

pepper to taste

10 mini peppers

1/3 cup shredded cheddar or Monterrey Jack cheese

cilantro for garnish (optional) 
Directions: 

Preheat oven to 400 degrees.
Heat a large cast-iron or stainless steel skillet over medium-high heat.  Add the oil and beef, and use a spatula or spoon to break up the beef as it begins to brown. 
After about 5 minutes, add the onion, beans, pepper, and taco seasoning and cook an additional 5-10 minutes, or until the beef is cooked through.  Drain any excess fat. 
Cut each of the peppers in half lengthwise and remove the seeds.  Use a spoon to fill each pepper half with about 1-2 tablespoons (depending on pepper size), place on a lightly greased baking sheet.  Top each with 1-2 teaspoons shredded cheese.
Bake in the oven for about 20 minutes or until the peppers are tender and the cheese is golden in color.  
Remove from the oven, and top with cilantro if desired.  
 Happy Eating!
~Amber
---
---