Last nights' dinner just reached a whole new level of deliciousness...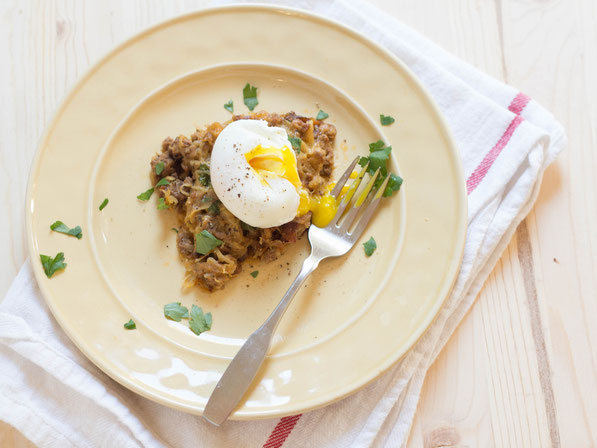 First, let me introduce to you last nights' dinner.  It's my very favorite way to eat spaghetti squash:  cheeseburger spaghetti squash casserole.  
There's lean beef, a little cheese, some spices, and (you guessed it) spaghetti squash in this delicious meal!  It's pictured below so you can see this tasty recipe in all of it's cheesy, yummy glory....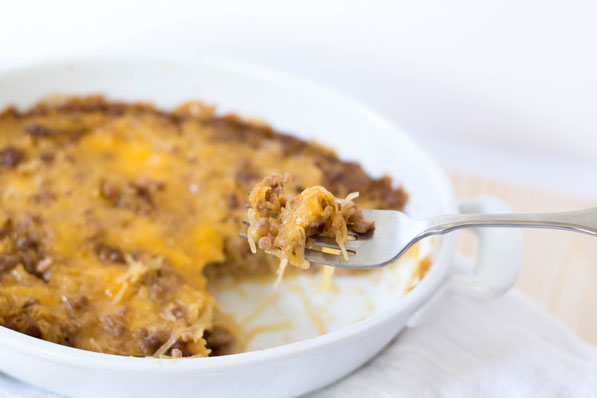 When I first made this recipe and posted it on the blog, I wrote that "this recipe was so good I ate it for breakfast the next day!"  which was true - but the first time I made it and had it for breakfast, I didn't realize that I was missing a key element: the egg.  
Before, I just tossed the casserole leftovers in the microwave and ate it "as is." But this time I add a poached egg on top, and it was pretty much the best thing ever.  Delicious.  Just delicious.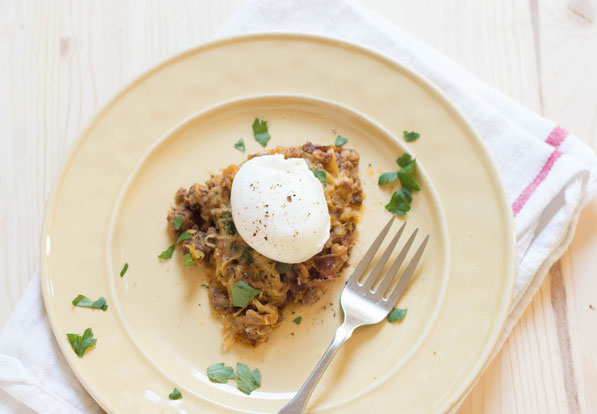 ---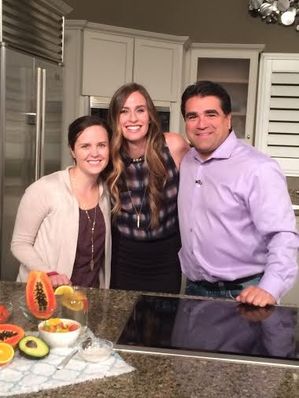 ---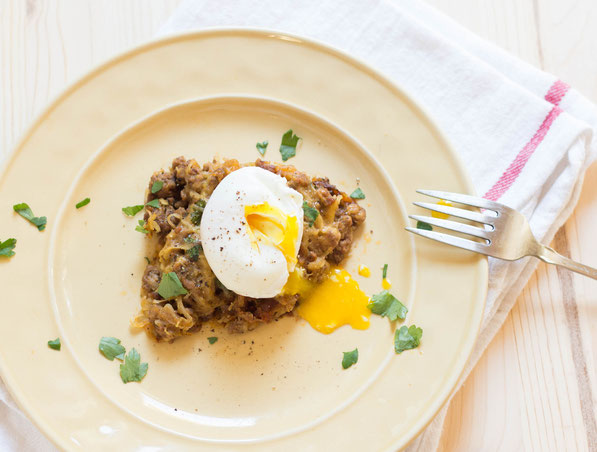 If you're looking to jazz up your leftovers, topping them with a poached is a really easy way to do it! And while eggs may not go well on every kind of leftover meal, they are the perfect addition to casseroles, grilled meats, or anything with potatoes or cheese... :) 
Here's how to poach an egg: 
Fill a medium skillet or saucepan 2/3 of the way with water and bring to a simmer (NOT a boil) over medium heat.  Add a teaspoon of vinegar to the water.  Crack the egg and carefully drop it into the simmering water.  Let the egg cook for about 3-5 minutes or to desired doneness (I usually do 4 minutes).  Use a large spoon to carefully remove it from the water and place on a plate lined with paper towels to drain off any excess water.
And here's the recipe for my cheeseburger spaghetti squash casserole "leftovers" that made the base of this amazing, perfectly delicious breakfast!  Here's to loving those leftovers!
---
Cheeseburger Spaghetti Squash Casserole
Makes 4-6 servings

Ingredients:
1 pound lean ground beef (at least 90% lean)

1/2 teaspoon salt
pepper to taste
1 teaspoon garlic powder
2 teaspoons onion powder
1 teaspoon paprika
1 cup grated reduced fat cheddar cheese
1 tablespoon corn starch
2/3 cup water
1 small cooked spaghetti squash (about 1-1 1/2 pounds), cooked - about 4 cups "spaghetti"*
Directions:

Preheat oven to 350 degrees.  Heat a large skillet over medium high heat.  Add the beef and spices and cook for 5-7 minutes, or until the beef is browned (It doesn't have to be cooked through yet).  Drain any fat from the pan. 
Return the pan the stove and heat over medium heat.  Add the cornstarch and water to the beef mixture and stir to combine.  Add the cheese and mix until the cheese has melted into the mixture. 
Add the spaghetti squash to the pan and mix everything to combine.  
Place the mixture into an 8x8 baking dish or small casserole dish and bake for about 20-25 minutes, or until the casserole is bubbly and slightly golden on top.  
*see spaghetti squash cooking method options above the recipe
Tip:  Make the spaghetti squash a day or two in advance and keep in the fridge until you're ready to prep this recipe.  The recipe will come together very quickly if you pre-cook the squash!

 Happy Eating!
~Amber
---
---
---