Easy roasted potatoes with broccoli make the perfect complement to any weeknight meal.  Just add your favorite cooked protein and you've got a complete, healthy dinner!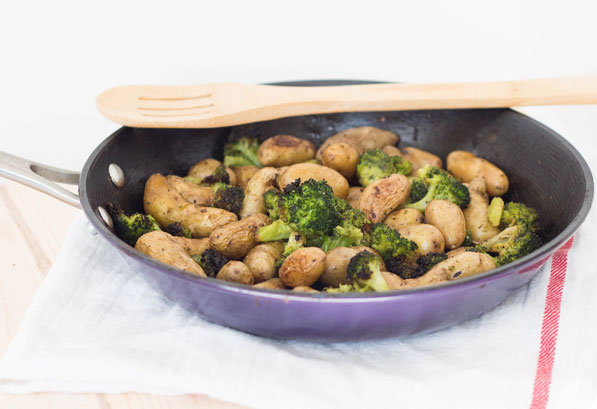 If you've been following my blog for a while now, you've probably picked up on the fact that I really like roasted veggies!  Here are a couple of my favorite roasted vegetable recipes from the blog so far:
I'm always on the hunt for different combinations of veggies to try with dinner.  The night I made this recipe, I had some of my favorite potatoes in the pantry (baby potatoes from Trader Joe's labeled as "teeny tiny potatoes" - how cute is that?!) and frozen broccoli, which I always have on-hand.   Always.  Because frozen veggies are an absolute life-saver  when you're short on time!
I've roasted frozen broccoli so many times now that I've found  you don't even need to thaw the broccoli before adding it to whatever else you're cooking with it.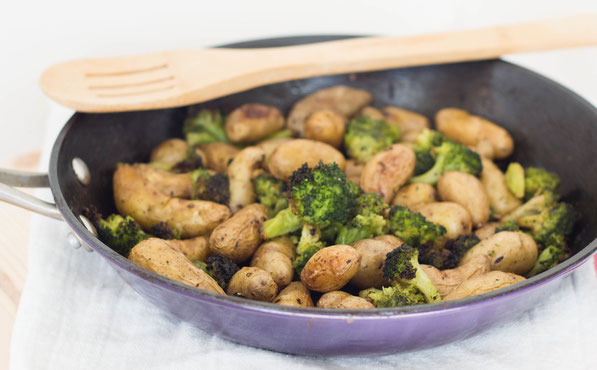 The idea for this recipe came when I was making meatloaf for dinner.  I decided to toss these potatoes and some broccoli together and roast them so I wouldn't have to bother with making mashed potatoes plus a veggie on the side.  
It ended up being the perfect solution for a starch + veggie side.  The other great thing about it is that using smaller potatoes with the skins retains much of the nutrition that's lost when you peel them, since most of the vitamins, minerals, and fiber in potatoes is found in the skin.
This veggie combo can be paired with pretty much any protein to create a complete meal.  It's become a new staple for busy dinners at our house!
All you have to do is toss the veggies in the oven (on a pan, of course) and cook some chicken, beef, or salmon while they're roasting.  And voila!  A healthy weeknight dinner is served! :)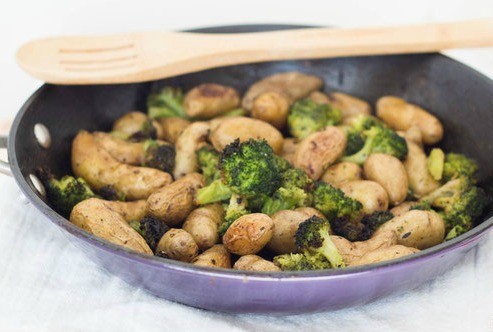 ---
Roasted Baby Potatoes with Broccoli
Makes about 6 servings
Ingredients:
3 cups frozen broccoli
3 cups baby potatoes (or larger potatoes, cut into bite-sized pieces)
2 tablespoons light olive oil
1/2 teaspoon salt
black pepper to taste
1/2 teaspoon garlic powder
1 tablespoon dried Italian Seasoning
Directions: 
Preheat oven to 425 degrees.  Place all ingredients in a large bowl and toss to combine. 

Spread the mixture onto a lightly greased non-stick baking sheet, and bake for 25-30 minutes or until the vegetables are tender.
*Alternate cooking method:  You can also place the vegetables in an oven-safe skillet and saute for a few minutes before placing in the oven for remaining cooking time.
---
---
---