This is the most popular combination of roasted veggies I make for my family.  It also happens to be one of the easiest to prepare, and there are simple additions to make these beautiful veggies into multiple meals for the week!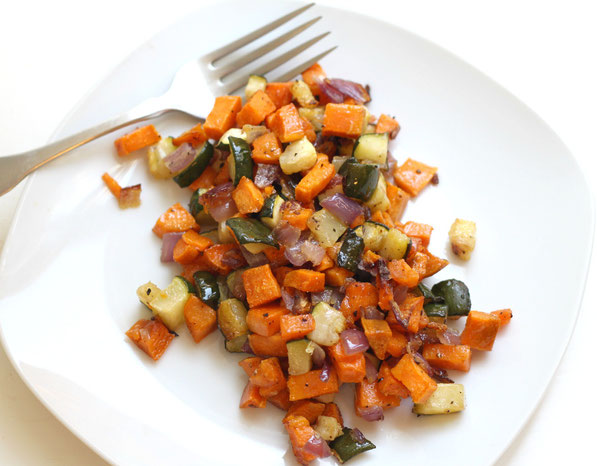 I love roasted vegetables!  I've created several recipes using different combinations for roasted veggies on the blog, and I've talked a whole bunch about how much I like them.  I love the texture, sweet flavor, and slightly caramelized color that happens when you put a group of veggies together and let them hang out in the oven for a while....the result is really a beautiful thing! 
Another reason I looove roasted vegetables is that you can easily make them ahead (because yes, they do need to bake for a while) and enjoy them throughout the week.  
And to show an easy way to re-use roasted veggies, I decided to make a batch of this family-favorite combination - butternut squash, zucchini, and onion, and take a few additional ingredients to create 3 separate meals that star this lovely veggie combo.  
Quick side note:  the pic below is how they look before they go into the oven; so pretty! :)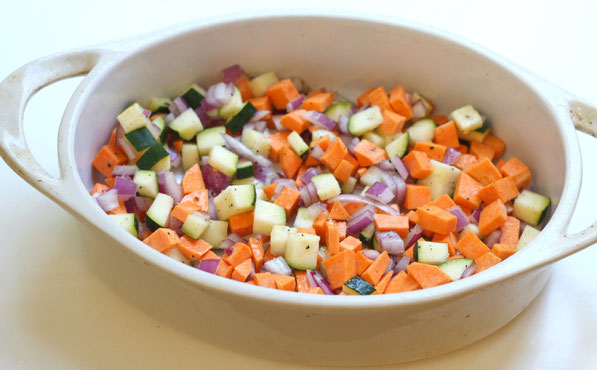 You'll find the basic recipe for these vegetables below - and it is SO easy!  The ultimate shortcut is using frozen butternut squash - it takes all of the work of peeling and chopping a fresh butternut (which can be quite a task) and means this recipe is prepped for baking in about 5 minutes.  
Once the veggies are cooked, let them cool and refrigerate until ready to add to the next recipes for the week. 
Then, cook up a batch of farro, barley, brown rice, quinoa, or your favorite whole grain.  Once you do that, here are a few ideas to combine the cooked grains and veggies in 3 easy meal ideas (FYI, farro is my favorite whole grain so I used that for all of these roasted veggie meal variations):
cooked veggies + farro 

cooked veggies + farro + baked salmon (I've got a simple method for perfect baked salmon)
cooked veggies + farro + ham (use a nitrate-free or "uncured" ham) 
I will be posting the complete recipes for these simple meals later this week so you can see my favorite way to bake the perfect salmon and more details on the farro and ham, so stay tuned for those, and have a very veggie day!  :)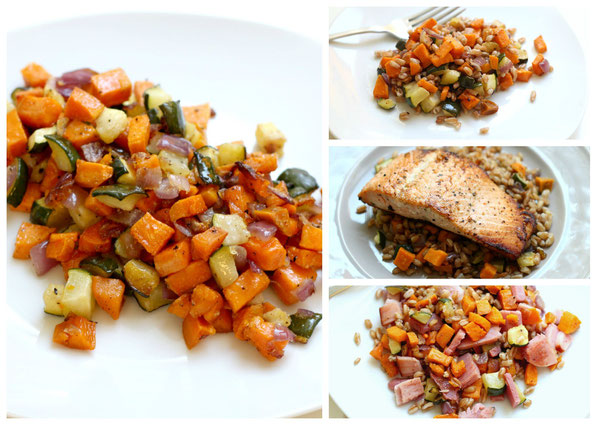 Easy Roasted Butternut Squash with Zucchini
Makes about 6 servings
Ingredients
3 tablespoons canola oil
2 cups frozen butternut squash cubes (can also use peeled and chopped sweet potato or fresh butternut squash)
1 large zucchini, chopped
1 red onion, chopped
1 teaspoon garlic powder
1/2 teaspoon salt
black pepper to taste
Directions: 

Preheat oven to 425 degrees.  Place all ingredients in a large bowl and toss to combine. 

Spread the mixture onto a lightly greased non-stick baking sheet, and bake for 20-30 minutes or until the vegetables are tender.
Happy Eating!
~Amber
---
---
---