As part of the recent Texas Beef Council event I attended, we learned how to cook the perfect steak, and it's easier than I thought!  It just takes a little bit of know-how and technique for great results every time you grill up a steak!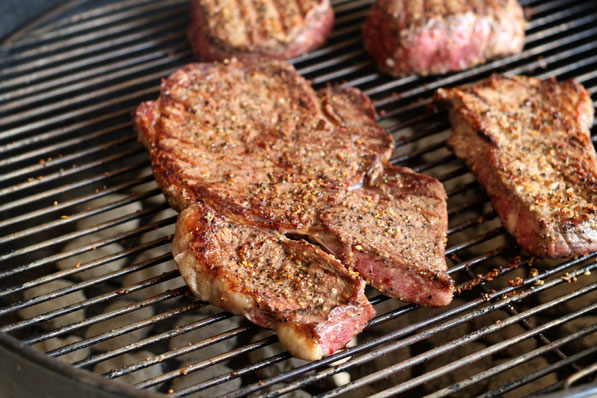 Step 1:  Get your grill going - here's how to safely start up your grill: 
Gas Grill:  always check propane tank and open grill to make sure there's nothing on it before starting it.  Turn on all burners, get the grill very hot to burn off any food particles or reside from previous cooking.  Turn off the heat, clean the grill with a grill brush, a wad of aluminum foil, or an onion that's been cut in half (interesting, right?).  Once clean, spray the grill with non-stick cooking spray, then turn the burners back on and let the grill pre-heat. 
Charcoal has a few more steps...
Charcoal:  This method was new to me, and it also seems to be the easiest way to start a charcoal pit - so it's definitely what I'll be doing from now on!  Place self-starting charcoal in a single layer grid pattern on the bottom grate of the pit (see pic below).  
One layer of charcoal should be enough for grilling 4-6 steaks.  If you're like me and cooking only 1-2 steaks at a time, you just need enough charcoal to cover about 2 inches around the food surface area, so about half the amount of charcoal below is what I'd use for 1-2 steaks.  If you're going to be cooking more food and need the heat for a longer time, you can put a second layer of charcoal over the first one.  I was using too much charcoal before, and this way saves both time and money!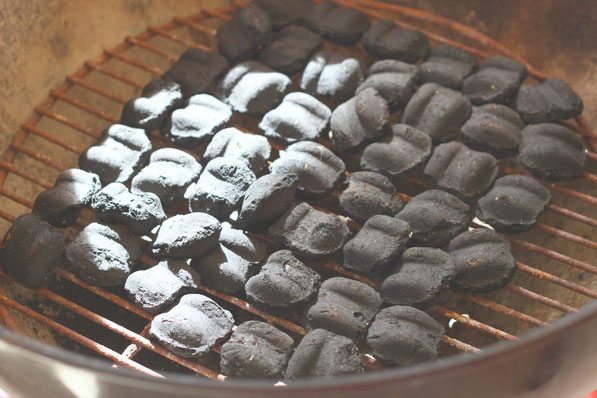 Next, use a lighter or match to light the four corners of the grid.  Once those 4 pieces of charcoal are lit, place the top grate on the pit, and stand back, because it's gonna get fiery pretty fast!  Once the fire dies down, use a grill brush, foil, or a half onion to clean the grate.  Then use tongs to pick up the top grate, hold it up vertically (and away from the pit), and spray with non-stick cooking spray.  Place the grate back on the pit and let the charcoal burn until they turn grey/white in color.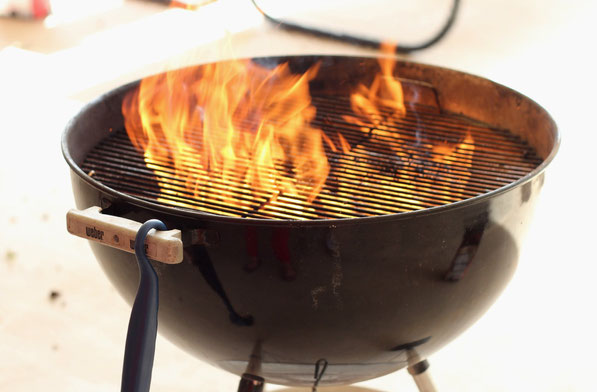 Step 2:  Make sure you've got the correct grill temperature for cooking.  
The best temperature for grilling steaks is 400 degrees - but that should be the temperature on the grill itself, not what the thermometer on the outside of the grill will read.  If you're looking at that grill thermometer, it will probably be around 300 degrees when the grill surface itself is around 400 degrees.  
But here's a super simple trick to tell if the heat is perfect!
The easiest way to tell if the grill is at the right temperature:  place your hand about 4 inches above the surface of the grilling area (which is usually about 4 inches above the fire).  I know this is a given, but don't actually touch the fire.... ;)  If you can hold your hand comfortably over the heat for about 4 seconds, it's around 400 degrees.  If it's too hot to hold your hand near the heat, it's too hot.  And if you can hold your hand above the heat for 8-10 seconds or more, it's not hot enough yet.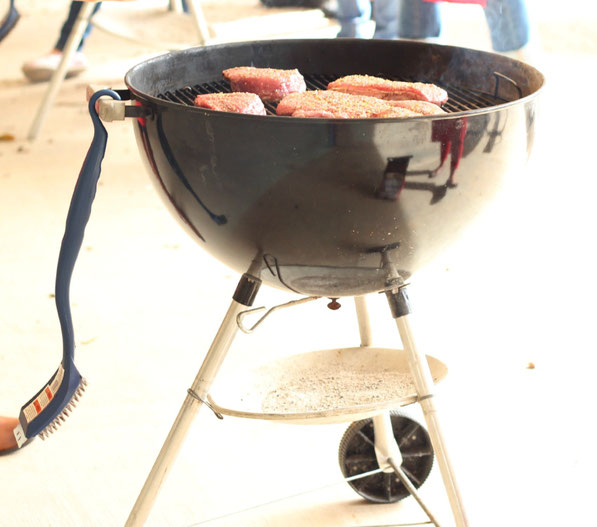 Step 3:  I guess this step should really be happening while you're waiting for the grill to heat, so it's technically part of step 2...but this step is all about seasoning the meat.  There are two ways you could season the steaks:
Spread just a little canola or light olive oil on both sides of the meat, sprinkle with the seasoning of your choice and press the seasoning into the steak.  Montreal steak seasoning is a really tasty and reliable option, but you could even just go with some salt and pepper, or whatever spices you like.
You can also marinate your steaks.  If you're looking to simply add more flavor, marinate them 30 minutes to 2 hours.  If you're wanting to tenderize the meat, especially for leaner cuts of beef, marinate anywhere from 2-18 hours.  

A basic marinade consists of 3 parts:  1/3 acid (such as citrus juice, apple cider vinegar), 1/3 oil (use a light oil), and 1/3 fermented sauce (like soy sauce or red wine).  The recipe at the end of this post uses a quick marinade if you need any ideas to get started.  One last note on marinades:  always discard the marinade after you take the meat out of it.  
***Common steak myth-busted!  You do not need to let steaks sit on the counter to come to room temperature before cooking them.  This is not a food-safe practice and the steak will be just as good if you keep it in the fridge until your ready to cook it.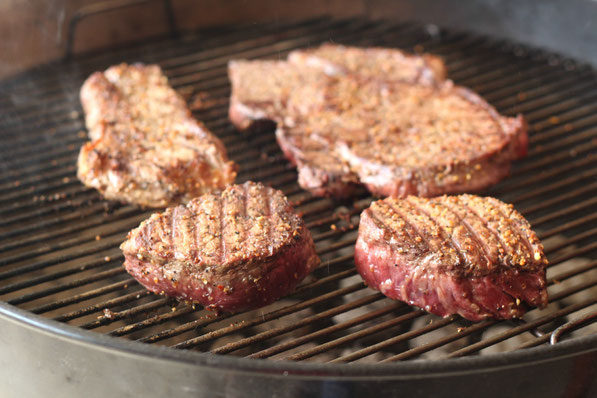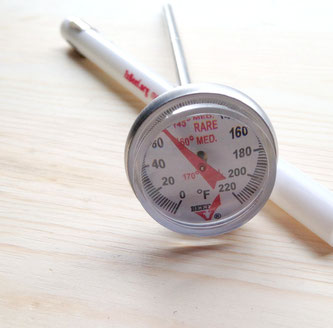 Step 4:  Know when to flip your steaks: 
You should only flip a steak ONCE while cooking it.  You can tell it's ready to flip by watching the top of the steak.  If you watch closely, you'll notice liquid will begin pooling on the surface of the meat.  Once that happens, flip it.  
Watch for that same liquid pooling on the top of the other side of the meat, along with some liquid coming out of the side of the steaks.  Once you see that, grab a pair of tongs, lift the steak, and insert an instant-read meat thermometer into the SIDE of the steak, not in the top of the steak.  If you insert it in the top, it's really hard to tell if you're actually getting the center of the meat, so go with the side (this was new to me!).  
Take the steak off the grill when it's 5-7 degrees below your desired temperature.  Here's a handy temperature guide: 
Medium rare = 145 degrees
Medium = 160 degrees
Well done = 170 degrees
For the classic medium rare that most people prefer, remove the steak at about 138-140 degrees and the temperature will continue to rise as it rests.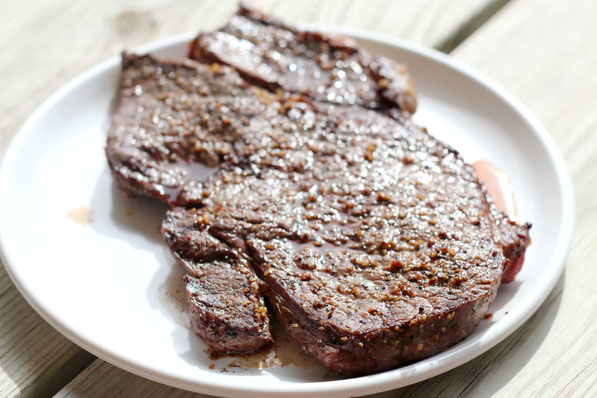 Step 5:  Let the steaks rest for at least 5-10 minutes, and even a little longer is good.  
This allows the juices to re-distribute throughout the meat so it doesn't just lose all of the moisture when you cut into it.  
Once it has rested, you can slice and serve your steak however you like!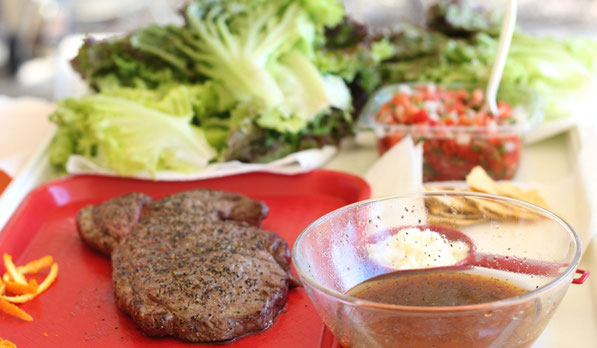 This marinated steak salad recipe was created as part of a cooking challenge at the Live Well event I recently attended.  It used the grilling and marinating techniques discussed above and came out great!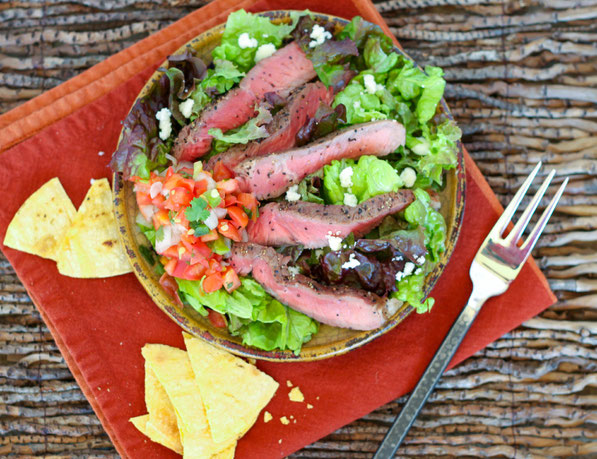 One of the things I love about this meal is that it's a real show-stopper with all of the different colors.  It's also a great balanced meal with high-quality protein, plenty of vegetables, and a serving of whole grains.  It takes just a few simple ingredients to create this simple, light meal!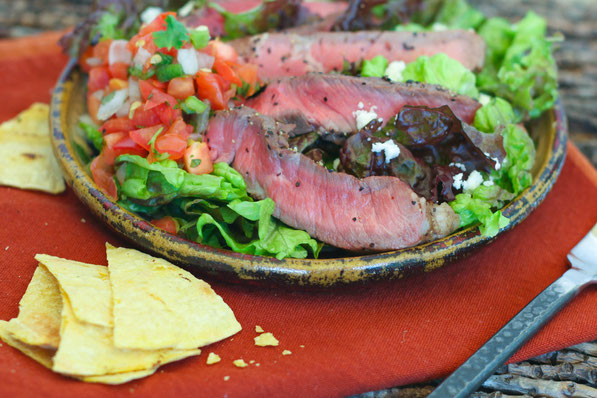 Disclaimer:  This event was sponsored by the Texas Beef Council.  I was not compensated for this post and all opinions are my own. 
Honey-Orange Marinated Steak Salad
Makes 4 servings
For the steak marinade:

1 pound sirloin steak
1/3 cup light olive oil
1/3 cup honey
1/3 cup freshly squeezed orange juice (about 1 medium orange)
1/4 cup orange juice
3 tablespoons adobo sauce
salt and pepper to taste
For the salad
4 corn tortillas
8 cups red leaf lettuce, chopped (about 2 heads of lettuce)
1/2 cup queso fresco
1 cup pre-made pico de gallo
vinaigrette of choice (optional) 
Directions: 

Combine marinade ingredients and place in a zip-lock bag.  Add the steak and let marinate for 30 minutes to 2 hours in the refrigerator.  Discard the marinade after removing the steak from the bag.  
Preheat gas or charcoal grill (should be about 400 degrees on the grill itself).  
Cook the steak about 3-5 minutes per side, depending on thickness and desired doneness.  Set cooked steak aside to rest at least 10 minutes before slicing it. 
Place the corn tortillas directly on the grill and heat for about 5 minutes per side, or until they get grill marks and become slightly crisp.  Remove and cut each tortilla into 8 wedges.  
To assemble the salads, place a bed of lettuce on each plate.  Top with steak, cheese, pico de gallo, and the corn tortilla wedges.  Serve with your favorite vinaigrette.  
Happy Eating!
~Amber
---
---
---