This breakfast pizza takes the concept a healthy, filling breakfast to a whole new level.  Homemade beef breakfast sausage, vegetables, egg, and cheese make for the most amazing filling to top whole grain waffle "pizza crusts."  This family-friendly, protein-packed breakfast will keep you feeling full all morning!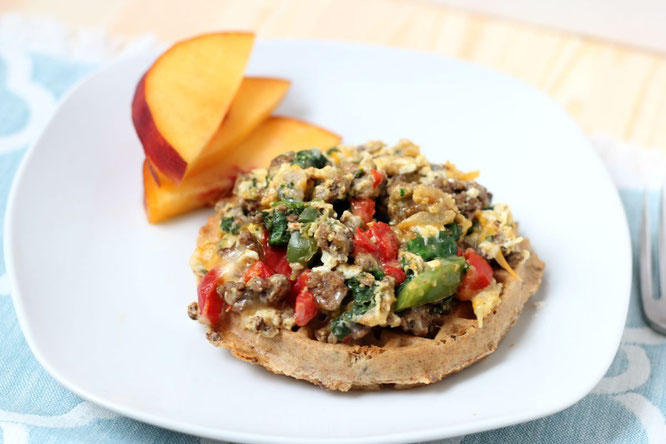 Disclaimer: I received beef product mentioned in this post at no cost. By posting this recipe I am entering a recipe contest sponsored by The Beef Checkoff and am eligible to win prizes associated with the contest. I was not compensated for my time.

Most people don't think of beef as a protein option at breakfast - instead we tend to get stuck in the "burger, taco, steak" mentality (which don't get me wrong, is absolutely delicious!) and stick with eating beef at lunch and dinner.  But there are many ways to include beef at breakfast too!  This recipe is actually a "two-in-one" because it includes a recipe for making homemade beef breakfast sausage (which is really easy!) and has a delicious recipe for one of my favorite ways to use the sausage, which is to mix it with eggs, veggies, and cheese, and put it all on top of a waffle, creating a personal "pizza."
Recently there's been some very interesting research on protein and how incorporating lean protein in the right amounts throughout the day can be hugely beneficial to getting and maintaining a leaner body.  Most Americans who consume animal products are not short on protein each day, but we tend to consume more protein toward the end of the day (dinner) instead of spreading out our protein more evenly during the day.  
For example, we might eat 8-10 grams of protein at breakfast, 20-30 grams at lunch, and 50 grams at dinner.  New research shows that increasing high quality protein intake at breakfast to 25-30 grams and aiming for 25-30 grams at all meals may help us eat less (about 200 calories less per day), have better control over blood sugar, reduce cravings, make better snack choices, and even help lower blood pressure.  That's a whole lot of benefit for such a simple change!
Lean beef is an excellent source of protein at 25 grams for just 3 ounces (the size of a deck of cards), so it's an easy way to get a high protein meal without having to eat a lot of extra calories to get that extra protein.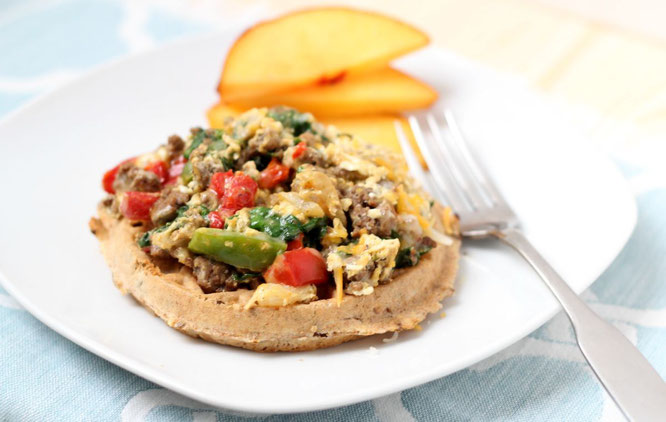 If this research makes you wonder how changing your protein intake throughout the day will affect your body, or you want to see how your protein pattern looks during the day, there's a free 30 Day Protein Challenge from the Beef Checkoff you can try.  I completed this challenge about a month ago and learned a lot about myself and how the way I eat during the day affects my energy levels.  
The challenge shows you how to track your daily food intake and figure out where you are getting more or less protein.  For me, it turns out I was eating a very similar protein pattern to the one mentioned above:  Very little protein at breakfast, slightly more at lunch, and most of my protein came at dinnertime.  
I've changed this pattern as a result of the challenge and now I eat more of my daily protein at breakfast and lunch.  Since making this change, I don't feel as hungry throughout the day, and I also have more energy in the early afternoon, which is when I would normally hit an "energy-slump."  
I think this is an amazing challenge that's great for anyone looking to dig a little deeper into their eating patterns and figure out some simple changes that can make them feel a lot better during the day and maybe even help reach some of those weight goals.  
Now back to the recipe!  I'd recommend making the breakfast sausage ahead of time and storing it in the fridge or freezer for future use, because once it's made you've got a quick, flavorful protein option that's ready for a "fast food" meal at home anytime you want.  In fact, once you have the beef sausage cooked, this recipe comes together in a matter of minutes so it's quick enough for a weekday breakfast!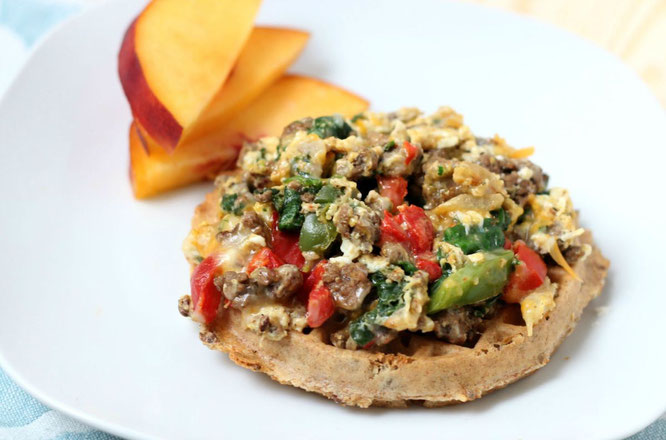 ---
Breakfast Beef Sausage, Egg, and Veggie Waffle Pizzas

Makes 4 servings
For the beef breakfast sausage:
1 pound 96/4 ground beef

1 teaspoon canola oil

1 teaspoon dried sage

1/4 teaspoon dried thyme
1/2 teaspoon red pepper flakes (optional)
1/4 teaspoon black pepper
1/2 teaspoon salt
1/2 teaspoon onion powder
For the pizzas:
1 cup cooked beef breakfast sausage crumbles (recipe above)
4 frozen whole grain waffles, toasted
4 large eggs
1/2 cup reduced fat shredded cheddar cheese
2 cups baby spinach
1 cup frozen chopped onion and pepper vegetable blend
pepper to taste
Directions: 

To prepare the beef breakfast sausage:  Heat a large cast iron or non-stick skillet over medium-high heat.  Add the beef, oil, and spices to the pan and break up the meat into crumbles as it browns.  Cook for 8-10 minutes or until beef is cooked through.  Set aside.

To prepare the filling: Heat a large non-stick skillet over medium-high heat.  Add 1 cup of the beef sausage to the pan, along with the spinach and frozen onion and peppers.  Season with pepper to taste and stir the mixture for about 10 minutes or until the vegetables are tender. 
Reduce heat to low, and crack the eggs into the skillet.  Use a spatula to stir the eggs well and combine with the beef and vegetable mixture.  Continue to stir occasionally for 3-4 minutes or until the eggs are cooked through.  Remove from heat, add the cheese to the egg mixture and gently stir to combine.
To assemble the pizzas, place 1/4 of the egg mixture on each waffle and serve!
*Note:  Extra cooked and cooled beef sausage crumbles can be placed in a sealed bag or air-tight container and refrigerated or frozen for future use.
 Happy Eating!
~Amber
---
---
Below are more protein-packed beefy recipes from fellow nutrition and food bloggers!