This breakfast is a delicious (and lighter) twist on classic huevos rancheros.  It's high in protein and has a beautiful combination of flavors and textures that's sure to please any foodie!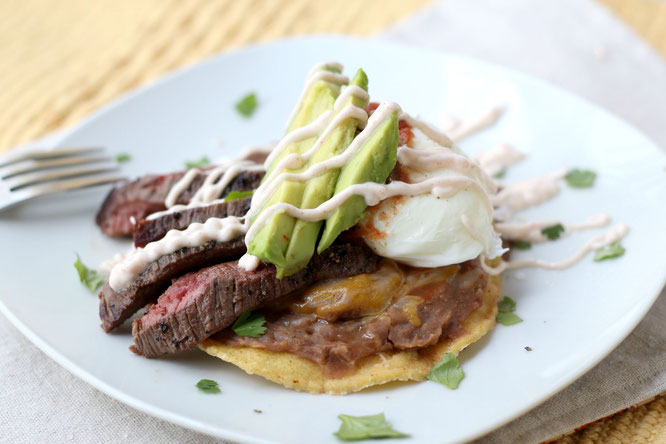 Disclaimer: I received beef product mentioned in this post at no cost. By posting this recipe I am entering a recipe contest sponsored by The Beef Checkoff and am eligible to win prizes associated with the contest. I was not compensated for my time.

It's been a tasty week of breakfast recipes on the blog, and today I've got another recipe  for the Beef Checkoff recipe contest!  They challenged us to come up with fun ways to use lean beef to add more protein to meals.  And I'm focusing on breakfast, because that seems to be the least popular time of day to eat beef, even though there are so many delicious ways to incorporate it into morning meals!  The other reason I'm focusing on breakfast is because it's the meal of the day that's usually lowest in protein for most people.   
Getting enough high-quality protein throughout the day has been found to be very beneficial for the waist line and overall health.  Most Americans eat enough protein each day, but the problem is that we eat the majority of our protein at dinner, and much less at breakfast and lunch.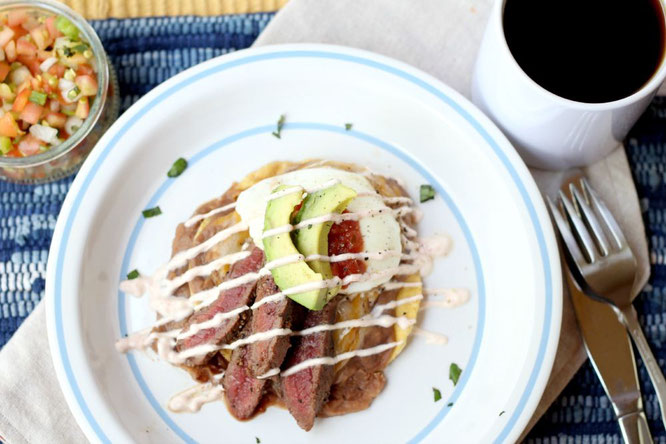 Protein is essential to many functions in the body, but in terms of energy and healthy weight, protein helps us feel full for a longer time after eating so we end up snacking less during the day.  It also helps regulate blood sugar levels which in-turn means we have more energy (and more long-lasting energy), rather than having those "energy crashes" at various times during the day.  Recent research found that people who ate 25-30 grams of protein at all three meals saw improvements in weight, energy, and blood sugar.  One 3-ounce serving of lean beef (the size of a deck of cards),  has a whopping 25 grams of protein, so it's a great way to boost protein in breakfast and lunches. 
If you want to learn more about how much protein you eat during the day or want to get more protein into your breakfast and lunch, I recommend trying the free 30 Day Protein Challenge from the Beef Checkoff.  I talked about this in my last post, but I completed this challenge about a month ago and learned so much about how the re-distribution of protein during the day affects my body and energy levels, and I feel so much better after making the change of eating more protein at breakfast and lunch!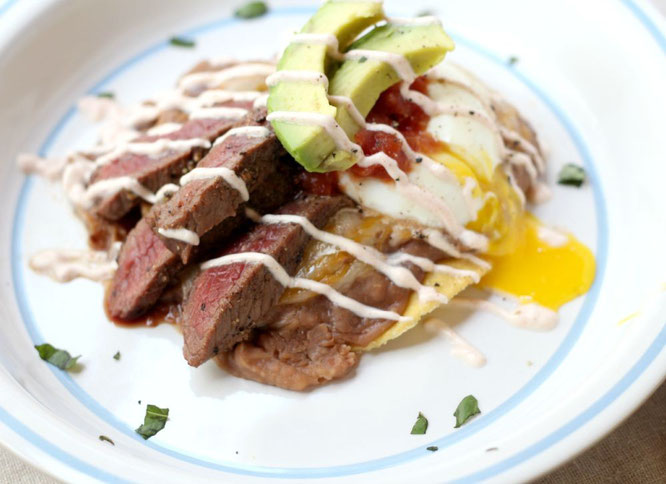 In addition to protein, beef also provides an excellent source of several key nutrients that play a huge role in our overall health.  Here are beef's "big 10 nutrients" and why they're important in the body: 
Iron - helps your body use oxygen 




Choline - supports nervous system development




Protein - helps build and preserve healthy muscle




Selenium - helps protect cells from damage




Vitamins B6 and B12 - help maintain healthy brain function




Zinc - helps maintain a healthy immune system




Phosphorus - helps build bones and teeth




Niacin - supports energy production and metabolism




Riboflavin - helps convert food into fuel



list source:  Beef's Big 10 USDA, the Beef Checkoff (www.nal.usda.gov/fnic/foodcomp/search)

A few twists make this recipe a little different than traditional huevos rancheros recipes.  The first is the use of fat free refried beans.  Beans are a great source of protein and fiber, and the fat free version has all the nutrition without the lard or other fat traditionally found in refried beans.  This is one of the few "fat free" items I buy at the store, because most other foods labeled as "fat free" often have additional ingredients that aren't very healthy.  I've found fat free refried beans are generally just beans with spices, minus the added fat. 
I also used a poached egg instead of the traditional fried egg because I think poached eggs are delicious, and they also cook in water, which means no extra oil is needed for cooking.  There's a light, flavorful (and super easy) sauce made from Greek yogurt and chili powder, and then there's the other big addition:  steak! This is the perfect recipe for a lazy weekend breakfast or brunch, when you're looking for a special and satisfying meal that hits the spot for comfort food while still keeping you on track with your healthy eating plan.  I hope you enjoy this beautiful breakfast a much as I do!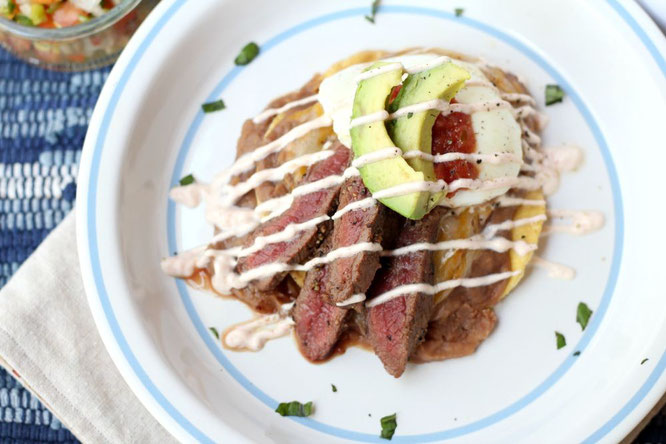 Steak Huevos Rancheros

Makes 4 servings
Ingredients:
12 ounces sirloin steak, cooked to desired taste and sliced

4 eggs

1 teaspoon vinegar

1/2 cup plain fat free Greek yogurt + 1 tablespoon water

1/2 teaspoon chili powder

4 corn tostada shells

1 cup canned low sodium fat free refried beans

1 cup reduced fat cheddar cheese

1/2 medium avocado, sliced

salsa of choice

cilantro for garnish (optional)
Directions: 

To poach the eggs, fill a large skillet 2/3 of the way with water and bring to a simmer over medium heat.  Add the vinegar to the water.  Crack the eggs one at a time, carefully dropping them into the simmering water.  Let the eggs cook for about 5 minutes or to desired doneness.  Use a large spoon to carefully remove them from the water and place on a plate lined with paper towels to drain them. 
For the yogurt sauce, mix the yogurt and chili powder with 1 tablespoon of water and place in a small bowl or an empty squeeze bottle and set aside.
To assemble the dish, place one tostada shell on each plate.  Top each one with 1/4 cup of the beans and 2 tablespoons of the cheese.  Heat in the microwave for 15-20 seconds, or until the beans are hot and the cheese has melted. 
Place 1/4 of the steak and one egg on top of each tostada.  Top with the avocado and salsa. 
Dollop or drizzle the yogurt-chili powder sauce over each dish and garnish with cilantro if desired. 
 Happy Eating!
~Amber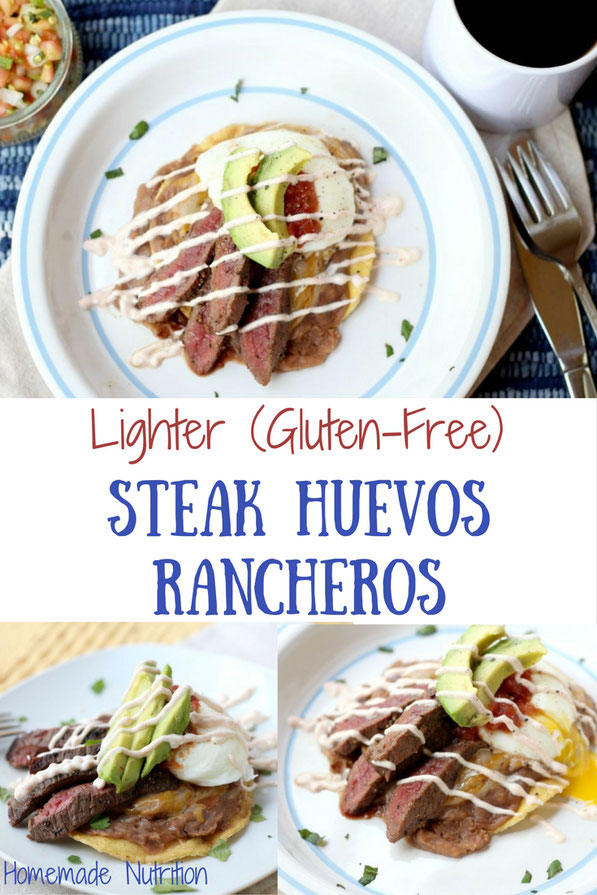 ---
---
Check out more delicious beef recipes from fellow nutrition and food bloggers below!