This six-ingredient green chicken enchilada casserole is a fast and complete healthy meal all cooked in one dish.  There are a couple of shortcuts that make this the perfect recipe for busy weeknights!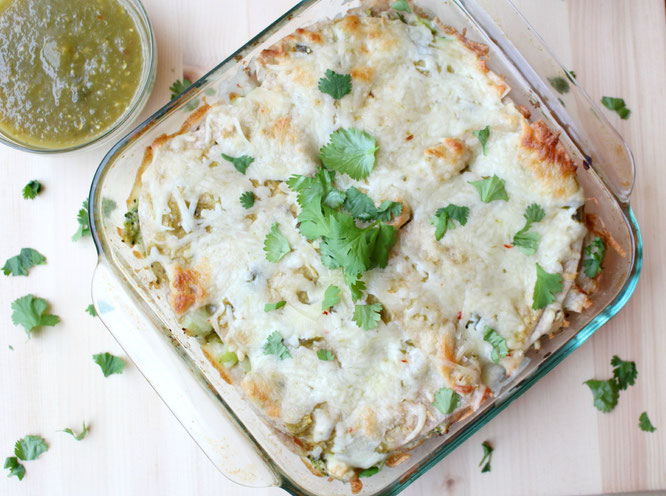 There are two things that make this a green casserole:  Green salsa and broccoli.   I know broccoli is kind of a weird ingredient to think of with Southwestern or Mexican inspired dishes, but when in need of a quick cooking veggie, it's so simple and convenient to toss some chopped frozen broccoli into the mix, so I couldn't resist - Because after all, this recipe is called "quick" enchilada casserole and it definitely needed some veggies to make it a complete meal in one dish.  I've talked about frozen broccoli quite a bit already on the blog, but to quickly sum up why I really like it in this recipe and in lots of other recipes:  It's super cheap and convenient.  A box of 2 cups of frozen chopped broccoli is only $0.52 at my grocery store and since it has already been finely chopped and blanched it's basically ready to toss into whatever you're making.
Green salsa is the other green ingredient in this dish.  If you haven't tried green salsa, also called salsa verde, it's usually made with a base of tomatillos (which look kind of like green tomatoes, but they aren't tomatoes) instead of regular tomatoes.  The flavor is a little more tangy than regular salsa - you can buy mild, medium, or hot varieties so choose the one that works best for your family.   We like the medium at our house but if you've got kiddos around I'd recommend starting with the mild one.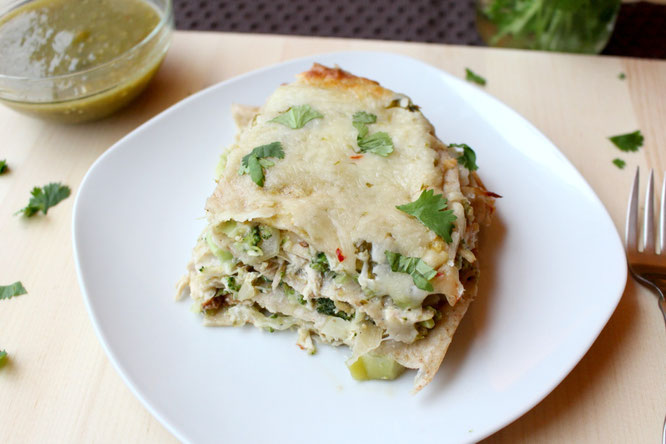 Starting with cooked chicken is essential for getting this meal on the table in about 30 minutes.  There are a few options for the chicken here:  The first option is the most affordable:  Bake, grill, or boil a couple of chicken breasts when you have a few extra minutes during the weekend or on a weeknight.  Then shred it and put it in a container till you need it.  The second option is purchasing a rotisserie or pre-cooked whole chicken and removing all the meat from the bones.  This also takes some extra time but you could always do it a day or two in advance when you have some extra time and have enough chicken for a couple of meals during the week.  And the third option is buying pre-made shredded chicken breast meat.  This option is the fastest, so if you're really in a pinch for time, I'd recommend going this route.  Just look for low sodium on the label for any pre-made chicken.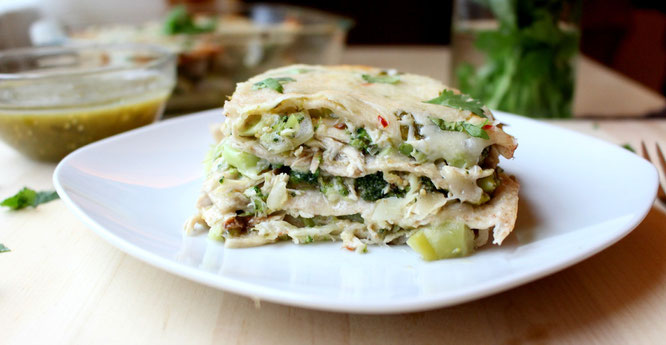 This casserole has just a few steps and is ready to bake in a matter of minutes, so you can definitely pull this off as a weeknight dinner.  It has a few simple layers and short bake time.  It's also a fun recipe for getting kids involved in the layering process.  And if you want to save even more time, try assembling the casserole the night before, covering it with foil and refrigerating it.  Then, the next day, whoever gets home first can take it out of the fridge, uncover and bake it.  It will come out just as tasty this way!  I hope this flavorful casserole makes it into your regular weeknight rotation!

Quick Green Chicken Enchilada Casserole

Makes 6 servings
Ingredients:
2 cups cooked shredded chicken breast meat (about 2 chicken breasts)


2 cups frozen chopped broccoli, thawed

1 cup green salsa

1 cup reduced fat shredded pepper-jack or Monterrey-jack cheese

1/2 cup chopped onion

6 whole grain tortillas or 8 corn tortillas, each cut into 6 triangles
Directions:

Preheat the oven to 400 degrees.  Spread about 1 tablespoon of the salsa in an 8x8 square baking dish.  Spread 1/3 of the tortilla triangles evenly over the salsa, making the bottom layer of the casserole. 

Next, spread half of the broccoli, onion, and chicken over the tortillas, along with 1/3 cup of the cheese. 

Top with another layer of tortillas, then another layer of the chicken, onion, and cheese. 

Add one final layer of tortillas on top and sprinkle the remaining cheese over the tortillas.

Bake for 20-25 minutes, until the cheese is melted and the casserole is bubbling and lightly golden on top. 

Happy Eating!
~Amber
---