This chopped salad is lighter than most chopped salad recipes, but still has a few "treats" making it a fun and delicious way to enjoy those veggies!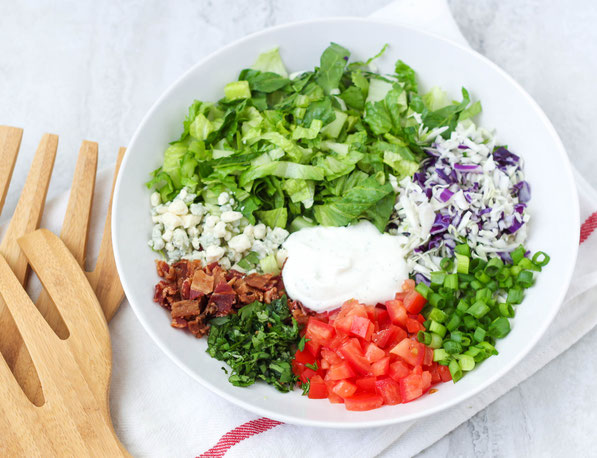 One of the things I like most in a salad is all the stuff that comes in it.  To me, there's just nothing even remotely exciting about a big plate of romaine with a few shredded carrots sprinkled on top.  Don't get me wrong, I love my veggies, but I will eat SO much more of them if they are made in a way that's beautiful and interesting.  
Now there is one catch when it comes to adding fun things to a salad to make it more exciting.  You can definitely add things you like (hence, the bacon in this recipe!) but don't use the veggies as an excuse to go overboard and add all the "extras" you want.  It still needs to be kept a little bit light to count as salad! ;)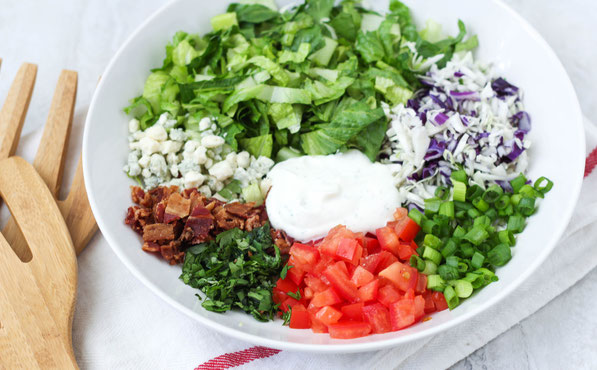 So just go with smaller portions of those little treats - I like to finely chop things like bacon, cheese, or croutons into very small pieces so I have a little bit in each bite and overall use less of those ingredients.  This way the salad is still mostly filled with healthy items, but still has little tasty surprises in each bite.  

For added flavor in salads, my favorite tricks are: 
Use more than one kind of lettuce/green:  I really like crunchy greens like romaine and cabbage, so I like mixing some plain cole slaw mix (shredded cabbage) into my greens for added texture and different flavor.  

Add green onions:  they are so much milder than white, yellow, or purple onions, and you'd be surprised at just how much extra flavor these add to a salad!  They really make it more interesting.  

Add herbs:  Being a Texan, I will always stand by cilantro as my herb of choice, but choose whichever herbs you like.  Basil, parsley, chives, even thyme or a little rosemary go a long way when adding flavor to salads.  And herbs are super healthy;  We don't usually think of them as much more than garnish or a little boost of flavor, but there are still vitamins and powerful antioxidants in herbs!



Since this salad uses heartier greens that won't wilt quickly, it can be made several hours in advance or even the night before if it's going to be for lunch the next day.  For an extra boost of protein, add some grilled chicken on top and you've got one complete and filling meal!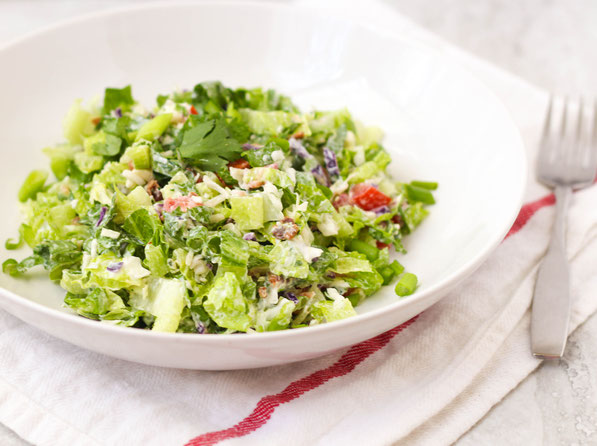 Chopped Salad
Makes 4 servings
Ingredients:
1 head romaine lettuce, washed, and finely chopped

2 cups bagged shredded cabbage, chopped

2 roma tomatoes, chopped

1 bunch green onions, sliced
1/4 cup chopped cilantro (can also use parsley)

4 slices cooked bacon (nitrate-free, or uncured), finely chopped

1/4 cup bleu cheese crumbles

1/3 cup ranch dressing

fresh cracked black pepper to taste
Directions:

Place all ingredients in a large bowl and toss to combine.  
Happy Eating!
~Amber 
---
---
---