This easy lighter sweet potato casserole recipe has a few healthy swaps no one will even notice!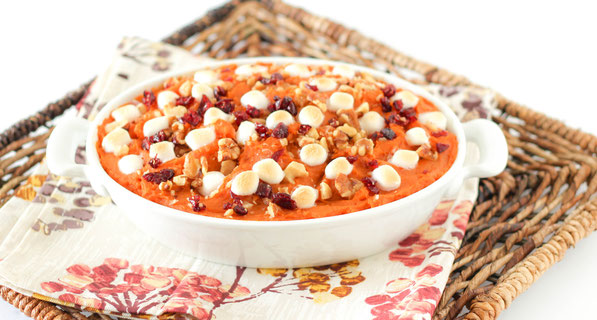 You can either use these tricks with your favorite sweet potato casserole recipe, or you can make my super easy, lighter sweet potato casserole recipe at the end of this post! 
This popular side dish tends to be more of a dessert than veggie side.  Make it just a bit lighter by doing these things:
Reduce the  sugar by half (I also like to use pure maple syrup instead of regular sugar for added flavor)




Add a splash of fresh orange juice and orange zest for more sweetness and flavor




Instead of topping with all marshmallows, use 1/3 marshmallows, 1/3 finely chopped walnuts and 1/3 dried cranberries as the topping



And if you're looking for other small healthy swaps to make to holiday favorites, check out my post on subtle changes that no one will notice at Thanksgiving dinner.  

---
---
Lighter Sweet Potato Casserole
Makes 4 servings
Ingredients:
2 medium sweet potatoes, peeled, cooked, and mashed

1 teaspoon orange zest (about 1 medium orange)

1/4 cup freshly squeezed orange juice (about 1 medium orange)
1/4 cup pure maple syrup
pinch of salt
1/4 cup mini marshmallows
1/4 cup chopped walnuts 
1/4 cup chopped dried cranberries
Directions:
Preheat oven to 350 degrees.




Place the mashed sweet potatoes, orange zest and juice, syrup, and salt in a bowl and mix to combine.  Pour into a smaller casserole dish or 8x8 inch square baking pan, and sprinkle the marshmallows, walnuts, and cranberries over the top. 




Bake for about 20 minutes, or until the casserole is heated through and marshmallows are lightly toasted.  



Happy Eating! 
~Amber