The new year is here, and everyone is busy getting started on those healthy resolutions!  Here's a simple, super healthy and beautiful salad made with kale, pomegranate seeds, sunflower seeds, and an orange dressing that is sure to be a nice change from all of the heavy holiday treats we've been eating!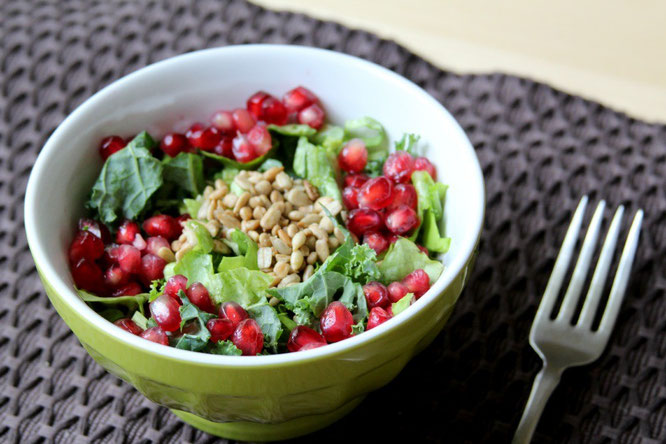 This salad is the perfect illustration of how healthy food can be so beautiful.  The colors are so vibrant that you just know it will be doing good things inside of your body!  It's true that the different colors of fruits and vegetables have different vitamins, minerals, and antioxidants (chemical compounds that might fight diseases and cancer).  So fruits and veggies really can be considered "super foods" for the body, and it's important to eat a variety of colors for maximum benefit!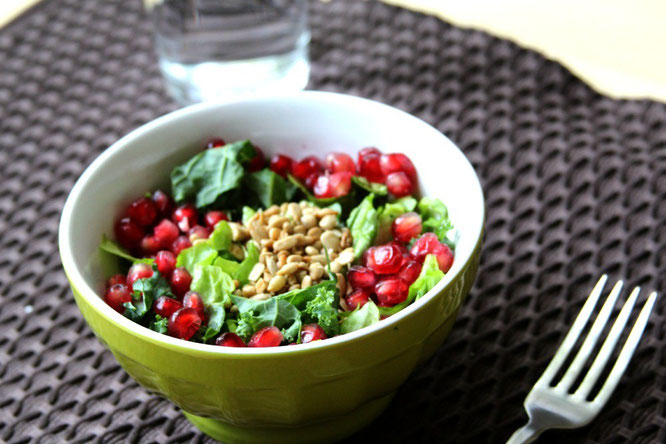 This recipe can be made in advance, and since it uses kale, which is a super hearty green, it will stay crisp for several days.  Just keep the dressing on the side until you're ready to eat it. 

If raw kale is a bit strong for you, try spring mix, baby spinach, or even romaine lettuce.  Choose the one you like the best so you'll eat more of it!
The pomegranate seeds add a nice source of sweet, juicy flavor, and bright red color.  They're also pretty crunchy just like the sunflower seeds.  I like to think of the sunflower seeds almost like mini croutons in this salad - and healthy ones!  They're a good source of healthy fat, fiber, and protein so they help make this salad more filling. 
And the orange dressing is light, sweet, and helps to cut the strong flavor of the kale.  It really brings all of the flavors together!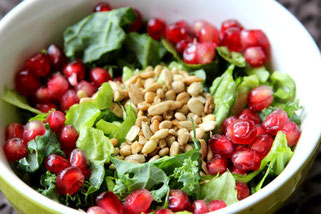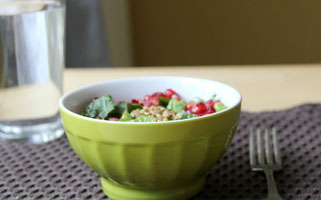 Kale, Pomegranate, Sunflower Seed Salad with Orange Dressing

Makes 1 serving:
Ingredients for the salad:
1 1/2 cups chopped kale, or other leafy green of choice

1/4 cup dry roasted sunflower seeds

1/2 cup pomegranate seeds

2 tablespoons of orange dressing
Ingredients for the dressing (makes about 1/3 cup dressing) :

2 tablespoons fresh orange juice

½-1 teaspoon honey, to taste

1 ½ teaspoons apple cider vinegar

3 tablespoons plain low fat Greek yogurt

1 tablespoon light olive oil or canola oil

pinch of salt

pepper to taste



Directions:
Place the kale in the bottom of a bowl or container, top with the pomegranate and sunflower seeds, and drizzle with the dressing. 
Happy Eating!
~Amber
---