Pineapple, mango and coconut milk come together for a refreshing tropical smoothie perfect for summer (and getting those  veggies in at breakfast!)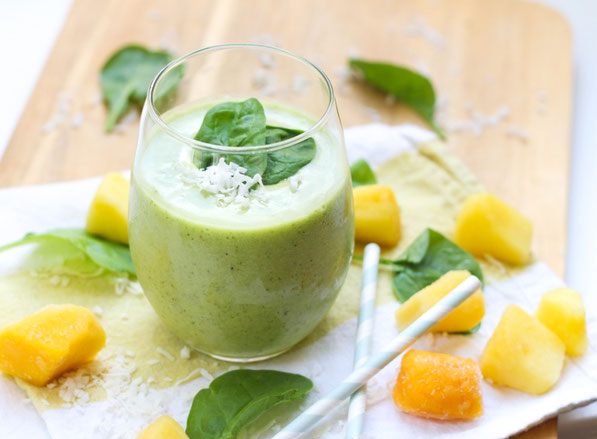 Summertime in Texas can be brutal.  And even though I make smoothies all year round (because I just love 'em!), right now smoothies have been a go-to meal or snack on the daily around our house.   I often make the same smoothies over and over, but I like to try new variations every now and then just to change things up.  And that's how this tasty tropical treat came to be. 
I've been out of my freezer stash of spinach for a few weeks now, so this week I picked up a large bag  - I just wash the spinach, put it in a ziplock back, and toss the bag in the freezer so I can break off what I need to add to smoothies.  I love this trick because I never have to worry about the spinach or other greens in the fridge going bad before I can use them in my smoothies.  
So, with my spinach supply back in order, I decided to combine that with other freezer staples:  frozen mango and pineapple chunks.  I always, always have these at home because I add them to oatmeal or cottage cheese, use them in smoothies, and also blend them up when making baby food for our twins.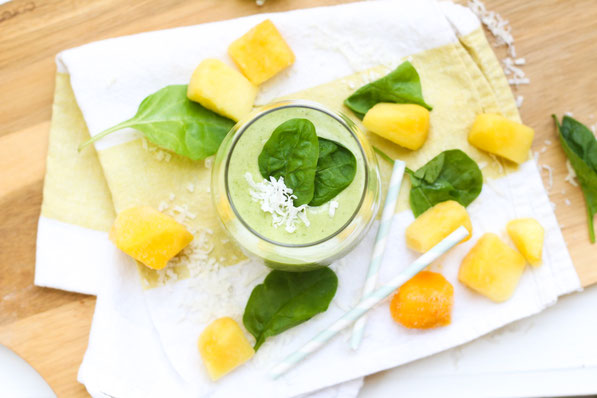 And what goes better with pineapple and mango than coconut?  I actually don't really love the coconut milk that you buy as a milk substitute, because it just tastes a little like watery coconut to me.  But canned coconut milk is made from the grated meat of the coconut, so contains some of the oil from the coconut and has a much richer coconut flavor and smooth, creamy texture. 
It is higher in calories (about 130 calories for 1/3 cup) because of the fat from the coconut, but adding a serving of this to a smoothie makes it so rich and creamy it is a complete must in this recipe for me.  Plus, that bit of fat from the coconut milk makes this smoothie really filling, so you don't feel hungry shortly after having your smoothie.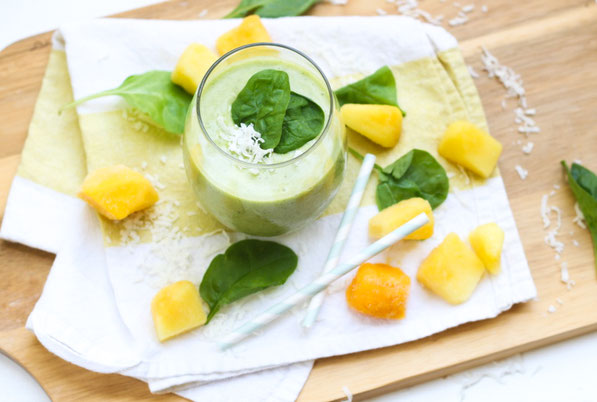 And finally, if you're worried about tasting the spinach in this smoothie, don't - you won't even know they're in there!  The proof is in the pudding (or smoothie!):  It has been tested and very happily approved by my one year old twins, so if nothing else, I hope that gives you the confidence to enjoy all the veggie goodness this smoothie has to offer!  ;) 
I hope you enjoy this recipe, and if you love smoothies like I do, check out my breakfast recipes page in the recipe archive to see lots of other smoothie recipes I've made.  Happy blending!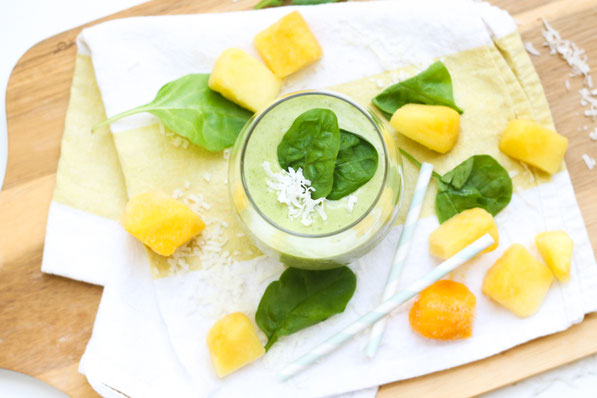 Tropical Green Pineapple-Coconut Smoothie
Makes 2 Servings

Ingredients:
1 cup fresh or frozen pineapple chunks
1 cup fresh or frozen mango chunks
1 banana
2/3 cup coconut milk (I used canned coconut milk)
1 1/2 cups baby spinach 
1/2 cup ice cubes (1 cup if using fresh fruit)
Directions: 

Place all ingredients in a blender and blend at least one minute or until completely smooth. 
Happy Eating!
~Amber 
---
---
---
---