This easy pimento cheese recipe has only five main ingredients, is packed with flavor, and is made with no mayo, making it much lighter than traditional pimento cheese!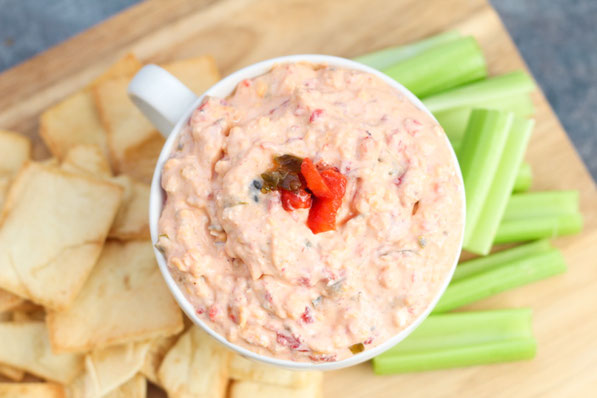 When's the last time you ate pimento cheese?  I know many people eat it regularly, and some of you may have never tried it since it's a little more of a Southern thing...but for me, pimento cheese re-entered my life just over a year ago. 
I love most dips but I don't eat them very often at all.  In fact, I hadn't had pimento cheese probably since I was a kid.  But when I was pregnant with our twins, pimento cheese was the one and only food I ever craved...enough to get to the grocery store before 7am to buy a tub of pimento cheese, a bag of pita chips, then proceed to come home and eat it for breakfast.  Luckily that was a one time thing for me, but ever since that morning, this tasty treat has been on my mind!  
But there's a problem with pimento cheese.  Like most creamy dips, it's just really heavy and fatty.  I mean, the base is a combo of three fatty foods - cheese, mayo, and cream cheese.  Which, don't get me wrong, is delicious, but I would rather find a way to lighten it up so I can enjoy more of it, more often!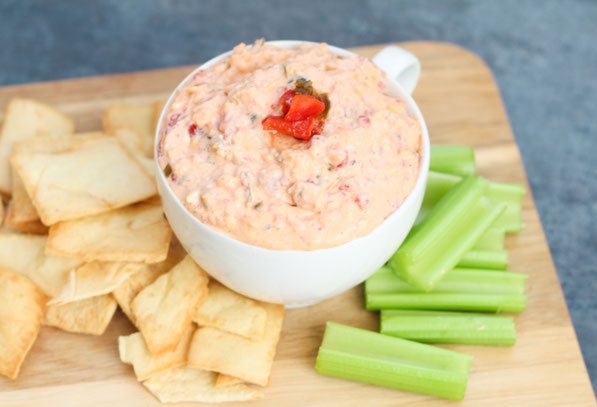 In order to make a successful lighter version of this recipe that still tasted like pimento cheese, I had to think outside the box.  You obviously can't (and wouldn't want to) take the cheese out of pimento cheese, so that left the mayonnaise and cream cheese.  Out of those, I felt the cream cheese was more necessary to keep because of the texture, which left me with needing a substitute for the mayo that would be a healthier option but still had the same effect.  The answer:  cottage cheese.  
Cottage cheese is a high protein, much lower calorie option for the dip, and since it has that chunky texture, I figured it would either work beautifully in this recipe or be completely weird.  And luckily the result was a beautiful, creamy pimento cheese with a perfect texture and "normal" taste! 
I was also able to reduce the amount of cream cheese by half and did't miss the rest one bit.  And if you aren't convinced, don't worry, I tested this recipe on my dad, who happens to be a big pimento cheese fan, and he gave it a big thumbs up! :)  Honestly, I like this homemade version much more than the store-bought stuff.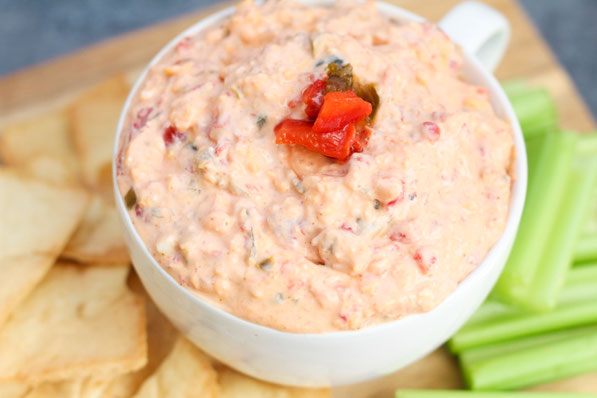 And it's super easy to make!  All it takes is some cheese, pimentos, cottage cheese, cream cheese, pickle relish (I use Best Maid sweet jalapeno relish), and a touch of cayenne pepper . I made this in my food processor, but you could make this recipe in a blender as long a you stick with pulsing versus blending it to keep the texture more chunky and not too smooth.  
Use this pimento cheese as the perfect game-day dip, or use it in sandwiches, wraps, or as a delicious topping for burgers instead of sliced cheese.  Just be sure to make a double batch if you're feeding a crowd, because this tasty treat goes quickly!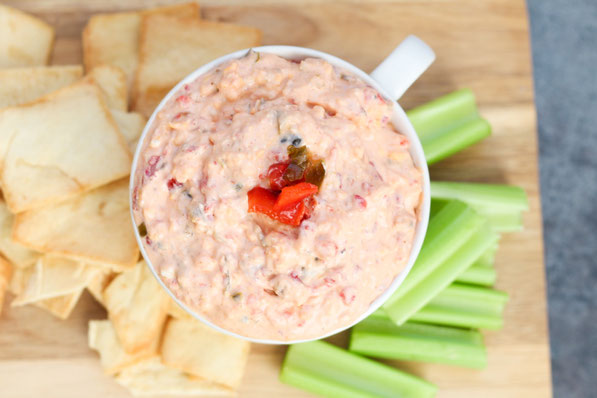 Easy Lighter Pimento Cheese
Makes 1 cup, about 4 servings
Ingredients:
1 cup sharp cheddar cheese, grated
1/3 cup reduced fat cottage cheese
2 ounces cream cheese (about 1/4 cup)
1/3 cup diced pimentos
1/4 cup sweet jalapeno pickle relish (or 3 tablespoons sweet relish + 1 tablespoon chopped pickled jalapenos)
1/8 teaspoon cayenne pepper (optional - use 1/4 teaspoon for spicy version)
Directions:
Place all ingredients in a food processor and pulse until all ingredients are combined and the mixture is creamy but still has some visible chunks for texture.
Serve with pita chips, celery sticks, whole grain crackers, or enjoy on a sandwich or as a topping for burgers. 
Happy Eating!
~Amber 
---
---
---
---