These tasty tostadas with beef, zucchini, black beans, and a poached egg are a tasty way to turn last night's dinner into a delicious high protein breakfast! 
Well hello friends! It's been a very, very long time, but I'm happy to say that I am back!  It's been about five months since my last post, but there's a very good reason why I had to take a little break...make that TWO very good reasons. ;) A couple of months ago my husband and I welcomed our sweet twins into the world!  Here's a little peak at our bundles of joy, Gwen and Owen!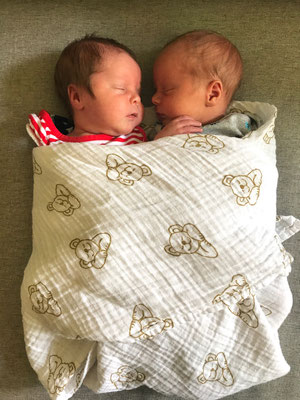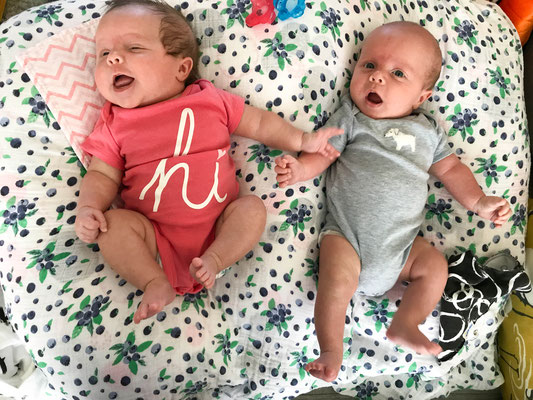 It took quite a bit to get these little ones here, with some unexpected twists and turns in the journey, but we're so grateful they arrived safe and sound, and they are pretty much the sweetest little things ever!  Needless to say we've been a bit busy since their arrival, but now I'm ready to get back to cooking and recipes and all things food here on the blog!  
And that brings us to today's recipe.  It's time for the monthly Recipe Redux post, and this months' theme is near and dear to my heart as it features my favorite meal of the day: breakfast!  
We were challenged to come up with new healthy, high protein takes on eating savory or dinner-inspired dishes for breakfast.  I decided to turn leftovers into a beautiful breakfast tostada that is tasty enough to entertain with!  But it's also pretty easy to make. ;) 
The recipe begins with cooked beef.  I had leftover brisket in the freezer from a barbecue at my parent's house a few weeks ago, so I just pulled that out, thawed it, and used it in this dish.  But you can use any leftover beef you have on hand...steak would be amazing, and so would leftover roast. 
The beef and veggie "filling" of the tostada consists of the beef sautéed with onion and zucchini.  It's a beautiful combination of flavors no matter what cut of beef you use.  The beef and veggie mixture sits on a bed of refried black beans.  I use fat free canned refried beans, and the only reason for using the fat free version is because the regular version usually contains lard, and I think the fat free ones taste just as good.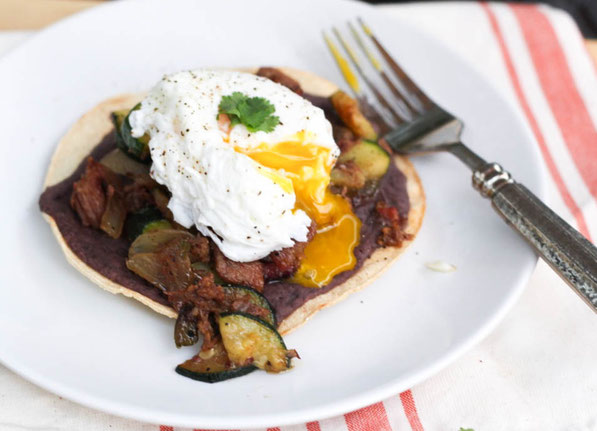 Now if you're not an egg person, you can totally stop at this point and have a delicious high protein egg-less breakfast.  But to take it a step further, add a poached egg.  It's delicious.  Or an over-easy egg, or fried egg...whichever type of egg you fancy!  I especially like a poached egg here because it adds an extra creamy element from the yolk and it's a little more delicate than fried or over-easy eggs.  
The last ingredient is the tostada shell.  It's basically just a baked or fried corn tortilla.  I buy baked ones from the grocery store, but you could easily make your own tostada shells by putting corn tortillas on a baking sheet and in the oven at 400 degrees for about five minutes or until they're crispy.  There's a whole bunch of delicious flavor and textures going on in this recipe, it's definitely a keeper!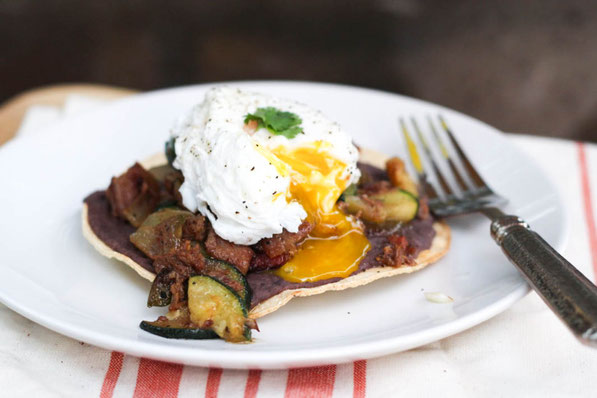 Breakfast Beef, Veggie, and Bean Tostadas
Makes 4 Servings
For the Beef:
1 tablespoon light olive oil 
1 small zucchini, chopped
1 small onion, sliced
1 cup chopped cooked brisket, steak, or roast
salt and pepper to taste
4 eggs
4 baked tostada shells
1 cup fat free refried black beans, heated in microwave or on stove
fresh cilantro for garnish (optional) 
Directions:
Preheat a medium-sized skillet over medium-high heat.  Add the oil, zucchini, and onion and cook for about 7-8 minutes, until the vegetables are tender.  
Add the beef, season with salt and pepper to the skillet and continue cooking for 2-3 minutes or until the beef is heated through.  Remove pan from heat. 
To poach the eggs, fill a large skillet 2/3 of the way with water and bring to a simmer over medium heat.  Add the vinegar to the water.  Crack the eggs one at a time, carefully dropping them into the simmering water.  Let the eggs cook for about 5 minutes or to desired doneness.  Use a large spoon to carefully remove them from the water and place on a plate lined with paper towels to drain them. 
To assemble the tostadas, spread each tostada shell with 1/4 cup of the beans.  Top with 1/4 of the beef and veggie mixture and one poached egg.  Sprinkle additional pepper and salt over the egg and garnish with cilantro if desired. 
Happy Eating!
~Amber 
---
---
---
---