This ruby red smoothie has a beautiful flavor combination of strawberries and ginger that accent the beets perfectly in this recipe.  It's a great way to get more veggies into your breakfast routine!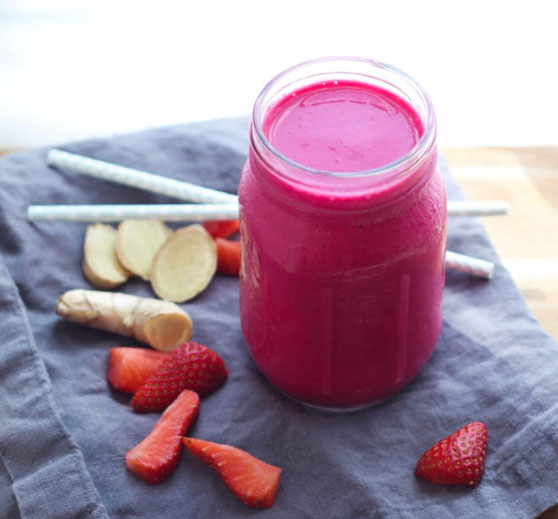 Yes, I used beets in my blueberry-nectarine smoothie recipe last week ...but no, I won't be stopping with the beets anytime soon! ;)  
If you've followed my blog for a while, you might know that smoothies are one of my favorite kinds of recipes to make.  They're such an easy way to get more fruit and veggies into the day and they only take a couple of minutes to make.  
And beets happen to be one of my favorite vegetables to add to smoothies.  They have a beautiful color and add a nice texture to smoothies.  I know, it sounds a little weird, and if you aren't a huge fan of beets, you might be hesitant to give them a try in smoothies.  But I'm telling you, as long as the beets have different flavors to accent their "earthiness," you won't even notice them in the smoothie!  
That's where the ginger comes in with this smoothie.  Ginger has a bright, zingy kind of flavor that  goes really well with strawberries, and as an added benefit, it covers up that stronger beet flavor.  
So give beets a chance and try this smoothie today!  Here's to more eating more veggies for breakfast! :)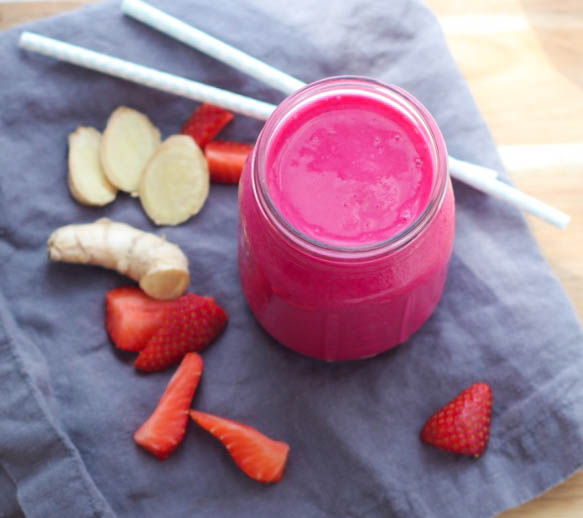 Strawberry-Ginger Beet Smoothie
Makes 1 Serving
Ingredients:
1/2 cup cooked beets (unsalted)
1/2 cup fresh or frozen strawberries, cut into chunks
1/2 banana
1/4 teaspoon fresh grated ginger
1/2 cup vanilla Greek yogurt (can also use plain)
1/4 cup water
4-5 ice cubes
Directions: 
Place all ingredients in a blender and blend at least 1 minute or until completely smooth.  
 Happy Eating!
~Amber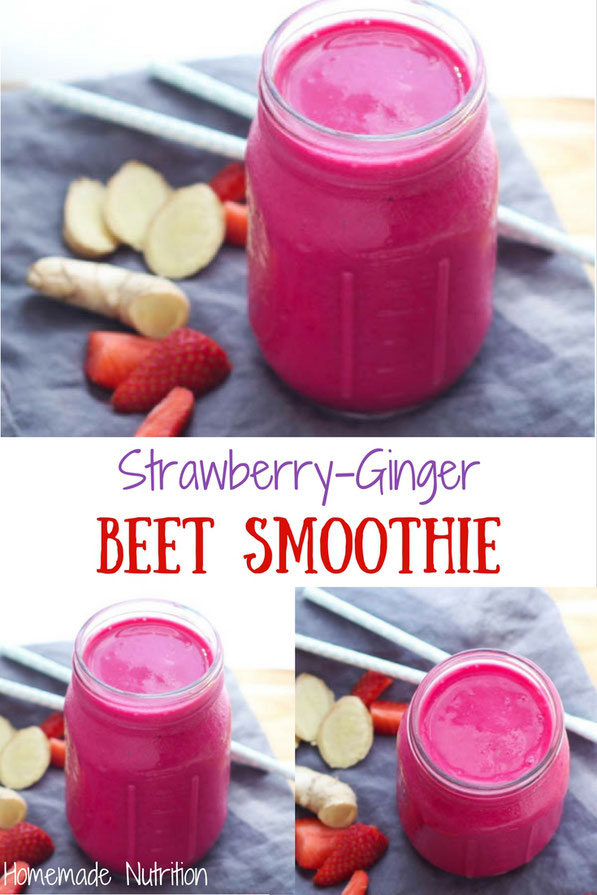 ---
---