These mini cranberry-orange turnovers are a festive and flavorful dessert for holiday gatherings!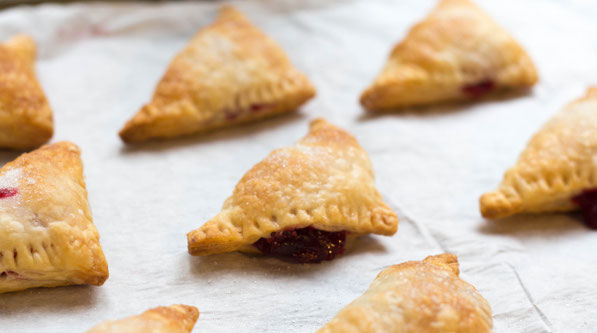 I love miniature foods.  I think they're adorable and I like having the option to portion out smaller edibles, especially when it comes to dessert.  So when I saw the theme for the Recipe Redux this month is healthier holiday desserts that we'll be sharing with family, I knew I had to make something small and sweet. :)
And keeping with the holiday theme, I decided to go with cranberries as the star of this dessert.  I really enjoy making turnovers, and even though I usually make cherry turnovers, it turns out cranberries work just as well!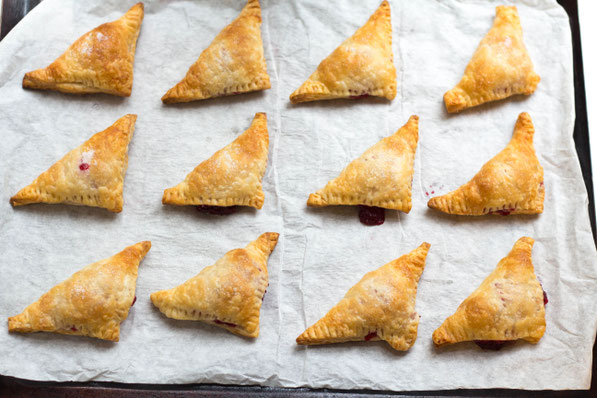 If you've never made a turnover before,  it's really easy.  Or at least the ones I've made are easy....I always just use puff pastry as the crust because it's super flaky and puffs up into a beautiful pastry as it cooks.  The only other component is the filling:  in this case, cranberries, orange juice and zest, and sugar.  
It's basically  homemade cranberry sauce infused with orange flavor and stuffed inside of a pastry.  So if you like cranberry sauce during the holidays, you'll love this!  And if you aren't a huge cranberry sauce fan, you'll probably still like it because of the tasty pastry and sprinkle of sugar on top. ;)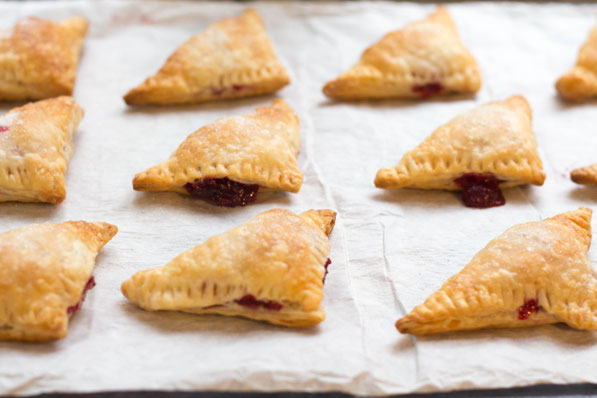 This recipe is a wonderful holiday dessert to bring to parties because it's small, simple to transport, and is easy for people to just pick up and eat with their hands.  Which also means fewer dishes to wash, yay! 
And a quick tip on this recipe:  make the cranberry mixture the night before (or even two nights before) and pop it in the fridge.  If that's already done, the recipe prep takes just a few minutes!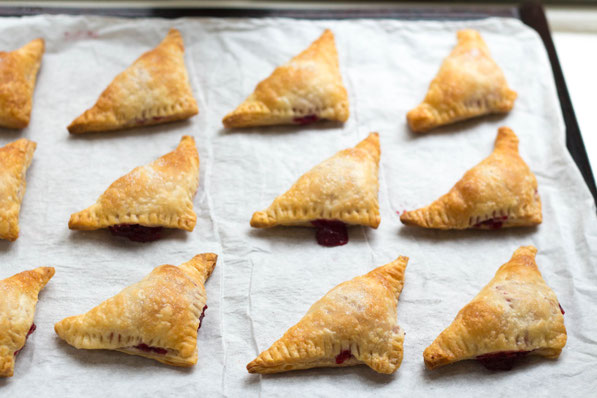 Mini Cranberry-Orange Turnovers
Makes 12 mini turnovers
Ingredients: 
1 sheet puff pastry
2 cups fresh cranberries (1/2 of a 12 ounce bag)
2/3 cup sugar + 2 tablespoons  
½ cup fresh orange juice
1 tablespoon orange zest
Directions:
Preheat oven to 400 degrees.  
Heat a large sauce pan or skillet over medium-high heat.  Add the cranberries, 2/3 cup sugar, orange juice, and orange zest.  Let the mixture cook for about 10 minutes, and use a potato masher to mash the cranberries as they cook.  Continue stirring the mixture until it thickens into a jam-like consistency.
To assemble the turnovers, unfold one thawed puff pastry sheet.  Cut it into 12 equal squares. Use a spoon to place about 2 teaspoons of the cranberry mixture near the bottom right corner of each square.  Then, fold the top left corner of each square over to meet the bottom right corner and form a triangular turnover shape. 
Use a fork to crimp the edges of the pastry closed to hold the turnover together.
Transfer the turnovers to a baking sheet lined with parchment paper, keeping them about 1 inch apart.
Use a fork to prick the top of each turnover to allow for steam to escape as they cook.  Sprinkle the top of each turnover with about 1/2 teaspoon of sugar.
Bake for 20 minutes, or until the pastry is golden in color.
Tip:  Make the cranberry mixture up to 2 days in advance and store in the refrigerator until ready to use. 
Happy Eating!
~Amber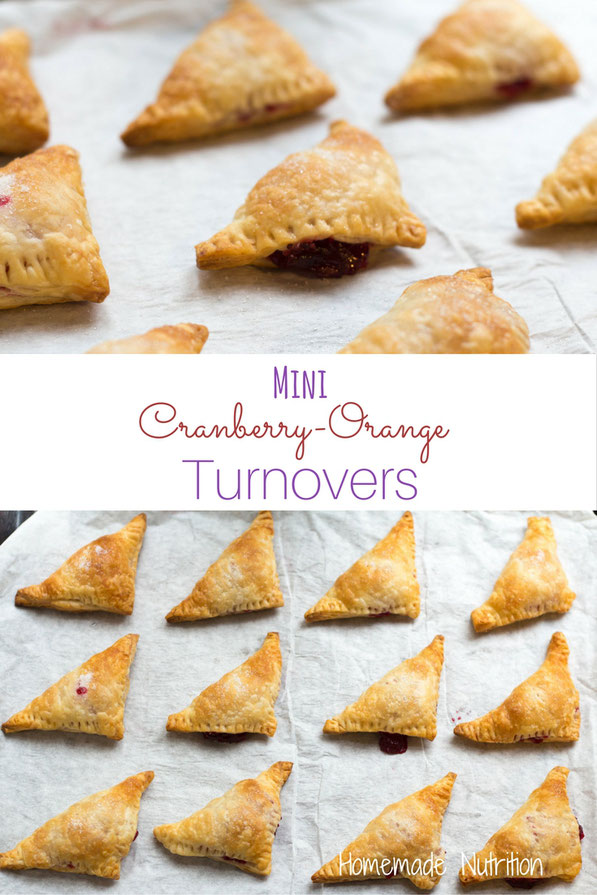 ---
---
---
Check out more delectable holiday dessert ideas from fellow food bloggers below! 
---